The original Bridgewater station was closer to downtown, but I actually like the Old Colony placement more! Yes, you heard me: the Old Colony station is in a better location than the original. That's because this stop now serves Bridgewater State University, and it's right there.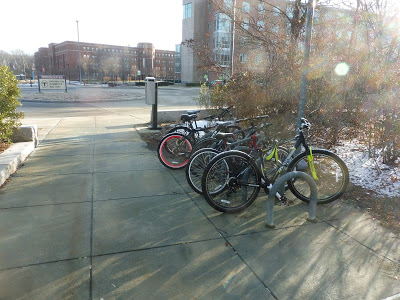 Our first entrance.
Bridgewater Station features four pedestrian entrances. The first one is at a little roundabout on the western edge of the station, and it has a payphone and some bike spaces. The other three are simple stairs or ramps leading from the parking lot. The easternmost one also has some more bike spaces, adding up to a total of 24.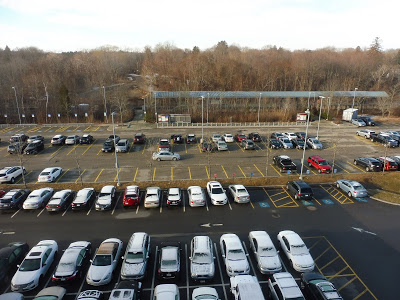 The parking lot…from above.
It's an Old Colony station, so of course the parking lot is huge – it has 504 spaces. It can't be seen in this picture, but I appreciate how the central entrance from the station has a sidewalk going straight across the parking lot, so it's easier for pedestrians to get into the university. There's a garage right nearby (from which I took the photo), but I believe it's only for BSU purposes.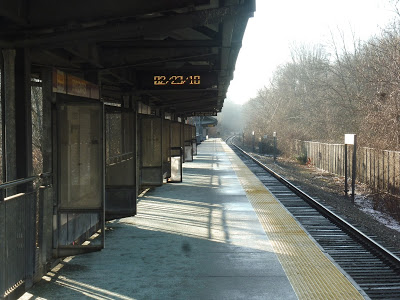 On the platform.
This is an Old Colony platform, so there isn't much to say, but I do like it. The Bridgewater platform has two shelters on separate sides of the station, which is great. Both of them have essentially the same things underneath: benches, wastebaskets, information, and screens. Great!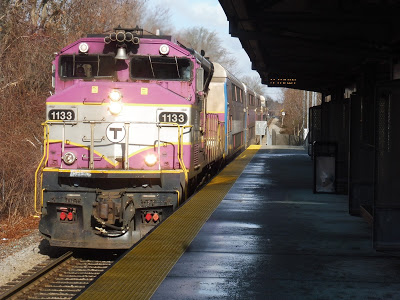 On to Middleborough!
Station: Bridgewater
Ridership: It's huge! With 1,036 inbound riders per weekday, this is the busiest station on the Middleborough Line and the 20th most-used station on the Commuter Rail.
Pros: It has all of the Old Colony amenities you would want (plus a second shelter!), including a high-level platform and a big parking lot. However, Bridgewater goes above and beyond that with its location. Yes, we're right in the Bridgewater State University campus, and thanks to fantastic pedestrian paths, practically anywhere on campus is walkable. If not, there's always the BSU Shuttle!
Cons: The station got so wrapped up in serving the university that it totally forgot about the residential neighborhoods to the south! Now, granted, this isn't Anderson/Woburn – people in those houses only have to walk about ten minutes to get to the station. But seeing as it's right there, a direct path would cut the walk down by a huge amount!
Nearby and Noteworthy: BSU, of course! Bridgewater Center is also rather nice – it's a fifteen-minute walk away.
Final Verdict: 8/10
This is a great Old Colony station, and just a flat-out great station. It has a totally high-level platform and it's very convenient for students at BSU. It's too bad there's no access from the south, but creating it would require a lot of infrastructure for not too many riders – they only have to walk ten minutes to get to the station, anyway.
Latest MBTA News: Service Updates