The MBTA has made many mistakes over the years. Wickford Junction is one of them.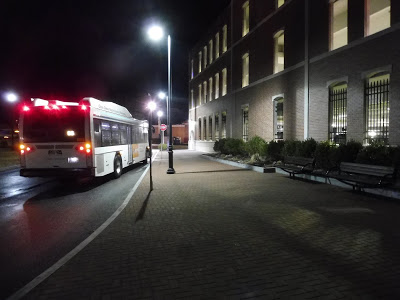 We begin with the busway.
Throughout this review, we'll be talking about the various ways Rhode Island has tried to make this waste of a station into something that comes even close to its ridership projections. Here's the first one: RIPTA abandoned one of its park-and-rides to reroute all of the area routes to Wickford. Thus, the 62, 65x, and 66 all deviate into the busway here.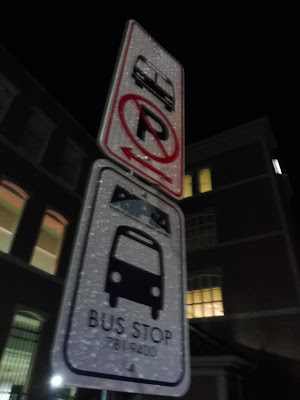 Odd!
The busway itself is fine – it's just a few benches and…wait, this sign is interesting. They have a normal RIPTA sign, but they just threw an MBTA-style sign above it! Hey, did you know that MBTA Commuter Rail monthly passes are valid for free travel on the bus routes that come here? That's Failed Ridership Booster #2!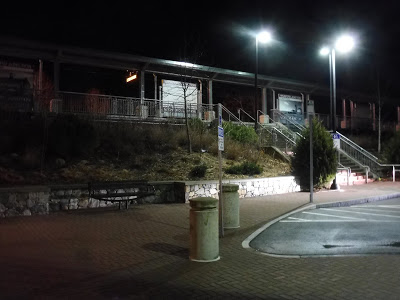 Stairs up to the platform.
There's a line of parking spaces right along the platform in the loop area outside the station. I'm not sure if they're any different from the ones in the garage, but they're here. From these spaces, there's a simple staircase up to the platform, as well as a ramp that takes a loopy route to get up there.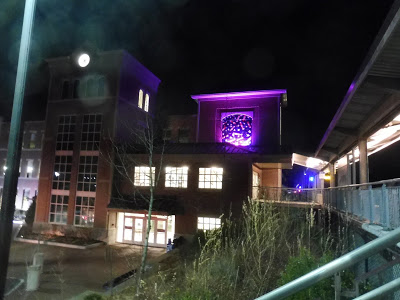 Looking over at the building.
Well, for a modern station, this is an awesome building! It still has a good amount of character, what with its clocktower and an art piece on a second tower. I don't know what the art is supposed to be, but hey, it was nicely lit up at night – I can't complain.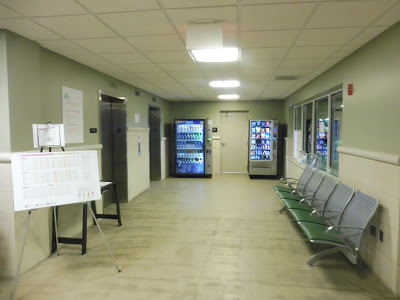 Inside the waiting room.
Wickford has a full-time waiting room whenever trains are running, which is awesome. The ground floor gets a few airport-style seats, a posted train timetable, and paper schedules for the RIPTA routes that serve the stop. There are vending machines, too – let's take a closer look at those.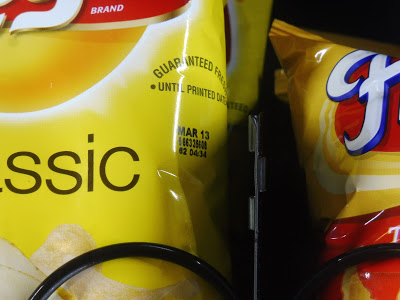 Woah, woah, woah, WHAT??
Like all normal people do, I thought I would check the expiration dates on the vending machine items to see how often they were being purchased. And…wow, they were very close to their expiration dates! How long could these snack items have possibly been in here? How often are these vending machines used??? How often is this station used?????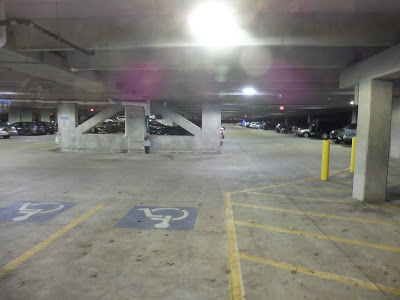 Inside the parking garage.
So Wickford Junction has one of the largest parking garages on the Commuter Rail. 1100 spaces. But the lot would only get 213 cars per weekday in 2014. Now maybe there are more that park in there now, and they certainly have incentive to: the parking is free. Yes, it's our third Failed Ridership Booster! Beautiful glass elevators traverse the four floors of the garage, whose parking, if I may remind you, is free! I can't get over that!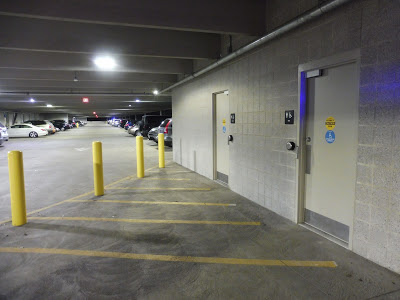 Huh…
There are signs everywhere at Wickford Junction saying "Restrooms located on Level 1! Restrooms located on Level 1!" Okay, we looked everywhere in the first floor lobby and couldn't find them! Where the heck could they be? Oh…they're in the parking garage…on the first floor. Okay, guys, let's work on the signage, huh?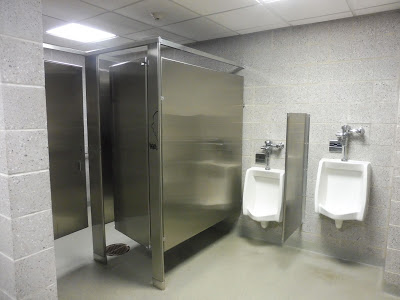 Inside.
Well, these are very nice bathrooms otherwise. They have buttons that open the doors for disabled folks, which is a great touch, and inside they're mostly spotless, although the men's room did have some graffiti on one of the stalls. Overall, though, these are great. Too bad the door-opening button doesn't work for the doorway going back into the lobby.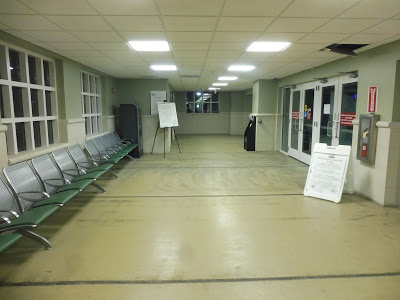 Up on the second floor.
Believe it or not, Wickford still has more building to explore! There's a whole second floor here! The second floor lobby features some seats for waiting, another schedule, some historical information, and a Wickford Junction FAQ's placard about how the train is free to Providence "until the end of 2017." (an outdated Failed Ridership Booster) There's also a parking payment machine that has been turned off, with a piece of paper on it saying "FREE PARKING." Finally, there are signs advertising a café coming soon, but the retail space where it's supposed to be coming in looks pretty darn bare.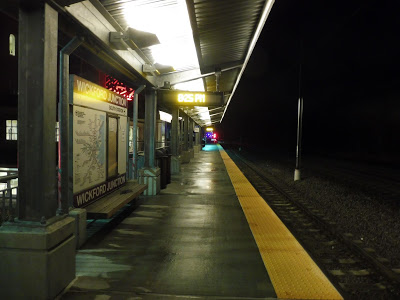 The platform.
Wickford's platform is surprisingly underwhelming, considering everything else. It's what you would expect with a modern Commuter Rail station: the whole thing is high-level, and there's a shelter next to the main building entrance with benches and wastebaskets underneath. The platform extends further out, and there's a connection to the other end of the parking garage a ways down. Well…this was an anticlimactic ending.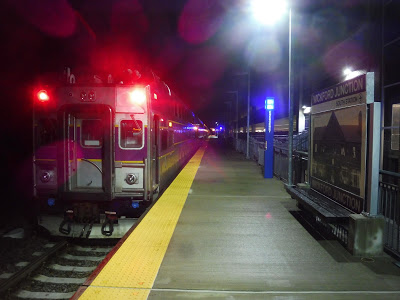 This is the furthest from Boston this train can ever get, at least in revenue service!
Station: Wickford Junction
Ridership: Alright, the most recent projection for ridership here (cited from a 2005 prediction, though) is 3,386 riders by 2020! Well, with those lofty aspirations, I'm sure Wickford Junction has to be very close to that amount. Let's see here…on July 5th, 2017, the station got 353 riders. And that was right after Rhode Island started offering free train service from here to Boston. So even when the service is free, ridership is a tenth of the projection. Mm-mm, fantastic numbers right there.
Pros: Well, hey, the station itself is excellent! In its efforts to make it a welcoming place for Commuters, Rhode Island really did build themselves a fantastic train terminal. The platform is standard, but the building has a ton of awesome amenities, including vending machines, indoor waiting areas, and bathrooms.
Cons: Aside from the minor quirks I've mentioned above, Wickford Junction just has the little problem of being a huge boondoggle. It's such an unnecessary station! There's already extremely fast bus service from here to Providence, and hey, it's free with a Commuter Rail pass! And good luck doing the 100-minute commute from here to Boston – have fun paying that $12.50 Zone 10 fare! Also, you gotta love that 10 trains per day, weekdays-only schedule. 3,386 riders per day indeed.
Nearby and Noteworthy: Walmart? Staples? Home Depot? There isn't much around here…
Final Verdict: 8/10
Well, I'm here to review the station, not the service. There is no denying that Wickford Junction is a fabulous station. Also, I can at least imagine people commuting to Providence from here, since the $3.50 fare is very reasonable, but geez, who's going to Boston from here? Honestly, Rhode Island would probably benefit more from its own commuter rail with closer stops – let's let the T just go back to Providence, okay?
Latest MBTA News: Service Updates