Welcome back to the RIPTA! We're heading down to southern Rhode Island on the rush hour-only 65x today.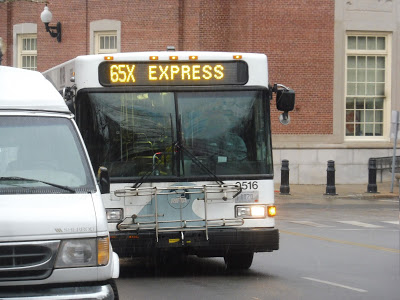 Well, this is an odd picture…
The bus does the Downcity Loop like the other expresses, but Sam and I got on at its last stop, Kennedy Plaza (or Exchange Terrace, which is where the route actually boards). From there, it was a right on Francis Street and a left on Memorial Boulevard, which led us straight into a highway interchange. Express on I-95 time!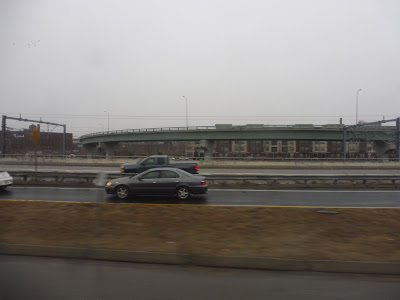 Bam!
We curved around the west and south sides of Providence's downtown before entering a really industrial area. The highway went past warehouses and factories and the like, but as we curved southwestward, houses lined a parallel road on one side. We passed Roger Williams Park, crossed over the Commuter Rail and Amtrak tracks, and entered Cranston.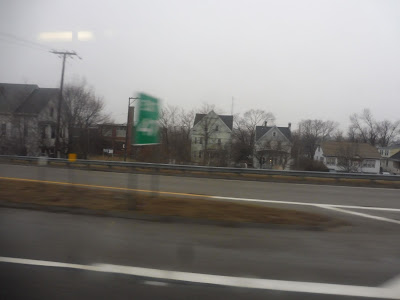 Some houses near an exit.
We came in between two streets in a neighborhood, then there was a section of woods as we crossed the Pawtuxet River and entered Warwick. There was another industrial area interspersed with more woods, as well as the highway connector that leads to TF Green Airport. We merged with I-295, and it was mostly woods after that. Once we entered East Greenwich, we merged onto Route 4, taking a course due south.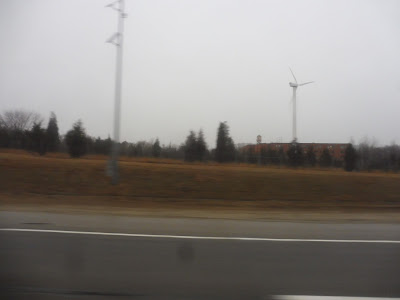 I think this is back on I-95, but…oh well.
Woods, woods, woods. Hey, farmland! Woods, woods, woods. We finally left the highway at Exit 6, which took us around onto Route 2. There was a small park-and-ride right by the interchange, and a good amount of the riders got off here. We continued down Route 2 from there, which had spurts of industry and retail as we entered North Kingstown.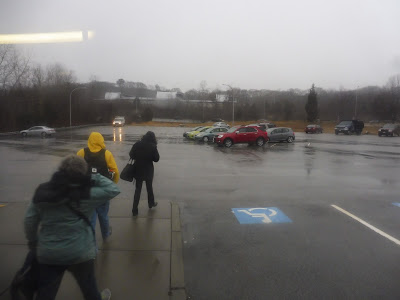 Farewell!
We did a little deviation onto Ten Rod Road in order to serve Wickford Junction Station. And believe it or not, the bus is two minutes faster from Providence to here than the train, and Kennedy Plaza is more centrally located than Providence Station! Once that deviation was completed, we actually returned to the highway, zooming south through the woods.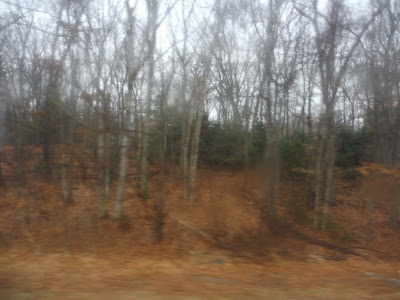 Yup.
Route 4 turned into a regular road soon enough, but it still had long sections through forest with no other intersections. We merged with Route 1, and there were a few houses at that intersection, but nope – back to woods very soon. There was an interchange with Route 138, an uncompleted highway, and there started to be more human signs along the road: houses and farmland.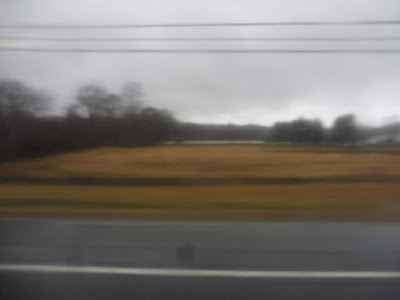 Seen here in a very blurry photo.
There was some suburban retail near the intersection with Bridgetown Road, just over the border with South Kingstown. Along with a connection with the 64, we did a really sad little deviation into a park-and-ride and back out. Save for some really sparse houses, it went back to being almost entirely woods as we continued south with just one other person on the bus.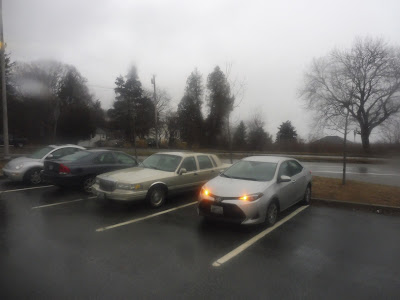 In the little park-and-ride.
We finally got a spurt of development in the form of The Village at South County Commons, a "lifestyle center" combined with apartments. We started to see more frequent houses along the road after that, until…oh, we're at the Wakefield Mall? Alright, route over!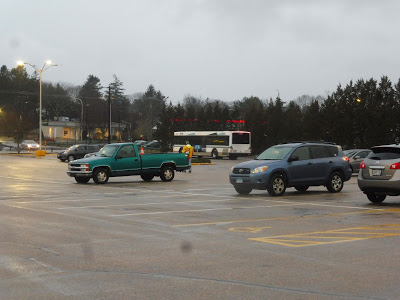 I guess it's just going back to Providence now…
RIPTA Route: 65x (Wakefield Express Park and Ride)
Ridership: Ridership wasn't bad! There were about 15 people on board, which is fine for an express route.
Pros: The 65x is a good express route to the southern part of Rhode Island, and it offers a decent speed increase over the 62 and 66, since it skips most of their deviations. The route has more trips than typical RIPTA express routes, with service every 15 minutes in the morning rush (six trips) and every half hour in the evening rush (five trips, spread out over a longer time period).
Cons: My trip may have just been an exception, but only one person to Wakefield Mall? That's pretty bad. There's also a random evening rush trip that runs as far as Galilee, but the schedule has no information about how long it takes – they might want to provide that. It's also strange that there's no morning equivalent from Galilee, which seems like a better way of getting people to use the service.
Nearby and Noteworthy: Honestly, most of this route is in the complete middle of nowhere! The Wakefield Mall is pretty underwhelming, too.
Final Verdict: 7/10
It's an express route that carries a good amount of people to their park-and-rides to return to their rural homes – seems good to me! It has more trips than normal RIPTA express routes, which is a plus, and its only problems don't affect the riders too much. Well…okay, a morning rush trip from Galilee seems like it would make sense, though.
Latest MBTA News: Service Updates