Well, that station name is misleading. I don't see any farms, just a ton of huge houses!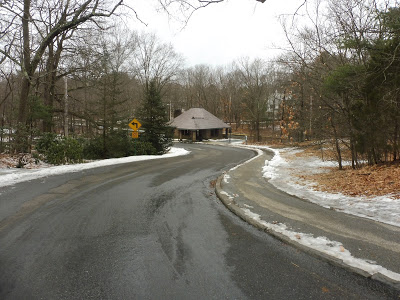 Coming down Croton Street.
There are a few entrances to the Wellesley Farms inbound platform. One of them is a staircase from Glen Road – pretty standard. You could also use the Croton Street one, which feels super old-timey in the best way possible. It's a wooded, windy road with an old station building along it! What's in the building, though?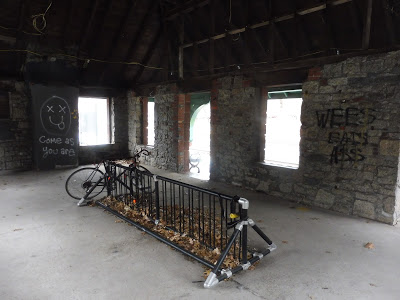 Uhhh…
Oh…wow, this is…this is unlike any Commuter Rail station building I've ever seen. It's entirely dedicated to a bike rack, but the eye is drawn to some prominent graffiti instructing visitors to "Come as you are." There's also a fake owl up in the rafters…? Okay, there has to be some strange Wellesley Farms cult that meets in this building!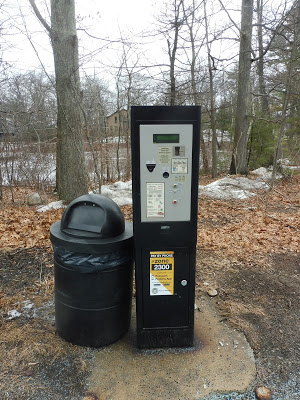 This just looks really out of place.
Of course, Wellesley Farms has car parking too, with a lot next to the inbound platform. The station has a total of 199 spaces, and they can of course be paid for with the Pay by Phone system. HOWEVER, there's a proper payment machine here as well! Granted, I couldn't get it to work – the only response I got from it was a loud beeping noise if I pressed the cancel button.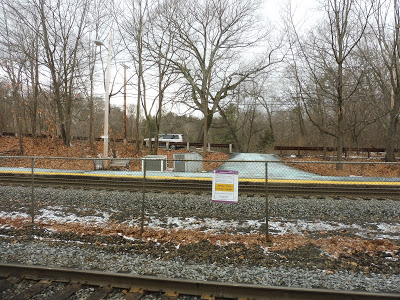 The outbound "entrance."
You'll notice that all the entrances I've been talking about have been on the inbound side. That's because there's just one way of getting to and from the outbound platform, and that's via a little cut to Hundreds Road. You know what that means? If you parked your car here, you have to spend literally six minutes (according to Google Maps) walking up to Glen Road and making your way around to the parking lot wayyyyy over on the southern end of the other platform! Nice.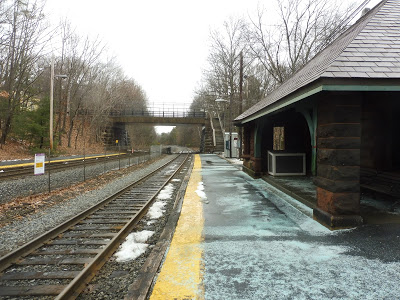 The inbound platform.
Okay, so the outbound side is just a bench, a wastebasket, and a few signs, so that wraps that up. As for the inbound platform, it has some benches underneath the Wellesley Farms Cult building, and some other ones that aren't sheltered. There isn't much here, but the sparseness of the station almost adds to its charm. Not only is there a lovely pond right next to it, but this woodsy station with nothing much aside from an old building almost feels like we've been transported back to the golden age of railroading…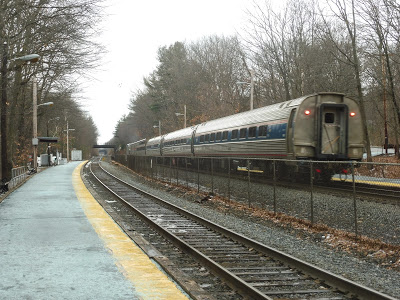 …and then Amtrak comes in and remind us that the golden age of railroading is very much over.
Station: Wellesley Farms
Ridership: Possibly because it's so close to Wellesley Hills, this stop gets pretty low ridership, at least for Worcester Line standards: 558 people travel inbound from here every weekday. That makes it the least-used station in Wellesley, although Hills is very close behind.
Pros: Atmosphere! It's super pleasant to wait here, what with the woods, the pond, and the charming old building…well, as long as you don't go inside. I think the parking lot has a good amount of spaces while being non-obtrusive to the neighborhood around it. Finally, since this isn't really a pro or a con, I'm just gonna put it here: the parking normally costs $4.50 per day, 50 cents above the typical Commuter Rail fee, but Wellesley residents get a huge discount at only $3.00 per day. This is such a Wellesley thing to do…"We can't have any non-Wellesley SCUM parking in our lots! Hmph!" But offering a discount to residents makes sense, I suppose, so it's not really a bad thing.
Cons: The crossover here is really annoying. It is such an inconvenience to go from the outbound platform allllllll the way around to the inbound side to get to the parking lot! Also, for goodness sake, what the heck is up with the inside of that building? I wouldn't want to be in there at night! The parking vending machine doesn't seem to work, and as you've probably figured out by now, Wellesley Farms is not wheelchair accessible.
Nearby and Noteworthy: Wellesley Lower Falls is somewhat close, and it has some nice restaurants in a somewhat walkable area. Hey, it's a 15 minute walk – the equivalent of three trips from the outbound platform to the parking lot, GEEZ, that's annoying!
Final Verdict: 4/10
Ehhhhhhh, it's pretty bad. I mean, the only thing it really has going for it is atmosphere, and that's about it. What else is there? A long walk to the parking lot, zero accessibility, and a building where a group of bikers come in every night at midnight to pray to the fake owl in the rafters. COME AS YOU ARE.
Latest MBTA News: Service Updates