Apparently two minutes of train time makes a big difference. Contrary to its southern neighbor, Norwood Depot is actually quite pleasant!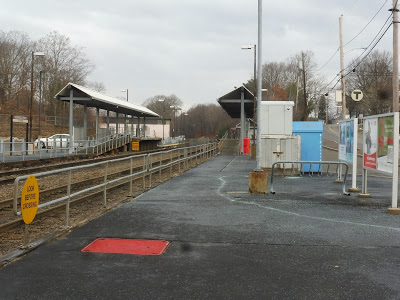 Approaching the station.
This station is in a much nicer neighborhood than Norwood Central, with some pleasant TOD apartments right across the street. It's flanked by some small parking lots amounting to 219 spaces, and there's also a bike rack with 8 spots. Interestingly, there's a low-level platform before the mini-highs, and people can walk around them if they so wish.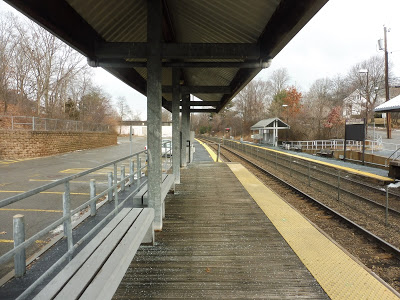 Looking down the platform from the mini-high.
Well, would you look at that? Benches on the mini-high. What a revolutionary idea! The low-level portion of the station is mostly bare, but there's one more shelter on the inbound side. It's just a typical modern Commuter Rail shelter, but it does its job. The platforms extend into the woods before eventually ending.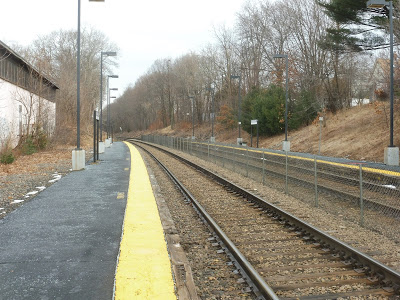 Just ignore that one building to the left.
Station: Norwood Depot
Ridership: The station doesn't get great ridership for Franklin Line standards, but hey, 632 inbound passengers per weekday is still nothing to sneeze at! Honestly, I'm amazed it gets so many people considering how close it is to its neighbor.
Pros: This is a really nice little station! It has a fine parking lot integrated with the area (more or less), and the platform is charming. Also, benches on the mini-highs!
Cons: These stops are too darn close together! That being said, Norwood Depot clearly does hold its own with ridership, and some rush hour trains skip by it, which I think makes sense. Also, this isn't too annoying since the times are still the same, but the station has a really old MBCR schedule posted in the inbound shelter.
Nearby and Noteworthy: Well, this stop is just about as close to "Norwood Central" as Norwood Central is, and this is a much nicer one to get off at!
Final Verdict: 7/10
Norwood Central has way more parking capacity than Depot, which is probably why more people use that one, but if I had the choice, I would absolutely board here. It's far more charming, and inbound passengers actually have a place to sit on the platform where they're supposed to board! Wonderful.
Latest MBTA News: Service Updates