Our final Fairmount Line station is a pretty cool one! Four Corners/Geneva is full of ramps and passageways, and the long staggered station platforms span quite a large distance. Let's dive in.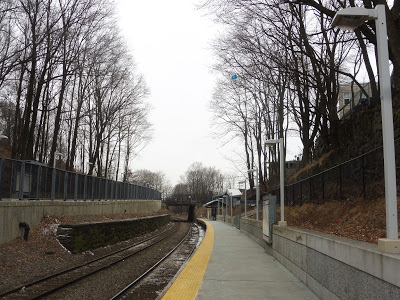 Gazing down the outbound platform.
The station has that classic Fairmount Line feeling of being in the middle of the woods, even though you're in the city. The only indication that we're in an urban environment is the fact that every shelter that originally had glass has, well, no glass. That's right, you can just step into them from any direction you want! That's probably not optimal…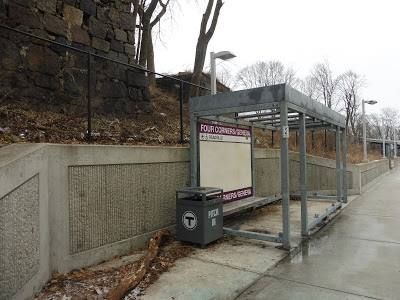 This isn't gonna do a good job sheltering anyone!
Of course, the platforms are entirely high-level. Since the glass shelters are basically useless, the only ones worth using are the modern-style Commuter Rail shelters elsewhere along the platforms. There are two on each, and they do their job well, housing benches and wastebaskets below their roofs.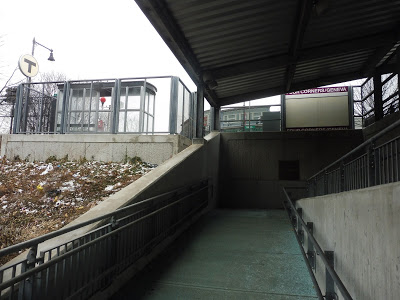 This is complicated!
The exit from the outbound platform to Washington Street is entirely sheltered, and it features both stairs and a ramp. They snake around each other until a "mezzanine" of sorts with a bench, and from here, a direct ramp leads to Washington Street. The station has great signage at street level, and there are shelters for the 23 in both directions.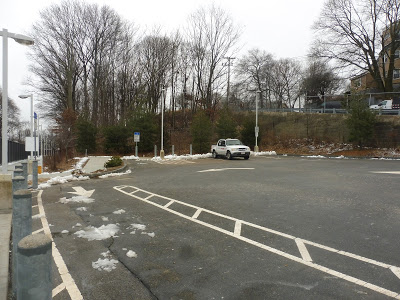 Woah!
After crossing over the tracks on a great bridge with quotes on it, we arrive at the inbound entrance. There are a few standard amenities here, like a station sign and a bike rack, but we've also got a small parking lot! I think it might just be free station parking, honestly, but there are only four spaces, so first come, first serve.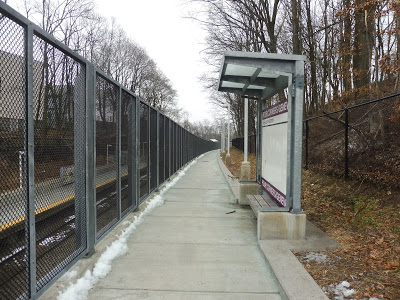 This is a longggggg ramp…
Like I mentioned, the two platforms are staggered, so it takes quite a while to get to the inbound side, which is much further north than the outbound platform. I guess this long ramp method was the best way to provide access to it, and it works, I guess. There are some shelters and benches along the way, and it eventually leads you down to the platform. Eventually.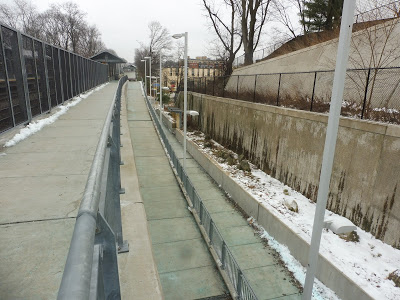 Gosh, this is a very ramp-heavy station!
Once you get down to the platform, you're at Geneva Ave, so we need another exit to get down there. Unfortunately, the only exit provided is a long winding ramp that goes down quite a long way and twists on itself a lot. It has some shelters and benches along its route, one of which has some ornate yellow things on it. Pretty un-Fairmount shelter, I must say!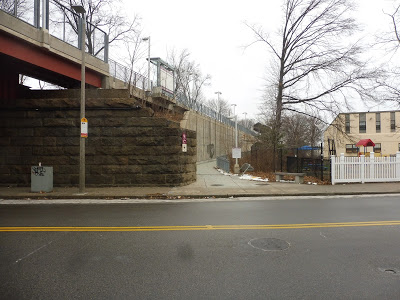 Looking across to the other ramp.
Down here on Geneva Ave, there's another small parking lot with a few spaces! The inbound side has a second ramp that runs from the other side of the street to a more northerly section of the platform, but annoyingly, there's no crosswalk here. The second ramp is pretty standard. Also along Geneva Ave are some bus stops for the 19.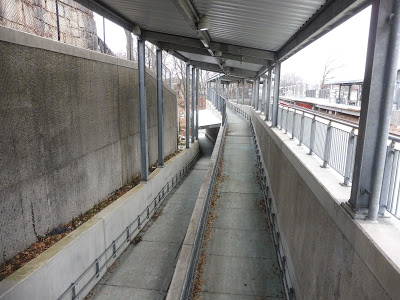 Goodness!
The outbound exit to Geneva Ave is even crazier, though! It's all sheltered, which seems to be an outbound-only feature, and it consists of a long ramp leading up from the street. With this one, though, there's a nice staircase alternative once you get close enough to the platform, which I appreciate.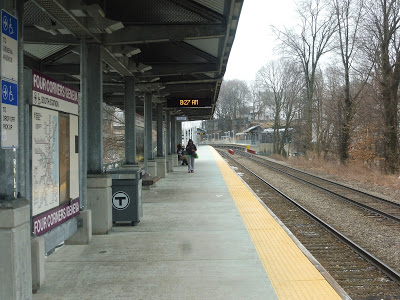 The inbound side.
There are a few more things to note about the platforms. For one thing, they feature a ton of historical information about the neighborhood, as well as some art pieces done by local artists – that's very nice to see. Also, the station has the "old" style of MBTA map, and the maps show Newmarket, Talbot Ave, and Blue Hill Ave all as "under construction." Talbot Ave opened before Four Corners, I might add!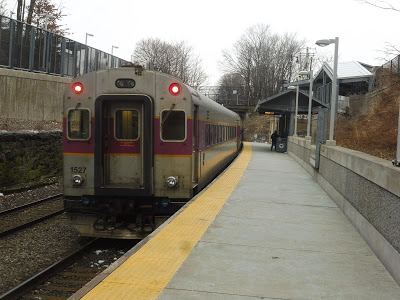 A train heading out to Readville.
Station: Four Corners/Geneva
Ridership: The Blue Book predates the opening of Four Corners, so I have no idea what the numbers for this thing are. It's not like a Saturday morning is a great time to assess Fairmount Line ridership, but there were a few people who got off on my train and a few people who were waiting for one going the other way.
Pros: For a Fairmount Line station, this station is really unique! It has so many passageways and entrances and exits that it ends up being much more interesting than any other station on the line. In terms of functionality, the platforms are all high-level and have everything one would need at a Commuter Rail station.
Cons: I gotta say, the outbound platform is way better than the inbound one. The inbound side can only be accessed by ramps, and they're not sheltered, unlike on the outbound side. Also, the staggered platforms are pretty annoying, although I understand that the right-of-way is narrow to the point that they needed to be built like that.
Nearby and Noteworthy: You'll find lots of businesses on (somewhat) nearby Blue Hill Ave. There's also some retail right on Washington Street near the station.
Final Verdict: 7/10
This is a quirky station, and some of those quirks no doubt lead to cons. After all, the inbound platform is far worse than the outbound side. That said, this is still an interesting station, and I kinda like how weird it is. Aspects of it aren't great, but it overall equals a good Commuter Rail stop!
Latest MBTA News: Service Updates