We're still going to northwestern Providence, but this one is a little…weird. The 27 has a strange loop thing within North Providence, and I had a master plan to ride the whole thing around in separate chunks. Thus, we're starting this trip at Stop & Shop to ride the section on *breath* Woonasquatucket Ave. That's a long name!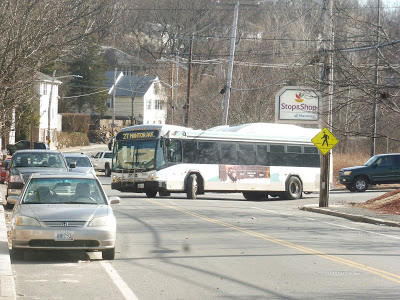 The bus leaving the supermarket.
From Stop & Shop, we immediately turned onto Fruit Hill Ave, then we merged onto Woonasquatucket Ave. The houses were dense along here, but they felt less apartment-like than some of the other homes we've been seeing along these RIPTA routes. It was generally residential, but there were a few, mostly industrial-feeling businesses that came up sometimes. That lasted until we looped around at Centerdale, the downtown of North Providence.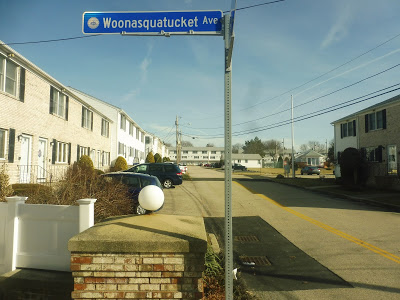 An apartment development – look at the size of that street sign!
From Centerdale, Josh and I hopped on the 57 and took that into Providence. My master plan was to walk from Fatima Hospital on the 55 back to Centerdale in order to get a 27 on its other leg of the loop. Unfortunately, Josh and I were about a minute late, and we saw the bus leaving just as we arrived…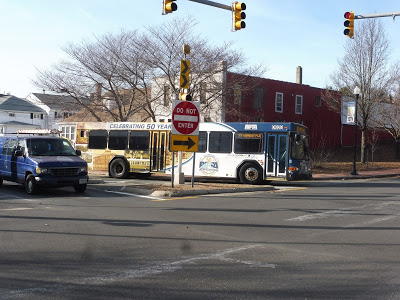 Darn it!
So we were forced to wait for the next bus, which was another one down Woonasquatucket Ave. Luckily, from what I can see on Google Maps, the other leg down George Waterman Ave is more or less the same kind of scenery as Woonasquatucket, so we didn't miss much. I guess we'll just take this bus back to Stop & Shop and start the review from there to Providence…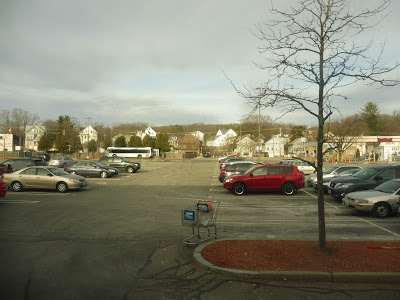 The view from the deviation.
We headed down the twisty Manton Ave, which was entirely lined with dense houses. There are a few random trips that deviate into Hillcrest Village Apartments, but ours was not one of them, so we just continued through the dense residential neighborhood. The intersection with Atwells Ave had lots of retail, though, and from that point, there were plenty of businesses mixed in with the houses.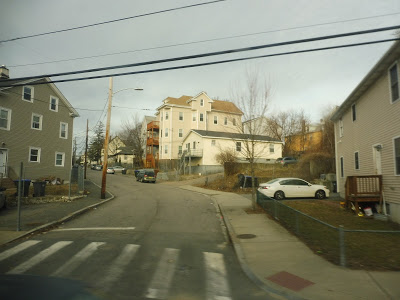 A curvy hilly side road.
It was interesting to see an old factory converted into a shopping center, and soon after that, we turned onto Westminster Street into Olneyville Square. This is the transfer point for three other bus routes, and we stay with one of them, the 28, from here until Providence. Thus, we headed down Broadway, leaving the square and making our way over/under/over (don't ask) the Amtrak and Commuter Rail tracks and Route 6.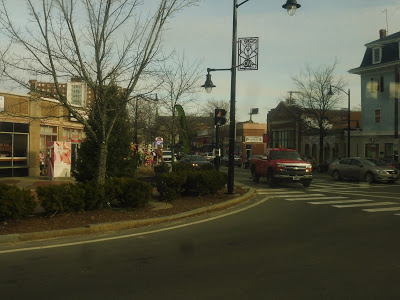 Olneyville Square.
Broadway seemed like an up-and-coming street. It was mostly residential, sure, but there were businesses mixed in that seemed new and interesting. We soon crossed over I-95 and made our way onto Fountain Street, which was definitely less interesting than some of the more easterly parallel streets here in downtown Providence. Finally, we made our way into Kennedy Plaza.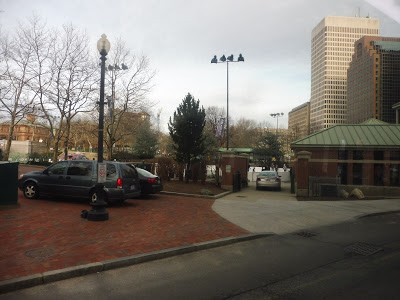 The 27 became a 28 at the plaza, so here's a photo from nearby.
RIPTA Route: 27 (Broadway/Manton)
Ridership: The route seems to get great ridership. Our outbound ride from Stop & Shop had nine people on it, while the full inbound got about 15.
Pros: Along its main trunk, the 27 has great weekday frequency, with service every 20 minutes – that means that on the combined section with the 28, there's 10 minute service! As for weekends, I'll say that RIPTA did a good job coordinating with the 28: there's a bus every 19 minutes on Saturdays and every 25 minutes on Sundays on the combined section.
Cons: However, this means that service on the 27 alone is lacking. I understand every 50 minutes on Sundays, but every 38 minutes on Saturdays is a really strange frequency for people to remember. Also, the route has two branches, so we have to cut the headways in half again – the branches get 40 minute service on weekdays, 76 minute service on Saturdays, and 100 minute service on Sundays! Also, since the two branches take different amounts of time to complete, the departure times from Centerdale have to alternate strangely. For example, the route has to run every 16-24 minutes from Centerdale on weekdays in order to maintain 20 minute service on the trunk. Finally, having two random trips serving Hillcrest Apartments on weekdays and Saturdays adds even more confusion to the departure times, since those trips have to leave a tiny bit earlier, and it just seems like a pointless deviation in the first place!
Nearby and Noteworthy: I gotta say, Broadway seems like a cool place to walk around.
Final Verdict: 6/10
Well, the chain of 8s is finally broken. I really don't like the 27 personally, since it has really confusing headways and low frequency on each of its branches. I think it would be more effective to just choose one branch or the other and just stick with it, but maybe they get fairly equal ridership. Sure, the 27 is ostensibly a "good" route, but I still have a lot of problems with it.
Latest MBTA News: Service Updates