We've got a theme going on with these 50s routes: direct, frequent lines to the northwestern parts of Providence. Yeah, they're boring, but we gotta do them. The 55 has a few more deviations than the ones we've seen before…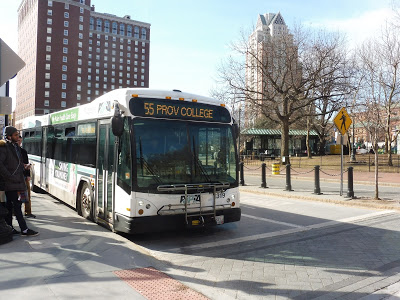 The bus at Kennedy Plaza.
We headed up Exchange Street from Kennedy Plaza, which took us over the Woonasquatucket River into a modern part of town with a ton of condo development. After pulling into Providence Station, we crossed the Moshassuck River (these are such Rhode Island names!) into the East Side. We turned onto North Main Street, which had a huge park on one side and charming historical houses and apartments on the other.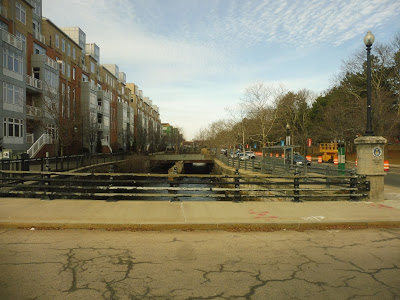 The diminutive Moshassuck River.
We headed over the river again onto Charles Street, which had some apartments, but also a lot of office-type buildings with big parking lots. There was a brief one-way section as we went under I-95 and passed a huge USPS distribution center, then we went over the Commuter Rail and Amtrak tracks. Turning onto Admiral Street, we passed over yet another highway, Route 146, and finally, we were in a neighborhood.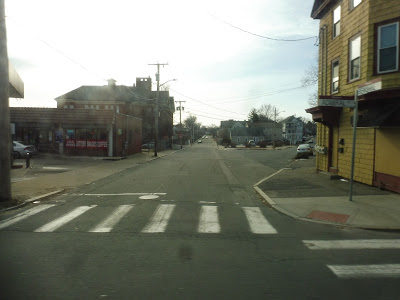 There we go!
Admiral Street was mostly lined with a ton of dense houses, but at certain intersections, there were bouts of businesses as well. Suddenly, we turned onto Huxley Ave, a narrow road with houses on one side and Providence College buildings on the other. This was a deviation to serve the college, and after doing so, we took a rotary back up to Admiral Street.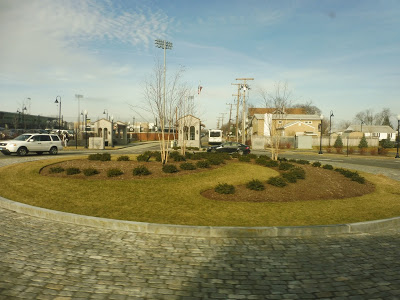 There's a 51 going the other way.
We were going up a slight hill, going by more dense houses and retail. It started to feel more suburban as we continued, with more spaced-out dwellings and a few apartment developments coming in now. Right after entering North Providence, the street became Smithfield Road and we did a deviation to Shaw's that two other routes do as well.
Doing the ol' deviation.
Smithfield Road was a big change from before. Now it was very much suburban, with many trees, spaced-out houses, and a sidewalk on only one side of the street. It became more of a neighborhood eventually, with dense blocks and houses once again, but we didn't stay in it for long – our final stop was a deviation into the Our Lady of Fatima Hospital.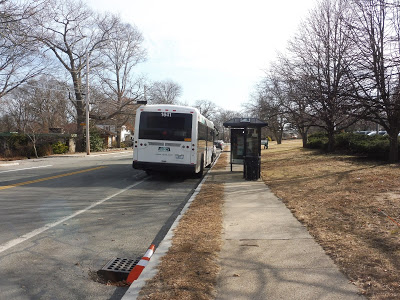 The bus laying over.
RIPTA Route: 55 (Admiral/Providence College)
Ridership: My Saturday trip got about 15 people, and that's pretty good! I can't speak for any other trips, but based on the route's frequency, I assume it generally gets good ridership.
Pros: I really like that RIPTA has so many frequent routes to this part of Providence, and I think it needs them: the 55 serves a ton of dense houses, plus Providence College! It runs every half hour on weekdays and Saturdays and every hour nights and Sundays. There are a few really late trips on Thursdays and Fridays when Providence College is in session, too (12:07 and 1:07 departures from Providence)!
Cons: This one has a few more deviations than the others, but I think they make sense for the most part, and none of them are too painful.
Nearby and Noteworthy: This one was generally lighter on the retail than some of the other routes we've seen, but there is Providence College to make up for that.
Final Verdict: 8/10
Gosh, I'm just doling out these 8s! What can I say? This route has great frequent service, and it serves a dense and important part of the city. It's great!
Latest MBTA News: Service Updates