Here's another frequent, direct RIPTA route serving northern Providence. Indeed, this time we're starting in North Providence, a separate town entirely! The 57 is the most direct route into Providence proper, so let's see what it's like.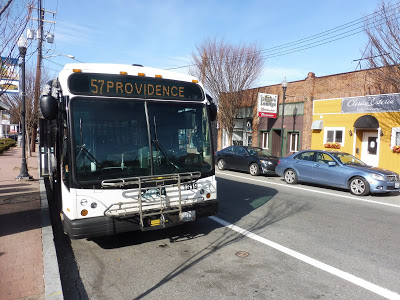 The bus in North Providence.
The route starts in downtown North Providence, which has dense single-story businesses along Smith Street. Once we went around a rotary, though, the businesses on Smith got much more suburban, as each one had a parking lot in front or to the side of it. There were also houses here and there, but the road was mostly retail.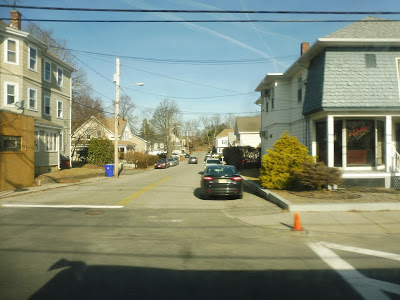 The side streets were residential.
There was a stretch where it did become all houses, but it was broken spectacularly by an ugly shopping plaza and some suburban businesses. That was quick, though – it was mostly residential once again after that, even as we entered Providence. We eventually passed the campus of LaSalle Academy, a catholic school, and near it was a retail block. From here on out, while it continued to be primarily houses, there were some business blocks at major intersections.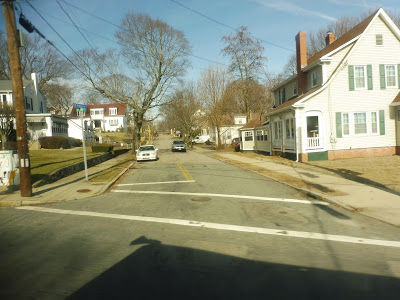 Somewhere in the residential section.
Once the road curved past an ALDI supermarket, its character changed dramatically: now there was retail all along it. We were joined by the 56 at Chalkstone Ave, and together, we ran past all these businesses. After passing over I-95, there were government buildings everywhere, including the beautiful Rhode Island State House.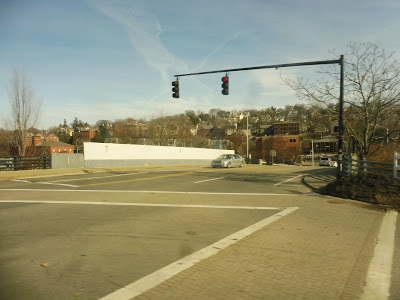 No photo of the State House, but I like this view of the East Side!
We continued to loop around it by turning onto Gaspee Street, which also led us past Providence Station. From there, we turned onto Francis Street, which ran alongside the river-spanning Providence Place Mall. We then turned onto Memorial Boulevard, and made our way to Kennedy Plaza.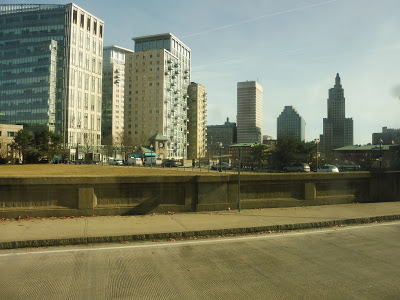 Gotta love the Providence skyline!
RIPTA Route: 57 (Smith Street)
Ridership: This one is interesting, and it makes me wish that RIPTA still had its ridership statistics online. My trip only got two other people, which would lead me to believe that it gets awful ridership on every trip. Of course, there's no way to prove this, and I'm sure other trips are better, but there's no denying that mine was bad.
Pros: Like the 56, this is a direct route running down a major corridor. It connects North Providence to the station and Kennedy Plaza, and it's the fastest one to do so. It runs with great frequencies, with service every half hour weekdays and Saturdays and every hour nights and Sundays.
Cons: The low ridership on my trip is a concern, but my guess is that it was a fluke. Why would they run the route every half hour if it didn't get the ridership to support it?
Nearby and Noteworthy: North Providence is a somewhat major downtown, although I didn't think anything there was too great.
Final Verdict: 8/10
Sure, I'll give this thing an 8. I have no way of knowing for sure, but I think this route gets the ridership to meet its frequencies. After all, Smith Street is a major corridor, and it's a direct connection to North Providence. This is another good bus.
Latest MBTA News: Service Updates