After the Extended Overnight, I can't go around saying that any other Harvard routes are "hard to ride," but this one comes pretty close – the Quad Stadium route runs from 5 AM to 7 AM, and that's it. The early bird gets the worm, I guess.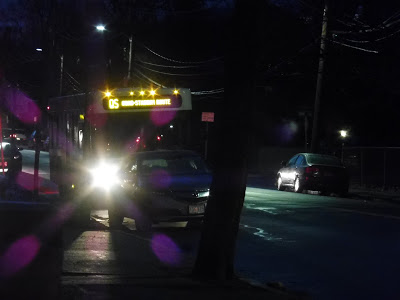 Just gonna creepily take a picture from around the corner…
Starting at the Quad, we came onto Garden Street, which started out lined with houses. It got denser very quickly, though, and we were soon running along the Cambridge Common. After a stop near Harvard Square itself, we looped around the Harvard Bus Tunnel portal and merged into the Cambridge Street tunnel.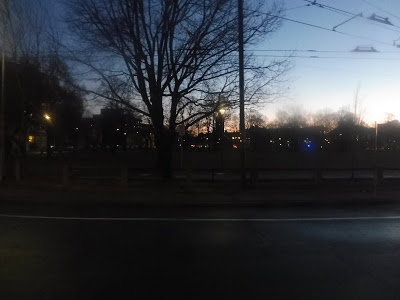 The sun rises over the Common.
On the other side of the tunnel, we headed onto Quincy Street, running along the eastern side of Harvard Yard. Now, the route is supposed to turn onto Mass Ave and loop around to serve Winthrop House. It's one of the most annoying deviations on the Harvard Shuttle system, but if it's a timepoint, then the route should do it. Our driver, though…he skipped right by it and continued onto Bow Street instead.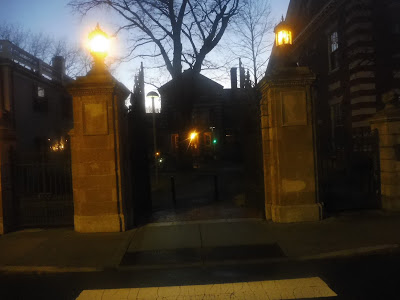 A classic Harvard gate.
It became DeWolfe Street, running past a ton of Harvard dorms, then we turned onto Cowperthwaite Street. This was to serve Mather House, and from there, we made our way to Memorial Drive. The route is supposed to go right onto it, but…okay, I guess we're talking a left instead…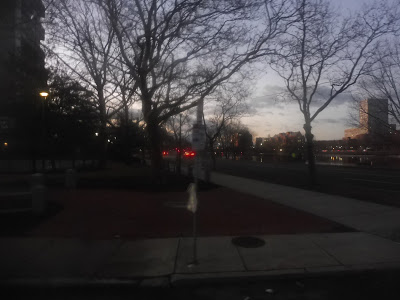 This is not going as planned!
We ran along the Charles River on Memorial Drive, then we turned onto Western Ave. This took us over the river and into Allston, where there was a ton of construction, including office buildings and more Harvard buildings. We made a tight turn onto Harvard Ave, which led us back up to the university's athletic facilities. Turning onto an access road along the south side of the Harvard Stadium, we arrived at our destination, where strangely, there was no bus stop sign.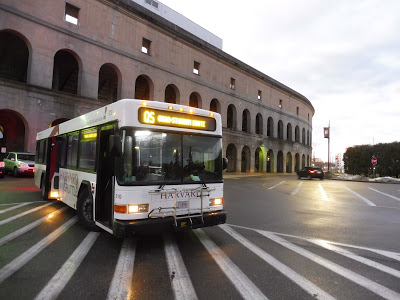 Man, I love that stadium.
Harvard Shuttle Route: Quad Stadium (Quad – River Houses – Harvard Square)
Ridership: I was surprised: this thing gets pretty good ridership! The route is populated almost entirely by students on sports teams headed for practice, which makes perfect sense. My trip got about ten of those people.
Pros: I assume that many sports practices start early in the morning, so this bus is a great way of getting from Harvard's dorms to practice. The route runs as often as it needs to, with service every 25-35 minutes on weekday and Saturday mornings. On weekdays, there are also two inbound trips at 7:40 and 8:40 that go back to the Quad.
Cons: Well, first of all, our driver completely skipped a major timepoint! Yes, Winthrop House is not a fun deviation to do, but it's a timepoint, so the bus has to serve it. It's not okay for the driver to just take a different route. Also, on Saturdays, there's no way for students to get back to their dorms from the stadium! The Quad Stadium has no return trips, and the Allston Express doesn't run until 5 PM (because that makes sense).
Nearby and Noteworthy: Isn't Harvard Stadium beautiful? Well, no time to admire it. Drop down and give me 20!
Final Verdict: 6/10
This route is probably deserving of an 8, but I can't get over its two main problems. Not only is there not a way of getting back from the stadium on Saturdays, but our driver just skipped a timepoint! Those are two really major cons! This is still a good route, but I have to drop the score down a few points for those issues.
Latest MBTA News: Service Updates