Back in Worcester already? Hey, like I said, it's a system I've barely covered. Today we're taking a ride on the 31, which runs up to the north side of Worcester through a variety of different neighborhoods. It also forms part of a loop with the 16, but let's not get ahead of ourselves…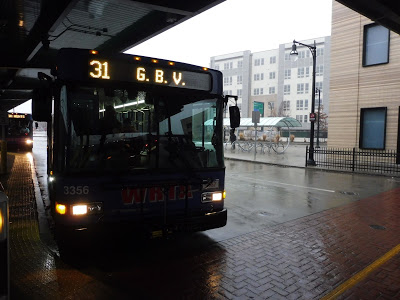 Well…this is dingy.
Beginning at the Central Hub in Worcester, we did the classic WRTA rotary loop before running up Foster Street. There were some huge buildings along here, including a hospital, a parking garage, and a convention center. The architecture got older once we crossed Commercial Street, and it was now a mix of office and retail buildings (with a few urban parking lots thrown in there).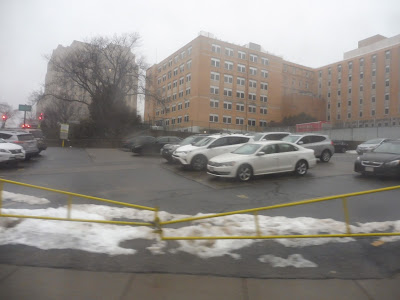 One of the parking lots.
Foster Street became Maple Street, and it suddenly went up a steep hill and made some tight curves around a parking lot. It merged us with Elm Street, which went past various apartments and the Worcester Historical Museum. They eventually turned into dense houses, but it was a pretty nice neighborhood.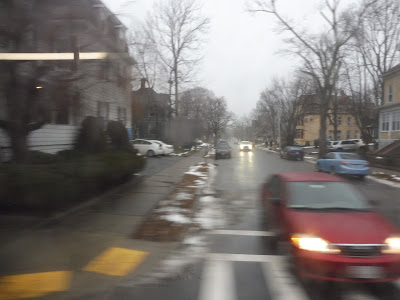 Rainy weather does not a good picture make.
We came along to a park and, suitably, turned onto Park Ave. We continued alongside the beautiful park, which had a lovely lake in its center, but once it ended we were graced with…Price Chopper. Well, we got to see the athletic fields of Worcester Polytechnic Institute after that, and then we went by yet another beautiful park!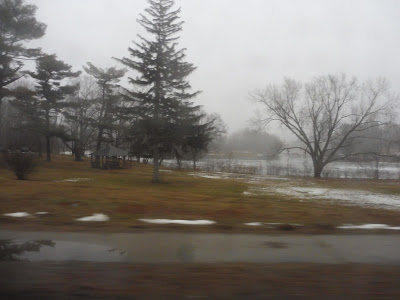 It would be even nicer if it wasn't so dismal out!
That park was about it for the nice scenery, though. Suddenly, we were bombarded by a ton of industrial buildings and suburban businesses, and the road split into two one-way sections. We were now on Gold Star Boulevard, but it sure didn't earn a gold star in urban planning, 'cause it was insanely ugly!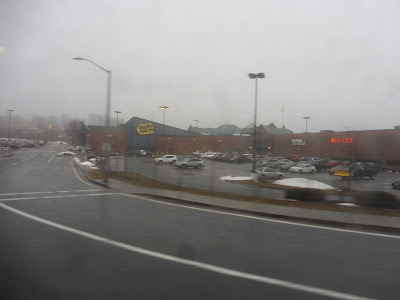 The Greendale Mall.
After twisting under I-190, we passed the Greendale Mall, which is virtually inaccessible in the route's other direction because of the insane road patterns. Soon after that, we rejoined the inbound route on West Boylston Street, which went over a railroad track and twisted around next to it. There was an endless freight train on the track, while the other side of the road had some more gross industrial scenery (plus a few businesses and an actually nice-looking library).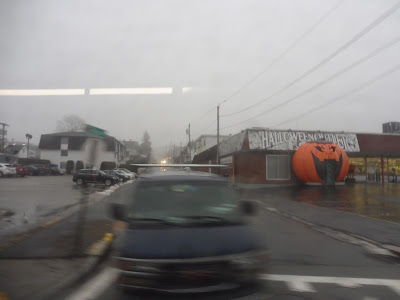 It's a bad picture, but I simply had to showcase this Halloween-themed store!
Beyond the vast expanse of a grassy hill was Quinsigamond Community College, which looked like a haunted mansion in the foggy rain. We continued up West Boylston Street for a little more, still going by those suburban businesses, until we turned onto Mountain Street East. This was a nice break, as the road quickly became lined with houses.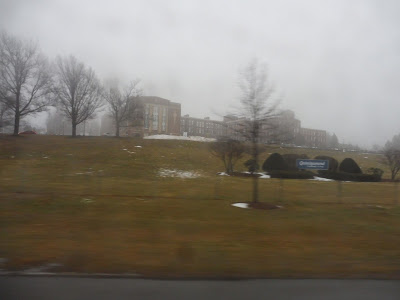 The creepy community college!
We went by a golf course eventually, while simultaneously passing the aptly-named "Fairways" apartment development. In fact, we were all of a sudden surrounded by apartment developments! We turned onto Clark Street, which went down a hill past a school, then Tacoma Street, which originally had office parks before the Great Brook Valley apartment development. And boy, it lasted forever.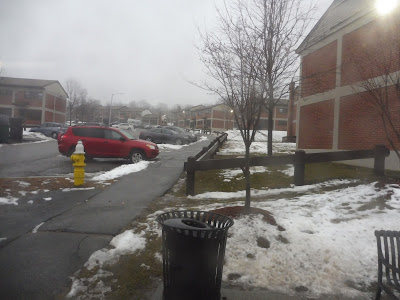 Apartments as far as the eye can see.
It took a seriously long time to get out of Great Brook Valley, but we finally did and turned onto Boylston Street. This road had some houses and businesses on one side and a big industrial building on the other. We headed onto Lincoln Street at a recently-built roundabout, and this took us down to the Lincoln Mall, where the 31 officially becomes the 16.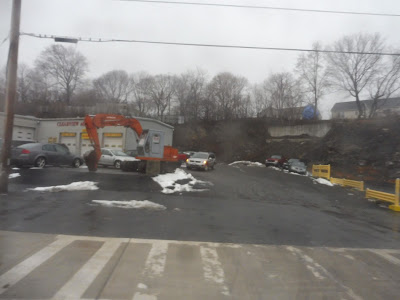 Some auto shop.
WRTA Route: 31 (Union Station Hub – Lincoln Plaza via Grove Street and West Boylston Street)
Ridership: In its pre-loop form, the 31 got pretty good ridership: 475 riders per weekday and 238 per Saturday. My trip got a decent 13 riders.
Pros: The route serves as a nice direct trip to northern Worcester, as well as a crosstown trip from there to Lincoln Plaza. The WRTA only recently combined this with the 16, but it was a great decision – I like how people have the option to take a bus from one point on the loop to another.
Cons: These mostly lie in the schedule. On weekdays, it's generally every 40 minutes, but for some reason it becomes every 80 minutes in the inbound direction only past 4 PM! The Saturday service is also every 80 minutes, leading to a measly six trips throughout the day.
Nearby and Noteworthy: The bulk of the route is pretty boring, but I like the section closer to Worcester. It serves some really nice parks!
Final Verdict: 6/10
The 31 does its job, nothing more, nothing less. It's generally a good route, but the schedule is iffy, particularly on Saturdays. Time to continue the loop on the 16!
Latest MBTA News: Service Updates