It's a good thing I reviewed this one after riding the LRTA 15, since I doubt I would've had any reason to come here otherwise – Littleton/Route 495 is in the middle of nowhere! It's one of those Commuter Rail stations that's really only meant to be a park-and-ride, which…well, it's not exactly a rare thing…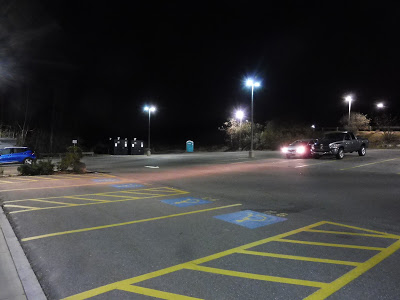 Might as well start with the station's main use.
For a park-and-ride station, it's interesting that Littleton only has 246 total spaces. Doesn't seem like a lot, does it? At least there's a convenient "restroom facility" in the parking lot, though (see above)! The station also has about 24 spaces for bikes, and there's actually a bus connection here. Okay, it's the MART Boston Shuttle, which runs three times a day and is no doubt awful and guaranteed to be really late, but…it does come here.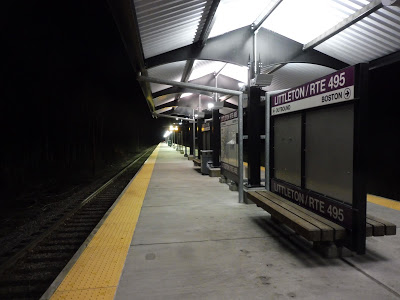 Down on the platform.
There's a great footbridge that leads over to the platform, going down to it on a long ramp. This station was completely renovated in 2013, as we can see from the awesome platform. It's modern and it gets the job done, with plenty of benches and wastebaskets, as well as historical information about Littleton. The lighting at night was great, even on the substantial unsheltered section, and it was a pleasant place to wait for the train with the subtle din of cars from nearby I-495.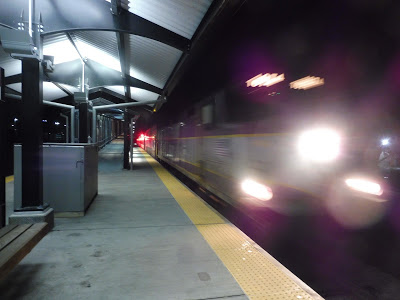 Darn it, it's going the wrong way!
Station: Littleton/Route 495
Ridership: I guess I didn't have to worry about the 246 spaces thing, because the ridership here isn't much higher: 313 people per day. Considering drop-offs and people who get here on bikes, I'm sure there's enough space in that lot.
Pros: The 2013 renovation did wonders for this place. It's really nice! Sure, this is nothing special, and it has no more than the basic Commuter Rail amenities you would expect, but that's not a bad thing. The station's proximity to both Route 2 and I-495 is an added bonus.
Cons: Maybe the lot is too small? I wish the MBTA still had its fill rate statistics online! Any Littleton commuters out there who could report on the state of the lot in the morning peak?
Nearby and Noteworthy: There's practically nothing around here – a few offices, and that's it.
Final Verdict: 8/10
Yeah, not much to report here. Littleton looks great, it functions well, and it's in a good location for its intended purpose.
Latest MBTA News: Service Updates