This is definitely a change, but we're rolling with it. Nathan and I did the desolate foggy walk from Coppage Drive to Worcester Regional Airport, and I can't say I was expecting much. As it turns out, though, this is a legitimate airport, and the main building is awesome!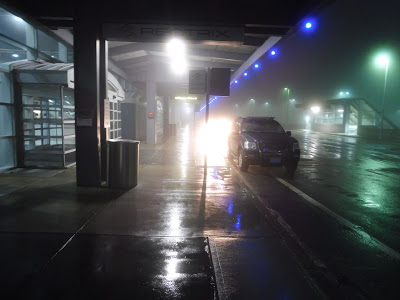 The pickup/dropoff area.
I'm not quite sure why the road going into the airport has four whole lanes, but maybe it gets really busy at certain times. The pickup and dropoff area is what you'd expect: it's a little austere, but you don't need much. The airport has two parking lots where people can put their cars, both of which have good pedestrian access to the terminal here.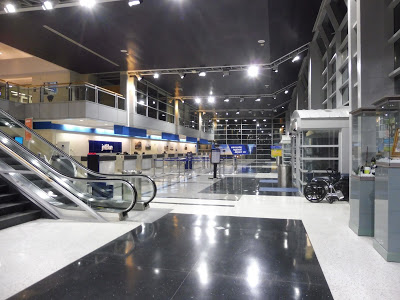 This is more beautiful than expected!
Wow, this main terminal is…spotless. And huge. And awesome! One entire side of it is dedicated to the check-in desks for the two, count 'em, two scheduled flights per day that leave from here. They even have a few automatic check-in machines. There are some seats across from the desks, but this is generally an empty area. The whole terminal is equipped with free Wi-Fi, by the way!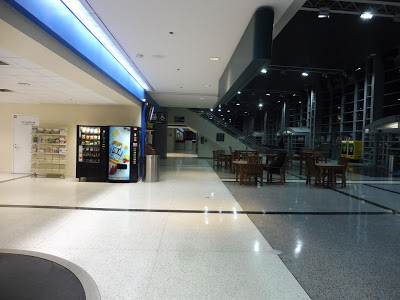 Some of the terminal's amenities.
Moving to the left of the main staircase, there's a ton of…stuff. You've got wooden tables, a TV that was blaring some sports game, a few brochure racks, and two vending machines. There's even a café called Mirage Express, although it was closed when we were here, and it's probably closed most of the time.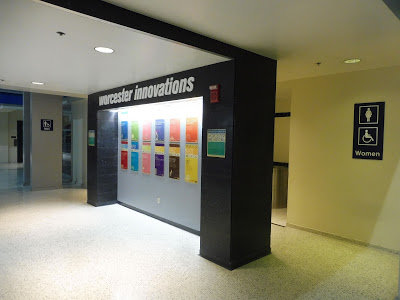 INNOVATIONS!
This terminal reallyyyyyy tries to make Worcester sound like a great place. They have signs everywhere touting all of the history and culture the city has, they have Worcester's colleges lined up on huge banners over the main staircase, and there's this timeline of innovations coming from the city, although they apparently stop in 1963 with the smiley face. I hope I'm not offending anyone when I say this, but…it's just Worcester. It's Worcester. The bathrooms are great, by the way.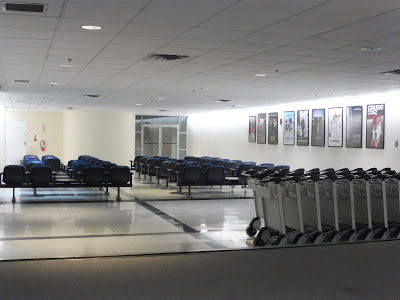 Why do all the seats face the wall???
Rounding out this ground floor are some baggage claims, a few rental car desks (I wonder where they take you to get your car), and a strange waiting area at the edge of the terminal. It's just a bunch of seats facing the wall with some posters about seemingly unrelated movies. American Hustle? The Game Plan? Grown Ups? What do these have in common, aside from most of them being filmed kinda-sorta close to the general Worcester area but not always?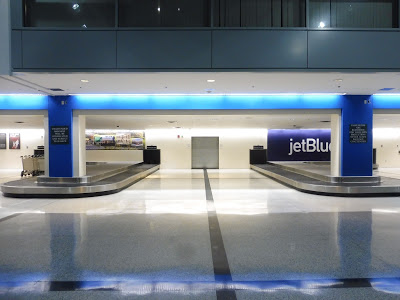 Claim your baggage!
I couldn't take pictures of the part of the airport up the main staircase for security reasons, but it was really nice. First of all, the staircase also features bidirectional escalators, as well as an elevator to get up to the second floor. Once up there, there's a small security area, and then you're in the gate area. There's a ton of seating, plus a convenience store where you can get snacks for the plane. Talk about amenities!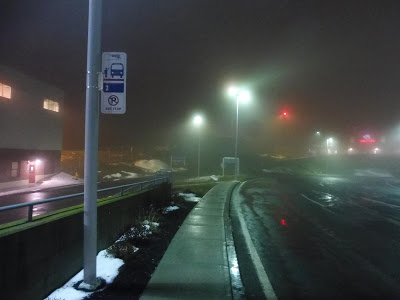 Normally I would get a "vehicle picture," but we couldn't see any planes, so here's the desolate WRTA stop.
Airport: Worcester Regional Aiport
Ridership: Weird word to use in this context, but alright…the "ridership" of the airport is low, as you would expect. JetBlue, the operator of fixed flights from here, carried around 115,000 riders over the course of 2016, averaging out to 315 people per day. That means that every plane was about 85% full, which isn't awful, to be honest! Most of the actual flights from here are general aviation, which boosts the airport's total usage to 376,000 people per year – over 1,000 per day!
Pros:
This is a beautiful airport, first of all. It has a few quirks, but as far as the terminal goes, there's hardly anything wrong with it. Service here is slowly expanding, too: there are currently two JetBlue flights to Orlando and Fort Lauderdale, but they're adding one to New York City later this year! The flights leave on a "pulse" schedule, about an hour apart from 5 to 6. This is an efficient way of doing it, since it centers all the busy traffic on one time of day. Finally, there's public transportation from here to Worcester seven days a week by means of the
WRTA 2
!
Cons: Getting to the airport isn't optimal for drivers, since it doesn't have any direct highway connections. Also, since this is a smaller airport, flights from here are double the price of ones from Logan to the exact same destinations. For many people, though, the higher price gives far more convenience, and this is a much easier and simpler airport to navigate than Logan.
Nearby and Noteworthy: This thing is practically in the middle of nowhere! But hey, you can get to Orlando and Fort Lauderdale…
Final Verdict: 8/10
This isn't an airport a lot of people think about, but it's legit! I was expecting some run-down hole-in-the-wall airfield, but there's a beautiful terminal here, and it gets a few actual flights. It's a positive sign that JetBlue is adding another one, too – maybe one day, this place will rise to a level where it can serve as a competitor to Logan.