Who knows how many people actually use a bus to an airport that gets two flights per day, but luckily, the 2 serves other stuff on its way to Worcester. If it was just an express from the airport, I'll bet it would be empty most of the time!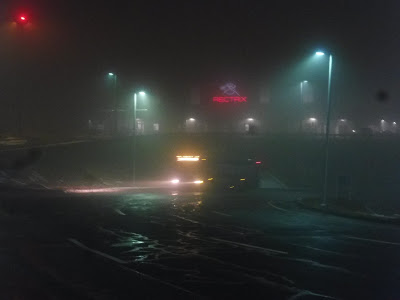 Coming out of the fog.
We left the Worcester Regional Airport terminal and looped around onto Airport Drive, taking us into the woods for a stretch. We reentered civilization by turning onto Pleasant Street, which was lined with dense-ish houses and even a few businesses. I'll just briefly point out that outbound buses have an extra deviation here via Sunny Hill Drive before serving the airport – it's just a residential neighborhood.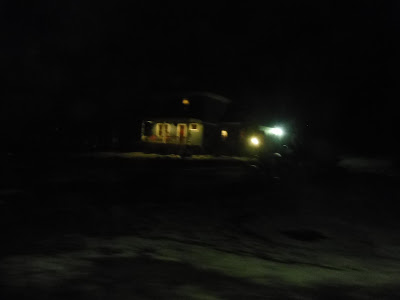 A blurry house.
We went by a country club and descended a hill past more homes. Another outbound-only deviation is a by-request jog onto parallel Mower Street, which is in more of a "neighborhood" than Pleasant Street is. The two roads rejoined quickly for Tatnuck Square, which had some (mostly boring) businesses and a connection to the 6.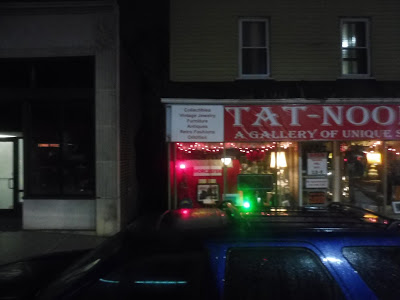 This store was an exception – it looked awesome.
There were some residual businesses of Tatnuck Square for a little while, but it eventually went back to being mostly residential. Aside from a few religious buildings, Pleasant Street was all houses until a retail block at the intersection with Richmond Ave. We arrived at Newton Square soon after that, which really only had a single pizza joint as far as businesses go. It also was a roundabout…not a square!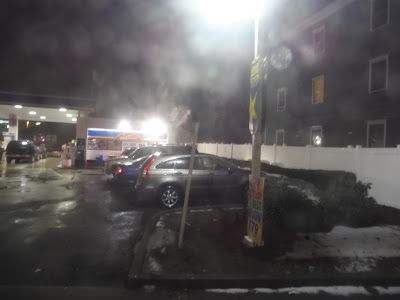 A gas station.
After Newton "Square" and its connection to the 3, Pleasant Street ran along Newton Hill and its surrounding park. Once that park ended, the pleasant (ha!) suburban houses ended, and we were all of a sudden in the city. There were now dense apartments, a ton more businesses, and a few rather tall buildings along the road.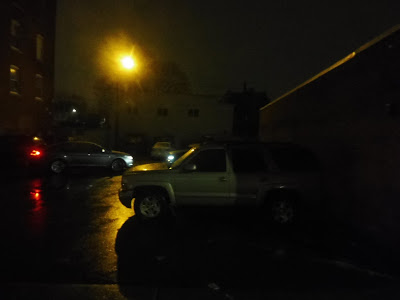 Some random parking lot.
The buildings got more consistently dense the further we went, and then we were in downtown Worcester. The street became Front Street, and we ran along City Hall and its corresponding park, amidst tall-ish buildings everywhere. Finally, we meandered our way around into the WRTA Central Hub.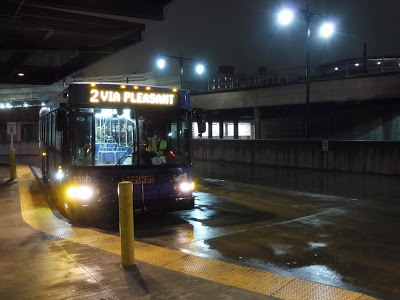 Getting ready to head out again.
WRTA Route: 2 (Union Station Hub – Tatnuck Square via Pleasant Street)
Ridership: With an average of 359 riders, the 2's weekday ridership is decent. On weekends, though, it drops down to 88 people on Saturdays and just 60 on Sundays – three people per trip! My inbound weeknight ride actually had just one other person, but hopefully buses were busier going out.
Pros: It's a mostly residential route, but the 2 is a good connection for the western neighborhoods of Worcester. It has a sensible schedule, with service every hour on weekdays and every 50 minutes on weekends.
Cons: Based on the fact that very few people take the 2 to the airport, the WRTA proposed only serving the airport based on its fixed flight departures, and I think that's a great idea. As for other cons, it's really just that this thing gets low ridership. On weekends in particular, there are very few people using the 2.
Nearby and Noteworthy: I gotta say, that Tat-Nooks place looked really cool. It has limited operating hours, but it seems to sell a lot of unique stuff.
Final Verdict: 6/10
Although its weekend ridership is really low, the 2 seems like a crucial route. It runs directly along one of the main roads of western Worcester, and it's actually the only bus that serves the area on Sundays. It's not a hugely high-performing route or anything, but it's also necessary and should stick around.
Latest MBTA News: Service Updates