This is our final foray on the Main Street corridor here in Worcester, whose other routes we've already reviewed. The 19 is one of two key routes on Main Street, the other being the 27, and they combine to run every 15 minutes in theory. In practice, the 19 is one of the most consistently late bus routes I've ever seen.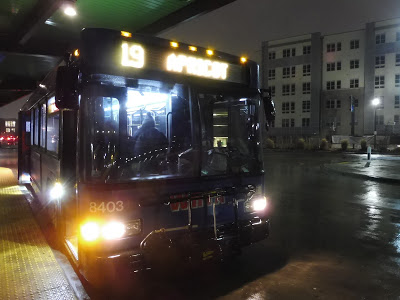 Apricot, I guess.
We went north up Foster Street, but we had to go south, so we looped around using a rotary to the east of the Commuter Rail tracks (with a great view of Union Station). We were only on Foster for a bit before turning onto Franklin Street, which took us into downtown Worcester. After picking up more passengers at City Hall, it was a left on Main Street.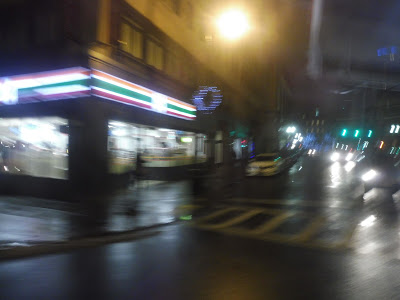 Look, 7/11!
There were tall buildings and businesses along Main Street, but they got a little shorter and sparser as we left downtown. It was still an urban street, though, with a ton of apartments between businesses and some parking lots. Eventually, the apartments became houses and the businesses actually got more frequent.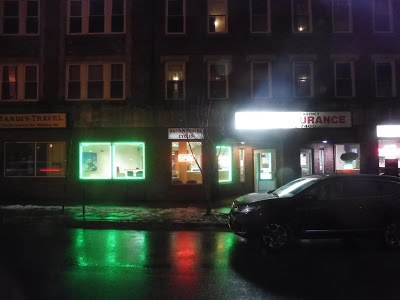 A block of retail.
As usual, Clark University came right the heck out of nowhere, and it was back to dense houses and businesses after its beautiful campus. Once we reached Webster Square, there were two huge apartment towers…and a ton of boring suburban businesses. The 27 split off onto Stafford Street while we stayed on Main, going by the Webster Square Plaza shopping mall.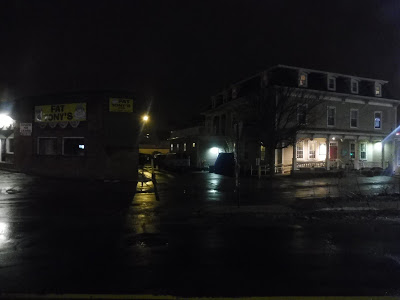 Fat Tony's!
There was a brief residential section, then we merged onto Apricot Street, beginning the 19's weekday-only independent section. We turned onto the wide Goddard Memorial Drive, which was basically just an overbuilt road through the woods. The last passenger got off at a dark road leading to some houses, but Nathan and I continued to where it started to get industrial. Ascending a hill, we turned onto Coppage Drive, which went past a few random industrial buildings before just…ending. Last stop!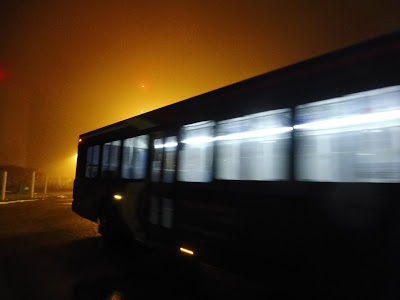 Weird picture, but I just love the lighting!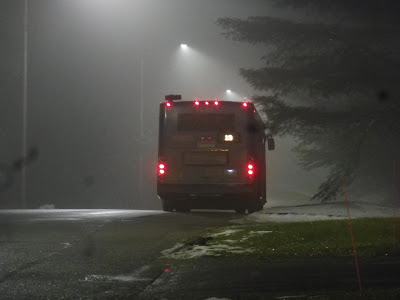 Fog galore…
WRTA Route: 19 (Union Station Hub – Webster Square – Clark University via Main Street)
Ridership: The 19 is one of the busiest routes on the WRTA – 4th-busiest, in fact, with 1,025 riders per weekday. Its ranking goes up on weekends, with the route becoming 3rd-busiest on Saturdays (617 riders) and 2nd-busiest on Sundays (261 riders)!
Pros: It's amazing just how busy the bus routes on Main Street get, at least for RTA standards. The three routes on Main Street get a combined 2,663 riders per weekday, and though not all of those are on the main trunk, it's still gotta be a big chunk of that! Indeed, the 19 essentially just serves the trunk, since the Coppage Drive section is mostly by-request, as it should be. It's straight and direct, and it runs a fantastic half hourly schedule on weekdays, with hourly service on weekends. Speaking of weekends, the route does a good job covering for the weekdays-only 33 during those times, going to Spencer on Saturdays and Leicester on Sundays.
Cons: There is sooooooo much wrong with the 19. First of all, like I discussed in my 27 review, there's no coordination between the two routes going outbound, which is unfortunate. Also, the 19 has a really erratic schedule to Coppage Drive, with inbound trips only running at rush hour and a few other random times. Speaking of an erratic schedule, I know the route runs every half hour, but not quite – certain trips are offset by five minutes, which makes the timetable a lot harder to memorize. Also speaking of an erratic schedule, it doesn't freaking matter, because the 19 never follows it. Its on-time performance is supposedly around 79%, which is one of the worst on the WRTA and absolutely abysmal for an RTA in general, but the 19 seems to be always late! When we did the route in the evening rush, it was supposed to be coming on the :15 and the :45. Instead, buses were so late that they were showing up on the :00 and the :30! So yeah, clearly it's a problem.
Nearby and Noteworthy: There are tons of businesses along Main Street, plus Clark University. Coppage Drive is just industrial, but you get some almost-rural town centers on the extended weekend route.
Final Verdict: 5/10
The 19 is like a mini version of the MBTA 1 bus. It serves a ton and a lot of people rely on it, but it's always late and unreliable – it just chugs along doing its thing at the pace it wants to go. This could partly be attributed to the really tight interlines with the 23, where buses show up at Union Station at the exact same time they're supposed to depart for their next trip. Ideally, to both improve outbound coordination with the 27 and help reliability, the routes could be deinterlined and the 19 could leave ten minutes earlier for each trip. That would give it a longer layover, meaning more recovery time, plus it would coordinate it with the 27! It would require another bus, but maybe the interline could be kept and the 23 could be padded out as well, to make it more useful.
Latest MBTA News: Service Updates