I think I have some sort of psychological inability to just take the train to or from Lowell. I mean, after this day on the LRTA, I could've just grabbed the Commuter Rail home, but no – I wanted to take the 15 to its terminus just over the Littleton border and walk to the town's station on the Fitchburg Line. So be it!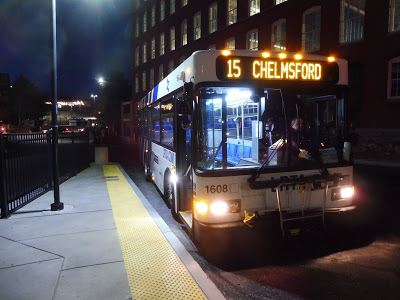 Boarding at the Kennedy Center.
As usual, we headed down Thorndike Street from the Kennedy Center, but we were going south this time. We went under the Lowell Connector highway and over River Meadow Brook, where the road became Gorham Street. The scenery was a mix of industrial buildings and businesses, with a few apartments after we went under the Commuter Rail tracks.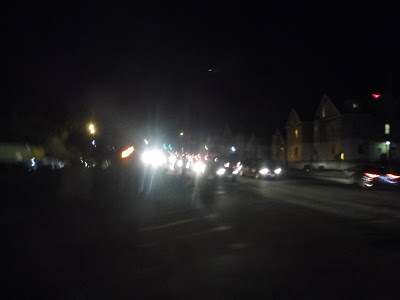 Hoo boy, it'll be one of these reviews…
A huge cemetery occupied one side of the road for a while, while the other side had two schools, some businesses, and some houses. We merged onto Carlisle Street, continuing alongside the cemetery before going over I-495, entering Chelmsford. It was residential on the other side, the houses broken only by a park and a water tower.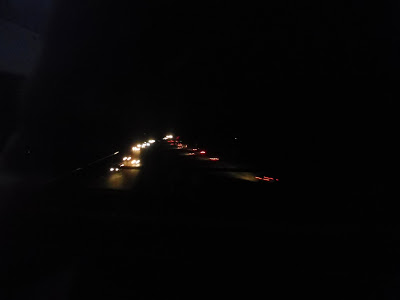 Going over the highway.
We turned onto Brick Kiln Road next, a street shared with the 14 that had houses in between stretches of forest. All of a sudden, we were passing office parks, mixed in awkwardly with houses and more forest. We broke away from the 14 by turning onto Billerica Road, taking us over Route 3 and past a ton more offices.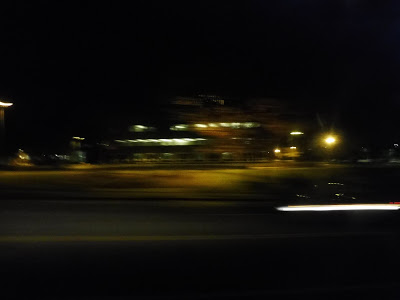 One of those offices…I presume.
Boy oh boy, those office buildings went on for a while, but eventually we entered another residential area. It was brief this time, because shortly after going by Chelmsford Town Hall and Fire Station, we entered Chelmsford Center. We were previously here on the 16, and like before, it was pretty underwhelming.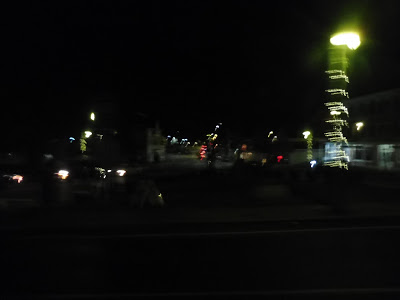 Well, these lights are nice, though!
We merged onto Littleton Road and quickly left the center – this street was lined with houses, but it got more woodsy the further we went. It started to get weird, though, with a lot of apartment developments down long driveways, and eventually a slew of office and industrial buildings. A sizeable stretch of forest took us into Westford, where the scenery was similar to before.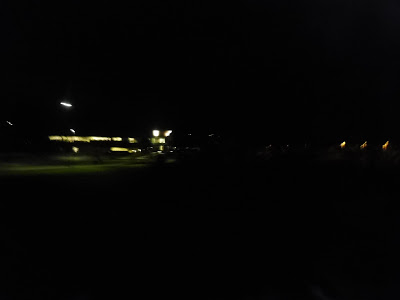 No idea what this is.
We went by the Nashoba Valley Technical High School, then it was time for a deviation to…a Hampton Inn? Yeah, we went down Technology Park Drive to serve, according to the timepoint, a hotel. I've been on weird deviations before, but come on, a hotel??? When we came back onto Littleton Street, there were a few shopping plazas on either side of the road.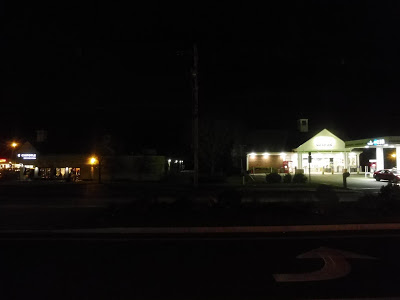 A red light! A picture that came out! Hooray!
Of all the shopping plazas to deviate into, the LRTA chose Cornerstone Square, probably because it has a Market Basket in it. We looped around in there and came back onto Littleton Road, which was a never-ending barrage of office parks and suburban businesses by this point. There was a brief break for a marsh, then we passed Kimball Farm, a popular attraction even as far away as Cambridge – it's kind of awesome that it gets bus service, as limited as it is.
I think this is Kimball Farm?
The route was almost over. There were a few more industrial buildings and businesses before the road became King Street and we entered Littleton. Almost right after that, we entered the huge facility for IBM, whose parking lots outnumbered the buildings themselves. Alright, time to walk to the Commuter Rail! Luckily, it was uneventful, but I did get Medway Street flashbacks…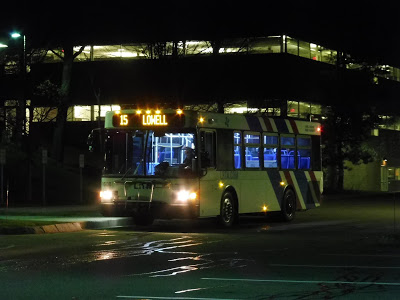 It's a weird place to end a bus, especially on a Saturday!
LRTA Route: 15 (Chelmsford/Westford via Route 129/110)
Ridership: It's not much of a surprise that the 15 gets low ridership. On weekdays, it gets 156 riders, while on Saturdays, it only gets 40 – less than 3 people per trip! My Saturday ride on the last trip of the night (5:30) was actually just me.
Pros: I can see the 15 having a lot of reverse commute potential, particularly with the gigantic IBM facility. It runs less frequently than other LRTA routes, but I think it's sensible for the ridership – it has 90 minute headways.
Cons: I don't think this has to run on Saturdays, does it? Come on, it costs the LRTA $22.92 per passenger to run it on Saturdays! That's insane! Honestly, I could see this thing being rush hour only, but maybe more people use it on weekdays than I realize…
Nearby and Noteworthy: Kimball Farm is the most obvious place – I wonder if they could advertise their proximity to public transit? Also, the IBM terminus is close to Littleton Common, which has a few pleasant businesses, including a bookstore and a theater.
Final Verdict: 4/10
Man, I dunno…the 15 isn't really doing it for me. It clearly has its place, but it seems to run more than it has to. Are people really going out to IBM on a Saturday? Or coming back from it into Lowell at 8 PM on weeknights? It's a long route, too, so the LRTA is spending a lot of money to shuttle mostly empty buses around. Like I said, it serves a purpose, but it could probably be cut back.
Latest MBTA News: Service Updates