Oh geez, this one is a mess. Here, take a look at the 17's map:
Alright, let's take votes for what this thing looks like! Is it a dragon? Maybe a baby stroller? I feel like I'm looking at a constellation or something. Look, the point is that this thing is insane, and I wanted to ride every inch of it. The driver wasn't exactly happy with my desires, but we'll get to that…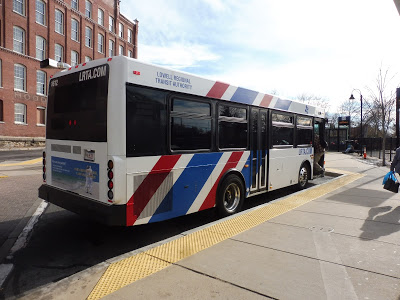 An awkward shot of the back of the bus in Lowell.
Like all LRTA buses, we started the trip by going up Thorndike Street. We quickly turned off of it onto Middlesex Street, though, leading us into a semi-industrial area with businesses thrown in for good measure. There was a brief section on Branch Street, a parallel road to Middlesex Street – this was lined with dense houses and apartments.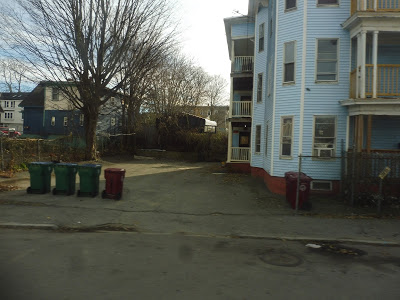 Those bins are like soldiers defending the driveway!
By the time we returned to Middlesex Street, it too was residential, at least until…more industry and weird businesses. This section was a lot longer, culminating in some suburban businesses and shopping plazas near the intersection with Wood Street. Middlesex Street had lots of houses and apartment developments along it after that.
Blurrily going by one of the shopping plazas.
Suddenly we turned onto Brouilette Street, a narrow residential road that only lasted for a block. Once it ended, we turned onto Princeton Boulevard, which was also residential, but at least it felt like an actual street that could support a bus route. There were a few apartment developments, and then…hey, wait a minute…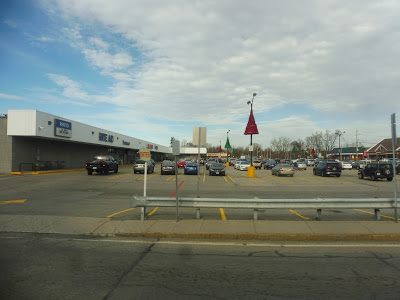 This is the other side of that shopping plaza from the last picture!
A block away from where we had originally crossed it, we turned onto Wood Street, which twisted past some more residential developments. Once it became Westford Street, it became lined with a ton of suburban businesses with parking lots, and we entered Chelmsford soon after. We then deviated into Drum Hill Plaza, a mall that also plays host to the 5 and the 16.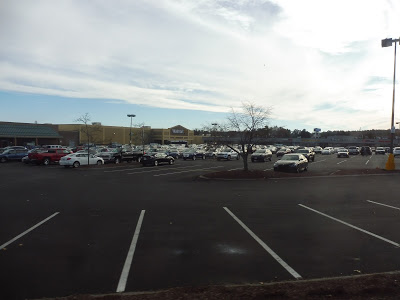 Walmaht!
We went back up Westford Street a bit before turning onto Technology Drive. As the corporate name suggests, this took us past a bunch of office parks. There were some apartments as we turned onto North Road, which eventually became Princeton Street. This was a hodgepodge of houses, businesses, industrial buildings, and weird old factories!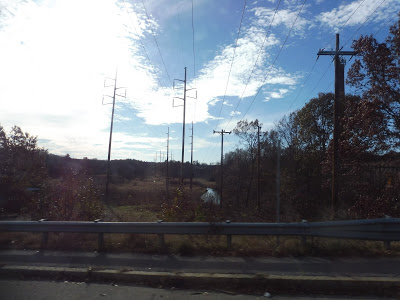 Oh, and some telephone wires, too.
We came into Vinal Square eventually, which was less of a "square" and more of an insane five-way intersection with a few random businesses to the side. We merged onto Groton Road from here, which was mostly residential. After going by Freeman Lake, the driver randomly pulled into an American Legion building (completely skipping a loop we were supposed to do) and shut off the bus.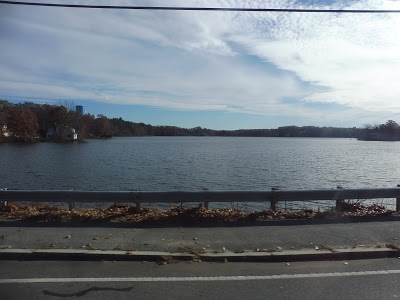 The lake!
"Alright, where are you going?" the driver yelled to the other passenger still on the bus. "The senior center," he replied. "I knew it!" the driver shouted. "You could've just let me know and I would've gone there!" Okay, how was he supposed to know that? But then the driver turned to me and asked where I was going. "Is it okay if I go back to Drum Hill Plaza?" I asked. Boy, that was a mistake. "WHY DIDN'T YOU JUST GET OFF THERE WHEN WE GOT THERE? YOU'RE GONNA HAVE TO WAIT NOW!" And then I heard her mutter "Idiots…" under her breath. I'm sorry!!!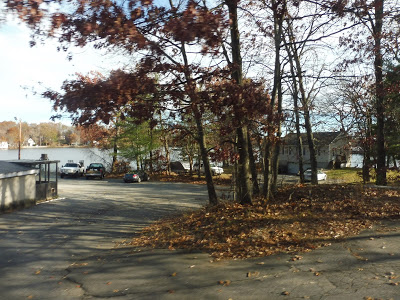 The view from our "layover point."
So we left and headed up to the Chelmsford Senior Center to drop our other passenger off. I guess we were still early, though, because we returned to the American Legion building to lay over some more! Heading out for the second time, now we did that loop we were supposed to do before. It just involved going down Groton Road and turning around to the other direction via Lynn and Main Streets, both residential.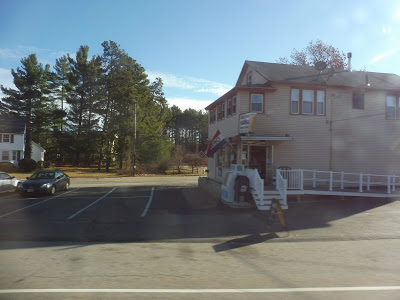 This is where the bus is supposed to lay over, according to the schedule.
We went by that pond for the third time and did the senior center deviation again. We finally stopped retracing our steps after that, as we headed onto the residential Dunstable Road. It was lined with suburban houses, and they continued as we merged onto Mission Road, a much narrower and more local-feeling street.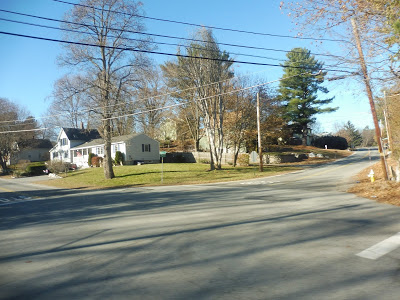 This is pleasant!
We soon turned onto another local street, Wood Street, and then a very much not local street, Tyngsborough Road. This paralleled the Merrimack River (and a single train track), which occupied one side of it, while the other side had apartment developments, houses, and suburban businesses. Truly, it was a big change in scenery.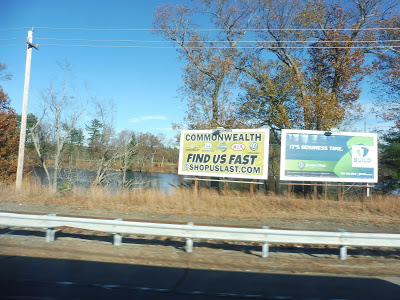 There are even gaudy billboards! Nice!
As we came away from the river, the apartment developments, houses, and suburban businesses moved to
both
sides of the road. We came back to Vinal Square and its weird retail blocks, then Middlesex Street got more residential – there were still some old factories and suburban businesses too, though. We eventually turned onto the tiny Brouilette Street again, but we did a
right
onto Princeton Street instead of a left like what we had done before.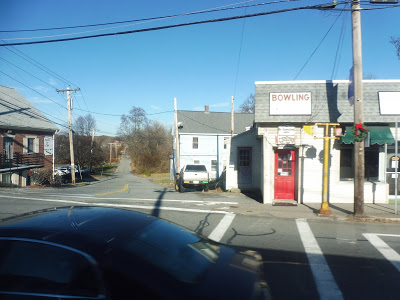 Vinal Square. Is that a tiny bowling alley??
We passed a bunch of houses, but soon the road got really wide in preparation for the intersection with North Road. We turned onto it, finally giving the route bidirectional service somewhere! From here, it was old news: we went down Technology Drive again, then we turned onto Drum Hill Road and entered Drum Hill Plaza. This is where I finally left the bus, because luckily, it has no loopiness on its way back to Lowell.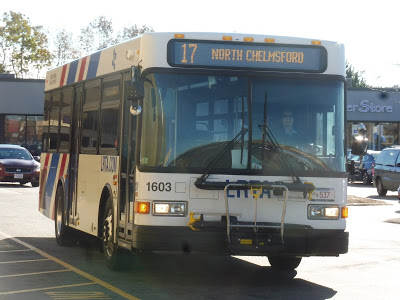 A 17 going the other way came in just after my bus left!
LRTA Route: 17 (North Chelmsford via Middlesex Street)
Ridership: The 17 gets pretty meager ridership, with only 302 riders per weekday and 83 per Saturday. It's just barely over the LRTA's weekday average of 283 riders (and far below the Saturday one of 140), but I'll bet if you factored the route's school trips out of the equation, it would be below average. My Saturday trip, for the record, got five people.
Pros: If they're willing to sit through 45 minutes of loopy deviations, then I guess residents of North Chelmsford would appreciate this route. I'm sure it gets much better ridership on the Lowell portion, where it's actually straight and it takes the same route going outbound and inbound. The route's schedule is typical LRTA, with hourly service on weekdays and Saturdays.
Cons: Look, this route flat-out sucks. I showed you the map. It's a mess. Sure, it may be the only route to serve North Chelmsford (when the rare 19 isn't running, anyway), but it does so in such a way that it's almost completely useless for anyone who wants to actually get anywhere. I don't think it can be improved without having to add another bus somewhere or eliminating important sections of the route. Oh, also, for all those crazy loops and deviations, you're spending a 50 cent premium over the normal LRTA fare because this is a "suburban" route. Yeah, that makes a lot of sense!
Nearby and Noteworthy: Remember that bowling alley in Vinal Square I was talking about? Apparently it's awesome.
Final Verdict: 3/10
The 17 is clearly useful for some people, but even a 3 seems to be pushing it. This thing makes no sense! Heck, there are huge swaths of the route that require passengers to wait through the Chelmsford layover to get to! The LRTA wants to split this into two routes, with one going straight down Middlesex Street from Lowell and another acting as a suburban crosstown shuttle from Triangle Store to the Chelmsford Town Center mall. Interesting proposal, but I can't see the crosstown one getting a lot of people.
Latest MBTA News: Service Updates