I wasn't about to hang out at the Pheasant Lane Mall waiting for the next 19! No, I decided to take a lovely walk into Massachusetts, across the Merrimack River, and back up to New Hampshire to Ayotte's Stateline Market, the terminus of the 10. And since this is our last official NH bus review, we must say the classic line once more, with passion: "LIVE FREE OR DIEEEEEEEEEEEEEEEEEEEEEEEEEEEEEEEEEEEEEEEEEEEEEE!!!!!!!!!!!!!!!!!!!!!!!!!!!!!!!!!!!!!!!!!!!!!!!!!!!!!!!!!!!!!!!!!!!!!!!!!" Ahem. Sorry about that.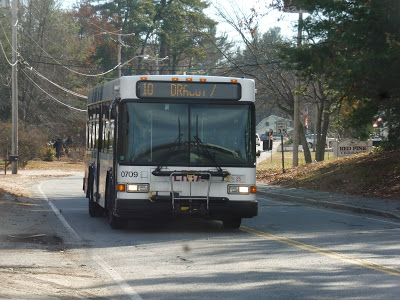 The bus just before the border.
Okay, it technically doesn't go into New Hampshire, and I'm sure it was a very deliberate decision to put the stop on the barren south side of Ayotte's parking lot, since it's in Massachusetts. We soon left the lot and headed down Frost Road, which had the feel of a quant middle-of-nowhere residential neighborhood. That feeling continued as we turned onto Lakeview Ave.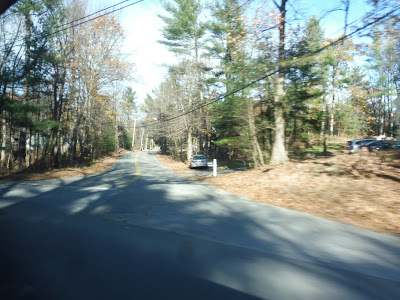 Not a great picture, but this is the kind of atmosphere I'm talking about!
It stayed residential for quite a while, but more buildings of different uses started to crop up. We passed a church, a fire station, and an auto shop, all as the houses and street blocks were starting to get denser. The first major break from the dwellings was where Lakeview Ave merged with Parham Road; here, we got some suburban businesses.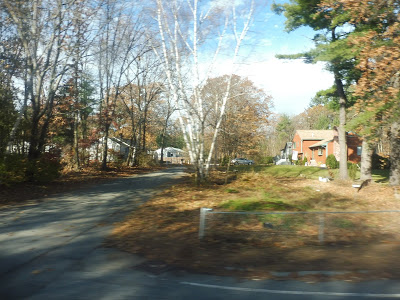 Who cares about the ugly businesses? Here are some more houses!
Briefly running alongside a lake, we entered Dracut and the street became Tyngsboro Road. We went through an apartment development and passed some more suburban retail, then there was a normal residential section. I'm not quite sure why, but the inbound and outbound routes of the 10 split up here – the inbound stays on Tyngsboro Road, while the outbound runs via Nashua Road and Stewart Street.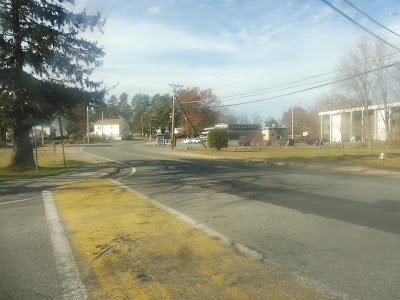 Coming out of Tyngsboro Road.
There were some businesses as we turned onto Nashua Road, briefly rejoining the outbound route before another split: we stayed on Nashua and turned onto Lakeview Ave, while the outbound goes on Varnum Road. Lakeview Ave had a bit of everything along it, including houses, a park, a funeral home, an auto shop, and some businesses.
"Costello Square."
We rejoined the outbound route at what Google Maps calls Costello Square, but there was no square – it was just a bunch of ugly suburban businesses. Further down the road, we went by some old factories that are slowly being redeveloped and the awesome waterfall right next to them. It went back to being residential after that, but the houses were much smaller and closer together now.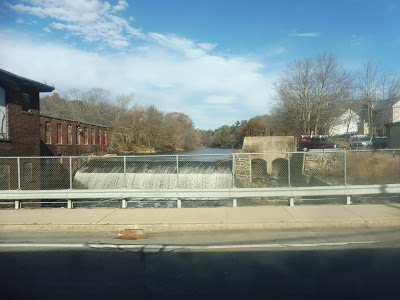 The waterfall!
The houses ended quickly, being replaced by suburban retail on one side and huge elementary, middle, and high school campuses on the other. Once the schools stopped, it was just a strange combination of houses and suburban businesses, with much of the latter located in industrial-looking buildings. There was a burst of retail where we turned onto Pleasant Street, though that turned back to mostly houses.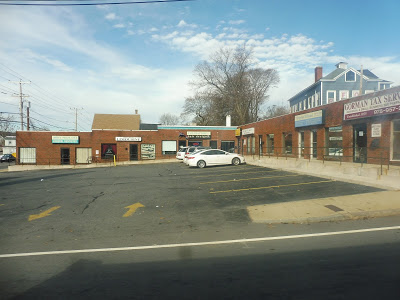 Making the turn onto Pleasant Street.
There was another quick section of suburban retail at the intersection with Hildreth Street, then we suddenly turned onto the narrow residential Greenmont Ave. The road made a 90 degree turn to the right, then we took Bridge Street back down to Pleasant, making me wonder why we didn't just stay on Pleasant the whole time. On weekdays the route just stays on Bridge Street, but there's an additional deviation on Saturdays…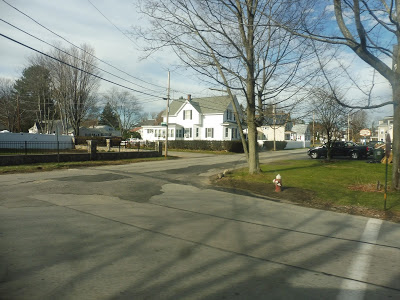 Going from Greenmont Ave to…Greenmont Ave.
We thus turned onto Arlington Street, which had many different buildings along it, including Dracut Town Hall. Next, we headed up Broadway Road, leading us up to Village Square Plaza, into which we deviated. The reason the 10 does this is because the route that serves it on weekdays, the 1, gets combined with the 8 on Saturdays and doesn't serve the plaza; the 10 covers for it.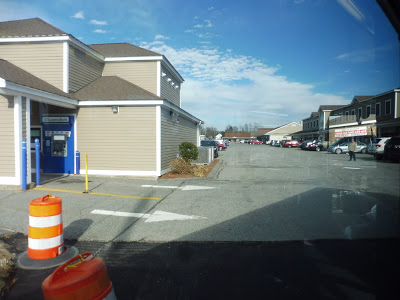 Turning within the plaza.
We came back to where we had started the deviation, and now we turned onto Bridge Street. This took us into Lowell, where we passed another shopping center, some houses, and a field. Past that point, it started to feel a lot more urban, with dense apartments and businesses with (slightly smaller) parking lots lining the road.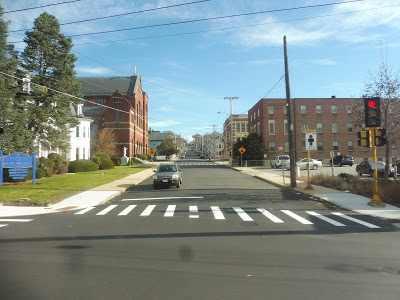 A wide side street.
We went over Bridge Street's namesake, which led us over the Merrimack River. There was some classic Lowell architecture on the other side, namely old factories and canals. Next, we turned onto Merrimack Street, the main drag of downtown Lowell.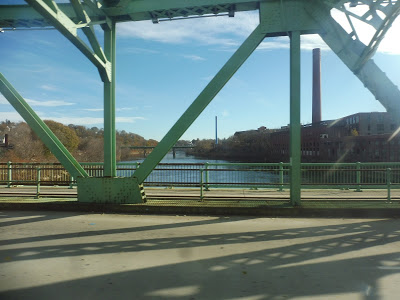 Crossing the Merrimack River.
After the many businesses of Merrimack Street, we turned onto Dutton Street. This paralleled a canal and the Lowell Streetcar, as well as some shuttered brick buildings on the other side. It curved its way over the Pawtucket Canal to become Thorndike Street, and a few moments later, we pulled into the Kennedy Center.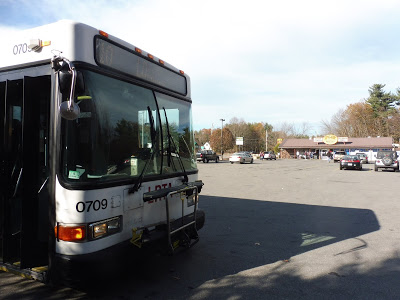 Back up in New Hampshire. That was quite a journey!
LRTA Route: 10 (Dracut/Tyngsboro)
Ridership: Well, the darn LRTA doesn't seem to have public ridership data for this one, so I'll have to go with what I saw on my ride. Now, it was predictably low, with only 6 people riding on my inbound Saturday morning trip. Surprisingly, though, 3 got on in the almost rural-feeling area up in Tyngsboro, so it's clear that the 10 still offers an important service to all of its destinations.
Pros: You would think Tyngsboro is too sparse to justify a bus route, but apparently the 10 is somewhat popular out there! As a whole, it may not serve the most urban areas in the world, but it offers a reliable connection to Lowell six days a week, every hour, and I think a decent amount of people use it.
Cons: Two really minor complaints: why does the route split into inbound and outbound sections in western Dracut, and why does the time of the hourly departure switch on occasion throughout the day on weekdays?
Nearby and Noteworthy: My favorite part about the 10 was probably my walk to it – Tyngsboro is a scenic town, even if there isn't much to do.
Final Verdict: 7/10
Unless I find out that the 10's ridership is really low, I think this is a great suburban route. Based on my ride, it seems to get a fine amount of people even near its rural terminus, and it connects them up to Lowell. There's even a 6:10 AM trip so people can commute to the Commuter Rail to Boston. This is probably the most "out there" the LRTA gets, but as long as folks use it (and they seem to), it's a great little route.