Nathan was working at Harvard for a while, and one of the perks of that position was access to their Evening Van Service, an Uber-like minibus that runs around the Harvard area from 7 PM to 3 AM. We were looking at its service area on the app to try to find the weirdest place to get on, and one location immediately caught our eye: a splotch separated from everything else on Walden Street. Well, of course we had to see what that was all about!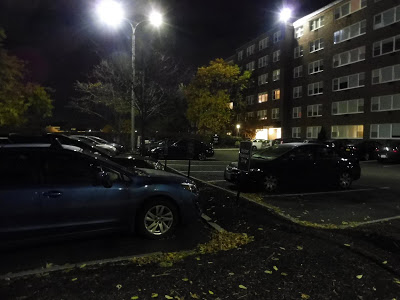 Okay then…
It was just a few apartment buildings that had seemingly no affiliation with Harvard. Now that we were here, we pulled up the app and told the bus to take us to some random location in Allston – we were trying to travel through as much of the service area as possible. We were told it would be about a nine minute wait, and soon after that, we got a text saying the bus was on its way. Using the app to track the bus, we were all ready to get on when it arrived in a timely manner.
Man, it's weird seeing a minibus out here!
This was one of the very rare times where I actually took notes on board a bus. Why did I have to? Because we did the craziest route to get down to Allston and I had to write down each and every street we took! Okay, it started out logically enough: we went down Walden Street and turned onto the residential Raymond Street.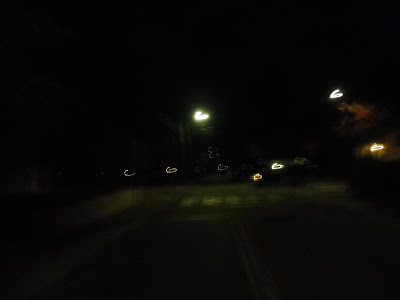 Not even the power of a rear window could save the quality of these pictures…
Once we turned onto Linnaean Street, we were within Harvard territory: the Quad was on the south side of the road. We turned onto Garden Street for a block, then Bond Street for a block, then Concord Ave for a block, then Craigie Street for…three blocks. Boy, talk about a substantial portion on one road there!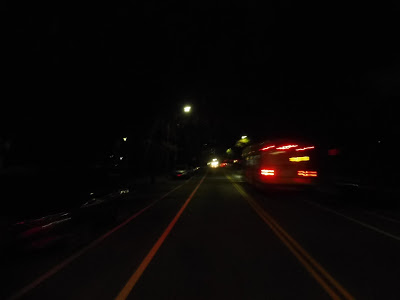 One of the few pictures whose location I could actually identify because of the trackless trolley – this is Mount Auburn Street.
We turned onto Sparks Street next, taking us down to Mount Auburn Street. We had been passing houses and apartments this entire time, but on Mount Auburn Street, there was a scenery change because we had the Charles River on one side. However, we got even closer to it when we made our way onto Memorial Drive, which was a strange place to be on a minibus.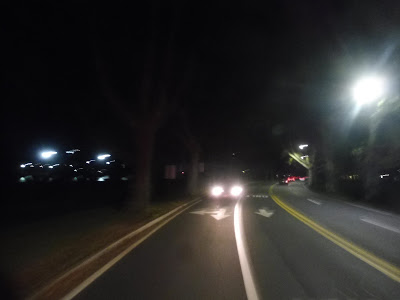 Sailing down Memorial Drive!
We turned onto North Harvard Street next, taking us over the Charles River into Boston. There were more Harvard buildings on the other side, mostly dorms and athletic facilities, including the massive Harvard Stadium. There were some businesses where we took a right onto Western Ave, and finally, we headed onto Riverdale Street. This was just a random residential neighborhood we chose to go to, and now we had to find a way to get back, but hey – we got there in great time!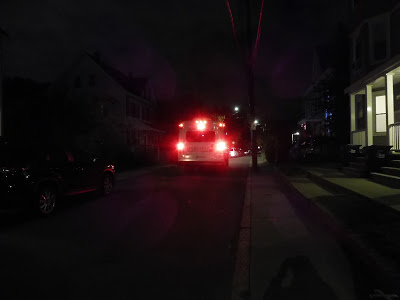 Off to return to the yard.
Harvard Shuttle Route: Evening Van Service
Ridership: Ridership on the Evening Van seems to fluctuate based on the day. Our ride was empty, but Nathan has used the van more than I have – he said he's gotten other people before. I think the worst nights for it are Fridays and Saturdays, when partiers flock on board and the route page advises that "we may get behind at times due [to] request volume."
Pros: This is basically a free Uber service for Harvard students, and that's great! It has a large service area spanning from Porter Square to Central Square to Mount Auburn Hospital to Allston, and everywhere in between. On most nights the van is quick, and passengers shouldn't have to wait more than 10-15 minutes for their pickup.
Cons: There are some weird places in the service area that are either disconnected from the rest of it or are grayed out so pickups can't be made. Some make sense, like a disconnected splotch for Whole Foods, but others, like the Walden Street one, seem to be there by accident! The most egregious one is a blackout area slightly north of Harvard Square that includes both the Harvard Law School and Dawes Island. Now what's wrong with picking people up in those important areas???
Nearby and Noteworthy: If you're not affiliated with Harvard, tough luck – you can't use this shuttle. If you are affiliated with Harvard (or know someone who is), then you have a busy area with great nightlife at your fingertips!
Final Verdict: 9/10
For Harvard students and faculty, this is a great resource for getting around at night. Its service is timely and quick for the most part, and you can take it to a good amount of locales. Just don't try to go to the Law School, because apparently that's off-limits…
Latest MBTA News: Service Updates