Man, I really have not covered a lot of the WRTA, have I? This is a system I've done very little of, and most of the ones I have done are their weird minibus shuttles. Well, the 27 is a decidedly normal WRTA route, and in fact, it is one of the busiest on the system. Wow!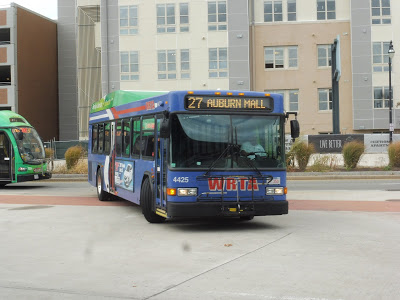 Glad that Proterra could sneak in on the side there!
We pulled out of the WRTA Central Hub and after looping around a rotary to turn around, we made our way onto Franklin Street. This was downtown Worcester, and we had tall buildings on one side and Worcester Common on the other. Once we turned onto Main Street, it was just buildings and businesses everywhere.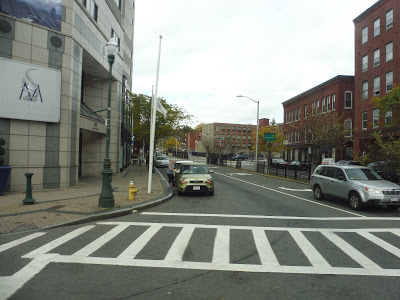 An urban side street.
Of course the buildings started to shrink in height as we left downtown, but it stayed urban for quite a while. Main Street was still lined with apartments as high as five stories, although eventually they got replaced by single-story businesses. Still, it was a diverse neighborhood: there were also apartments, houses, and religious buildings in the mix.
A typical view of the neighborhood.
Eventually, seemingly out of nowhere, Clark University showed up. I mean, it just didn't feel like a "college" kind of area, if you know what I mean. But we went by its beautiful campus with its charming old buildings…and then it just went back to businesses and apartments again.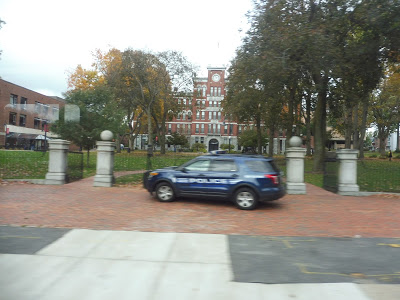 It's an awful picture, but it gives you an idea of the type of architecture at Clark.
We eventually got to "Webster Square," but it wasn't much of a square – just two huge apartment buildings and some rather suburban, boring businesses. It was soon after this that we split off from the 19 (and to a lesser extent, the 33), which we had been running with since the Central Hub. I'll be talking more about how the 19 and the 27 interact later on, but for now, just know that we merged onto Stafford Street, which took us past a pond.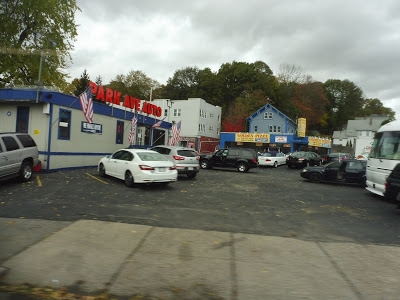 Making the split.
We passed the boring-looking Webster Square Plaza, and after that it was a weird mix of apartments, suburban businesses, and industrial buildings. We went over some train tracks when we turned onto James Street, and the similar scenery continued as we merged onto Ludlow Street. Finally, we entered Auburn, the street became Pinehurst Ave, and we entered a purely residential neighborhood with lots of dense houses.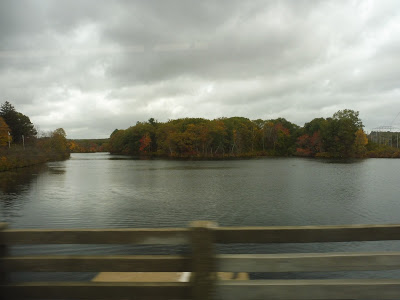 Nice view!
Some businesses came up as we merged with Oxford Street and crossed over Kettle Brook on a tiny bridge. There was one final residential section from there, but retail grew more prominent among the houses when we turned onto Auburn Street. After going under I-290, we went by the Auburn High School, whose athletic facilities occupy more than three times the land of the school itself, then we turned onto Southbridge Street. This took us around the edge of the high school campus and past a bunch of suburban businesses, then we pulled into our terminus: the smaller-than-expected Auburn Mall.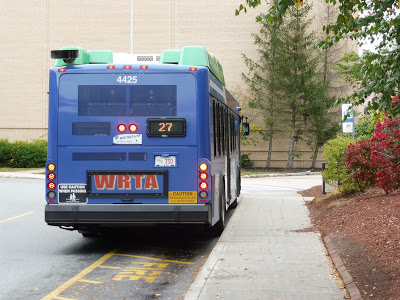 Back to Worcester with you!
WRTA Route: 27 (Union Station Hub – Auburn Mall via Main Street)
Ridership: This was actually the busiest route on the WRTA, at least it was in 2010. Turns out I just found more recent ridership data, though, and the 27 has been demoted to third-busiest now. Still, it has great ridership, with 1,071 people per weekday, 661 per Saturday, and 188 per Sunday.
Pros: This is a super busy and super efficient route overall. It's the most productive one on the whole WRTA, and it has the lowest subsidies of any route on the system! It has an awesome schedule on its own, with service every half hour on weekdays and every hour on weekends, and it serves lots of dense and important neighborhoods.
Cons: The coordination with the 19 could be better. See, these routes share a huge common section, and they actually both run every half hour on weekdays and every hour on weekends. They're coordinated for half-hourly service on weekends, which is great, and there are proper 15-minute headways going inbound on weekdays. Going outbound is a different story, though – the routes leave within five minutes of each other. Now, I get that their lengths are different, but I will also say that the 19, the shorter of the two, has some of the worst on-time performance on the WRTA. Perhaps it would make sense to pad it out, thus allowing for those 15-minute headways to work in both directions?
Nearby and Noteworthy: The Auburn Mall is tiny for an indoor shopping mall, but it will still fulfill all of your indoor shopping mall needs.
Final Verdict: 9/10
I was originally going to go on a tirade about how the coordination between the 19 and the 27 is awful and needs to be fixed, but looking more closely at the schedules, it's really just going outbound on weekdays that it needs work. I know it's not as easy as just padding out the 19, and there's a complex system of interlines behind the scenes, but it would be great to get 15-minute service along this important corridor in both directions. Other than that, though, the 27 is a great route, and the WRTA is even considering some BRT-like improvements along the common section with the 19. Sounds like a good investment to me!
Latest MBTA News: Service Updates