Oh boy, another twisty one! Alright, 18, do your worst.
Washington Square once again.
We went down Merrimack Street in the opposite direction of downtown Haverhill, so there were far fewer businesses along the road. It eventually became Water Street as we went by an austere shopping plaza, then various apartment and industrial buildings. At a cemetery, we turned onto Mill Street, running along its west side, then Boardman Street, running along its north side.
A very bleak view of the Merrimack River.
Boardman Street eventually got more residential, but then we deviated onto Buttonwoods Ave to serve AHEPA Apartments. I would just like to point out that this deviation took us a mere two blocks away from the more direct route the 18 would take, but we reversed back up to Buttonwoods Ave…and then took it around to the more direct route anyway. Sigh…well, we turned onto Groveland Street, which we could've just been on the whole time.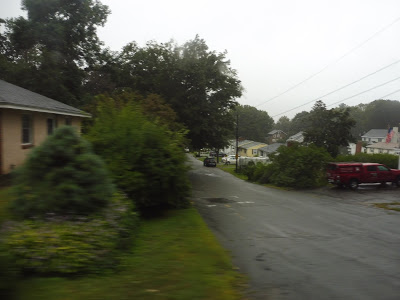 A rugged side street.
Groveland Street was mostly residential, but eventually the MVRTA decided the route was too straight, so we banged a right onto Keeley Street. Then a left on Lincoln Ave. Then a left on Brown Street. Then a right on Kennedy Circle, serving an apartment development. Then straight into a deviation to the Merrimack Valley Hospital. Then a right on Katsaras Drive. And finally, a right onto Groveland Street again, literally a block from when we had originally left it. The 18 hurts me.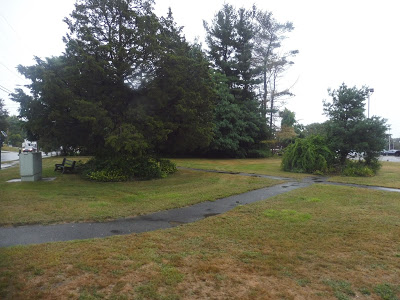 A park.
It continued to be all residential along Groveland Street until we reached the Merrimack River again. Here, there was a burst of suburban businesses, and we turned onto Lincoln Street to get to the biggest one: Rivers Edge Plaza. And this truly atrocious-looking shopping plaza was, in fact, our last stop. Time to sit through all those deviations back to Washington Square…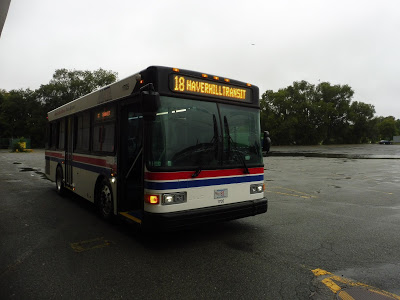 I think the empty parking lot should be some indication of how popular this mall is.
MVRTA Route: 18 (Riverside)
Ridership: This is the second least-used route in Haverhill, with 27,780 people in 2015 – that's about 76 per day. Hey, did you notice that the twistiest routes in Haverhill are the ones that get the least riders? Huh, I wonder if MVRTA should take a hint.
Pros: It's hard to find anything good to say about the 18, but it does serve the eastern neighborhoods of Haverhill. It also runs every hour on weekdays, which is fine.
Cons: It's infuriating how twisty this route is, and unnecessarily so! The 18 could easily make the same deviations it does but on a more direct route that's within a few minutes' walk of its current one. Also, this is old news, but it has that awful 45-90 minute headway on weekends. ARGH!
Nearby and Noteworthy: No, there's nothing noteworthy along the 18.
Final Verdict: 3/10
Sure, it gets more ridership than the 15, but at least with the 15, there's no easy solution to remove the twistiness while serving the same amount. With the 18, there's a very easy direct route, and in fact, its snow route basically does it! So if it snowed every single day, 18 riders would have to walk a maximum of five minutes longer, but everyone would have a much more efficient ride in the long run. Great.
Latest MBTA News: Service Updates