Alright, time to take a trip up to our neighbor state to the north, New Hampshire! I've actually ridden this route before as part of an old Service Change post, but now it's time to review it. We're going to find out what the 13 is really like!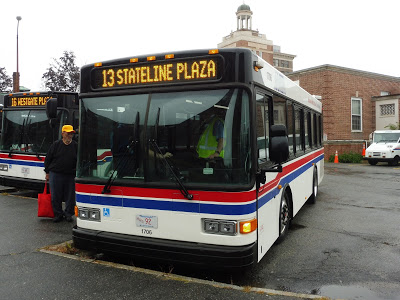 The bus at Washington Square.
We left Washington Square onto Merrimack Street, but in the opposite direction of downtown Haverhill. There were still some businesses along here, but certainly not as many as if we had gone westward. We eventually turned onto the wide Main Street, taking us past some municipal buildings and a common.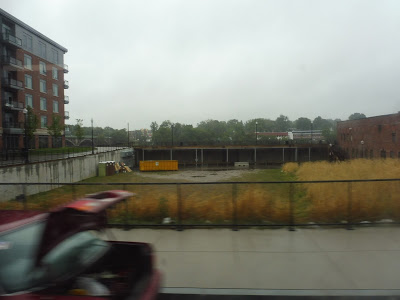 I wonder what'll go in this big empty space.
There were suburban businesses for a bit before the road took on a more residential edge. It was a lot of dense houses, only broken by the occasional apartment or religious building. Eventually we merged onto North Ave, beginning the route's loop: it goes outbound via North Ave and inbound via Main Street. On weekdays, buses make an additional deviation to the recently-built Haverhill Medical Center, but this was both a weekend and before construction on the facility was complete, so we just stayed on North Ave.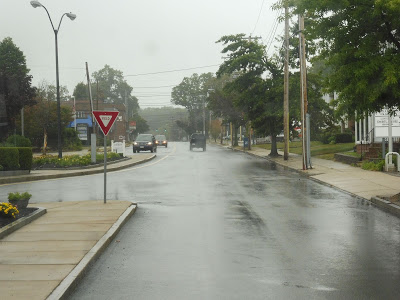 This is a pretty cool picture!
It was a mostly residential road, taking us over I-495 eventually. We passed a pond and some sort of gas facility, then there were a few apartment developments amidst the houses. Eventually we entered Plaistow, New Hampshire, and it was pure homes again, not that they could use the bus because it doesn't make stops along local NH roads. Also…LIVE FREE OR DIE!!!!!!!!!!!!!!!!!!!!!!!!!!!!!!!!!!!!!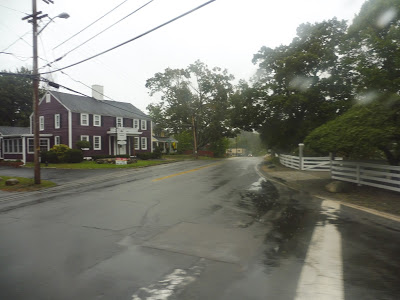 Welcome to New Hampshire!
We turned onto Main Street, which led us to a haven of suburban businesses and shopping centers. We pulled into one of them, Stateline Plaza, taking advantage of those sweet nonexistent sales taxes, mm-mm. Leaving the rather boring mall, we reentered Massachusetts on Plaistow Road, which merged with Main Street after a bunch of other suburban businesses.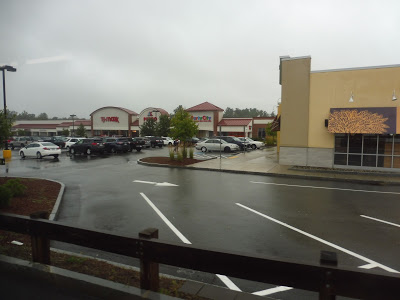 Coming into Stateline Plaza.
Once we had gone a ways down Main Street, the retail started to thin out and get replaced by houses. The road got really wide briefly for an interchange with I-495, and there was a brief spurt of businesses on the other side. After that, though, it was all houses until we reached North Ave, ending the loop. We returned to Haverhill the way we had come.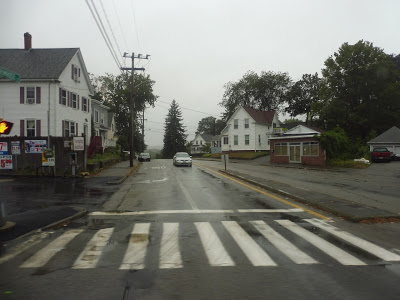 Wow, there's quite a view way down there!
MVRTA Route: 13 (Main Street/North Avenue)
Ridership: Well, it's the busiest of the local Haverhill routes, but as it turns out, that's not really saying much. I mean, it got 63,475 riders in 2015, which is about 174 people per day – certainly not a lot, but for Haverhill, that's insane!
Pros: The route serves a lot of northern Haverhill and connects it up to what I imagine is a popular shopping center thanks to New Hampshire's taxes (or lack thereof). It has a normal weekday schedule, with a bus every hour.
Cons: Darn it, the weekend schedule is weird again! It has that annoying alternating 45-90 minute headways thing…
Nearby and Noteworthy: Stateline Plaza is the most exciting thing this route serves, probably. That's a little sad
Final Verdict: 7/10
The 13 is probably the best of the local Haverhill routes. It serves a lot, it gets fine ridership (for Haverhill standards, at least), and it has a decent schedule…except on weekends. God, I can't stand the alternating headways! Be consistent!
Latest MBTA News: Service Updates