The next route on our Haverhill list is the 15, a twisty one serving the western neighborhoods of Haverhill. Let's see how it is.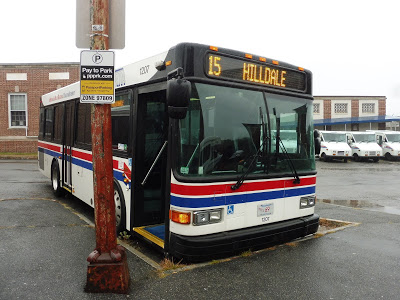 Getting on at Washington Square.
From the Washington Square Transit Station, we headed straight up Essex Street, more or less avoiding the businesses of downtown Haverhill. We very quickly turned onto Locust Street, and although Essex Street had had some tall brick buildings, they were all gone by this point. We were in a residential neighborhood, but there were some businesses as we turned onto Winter Street, taking us under the not-quite Commuter Rail tracks.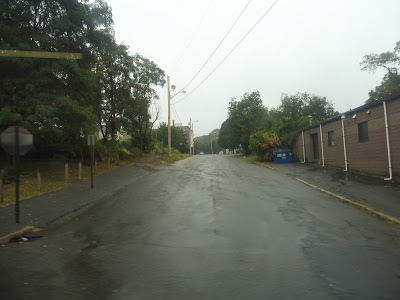 A boring side street.
We merged onto Lafayette Square, which was a downtown of sorts, featuring some businesses in a variety of different dense buildings. Once we headed down High Street, though, it was all residential, and dense houses lined the road. They continued as we turned onto Grove Street, which took us up a hill and eventually past a school.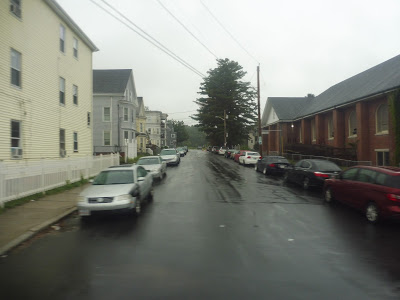 A side street next to a church.
We turned onto Broadway next, which led us past more houses back to…Lafayette Square??? Oh come on, that was all just a big deviation? Sigh…okay, well, we turned onto Hilldale Ave, which just had a bunch of different things along it. There were houses, businesses, apartment developments, industrial buildings, a field, and even a solar farm!
Lafayette Square.
Eventually, though, it just got plain ol' residential with the exception of a cemetery. They got more spread out and suburban the further we got, a pattern that continued as we turned onto Monument Street. That did take us past the Haverhill High School, though, and eventually we turned onto Broadway, which went over I-495. On the other side, we turned onto Computer Drive, then we pulled into the awful Haverhill Commons shopping center. And though on weekdays the route continues to Westgate Plaza, served by the 16, this was a weekend, and so we just twisted our way back to Washington Square.
EW.
MVRTA Route: 15 (Hilldale Avenue/Haverhill Commons)
Ridership: The 15 has the sad distinction of being the least-used route in Haverhill, a place with some already very low-ridership buses. With 23,291 passengers over the course of 2015, it got an average of 64 people per day. Ouch.
Pros: The route serves the neighborhoods of western Haverhill, some of which are dense and some of which aren't. It runs every hour on weekdays, and surprisingly, it has a consistent schedule on weekends. This is a big deal in Haverhill, where the majority of routes have the really weird 45-90 minute headways. And sure, the 15 is consistently every hour and a half, which is infrequent, but it's not like the route gets the ridership to justify more service.
Cons: It's so twisty, and it gets such low ridership…could there be a correlation? Also, whereas some Haverhill routes connect neighborhoods to relatively important shopping centers, Haverhill Commons is just the most washed-up, awful mall I've ever seen. Its big draw is a Target, and that's about it.
Nearby and Noteworthy: Maybe Lafayette Square, but the 15 really doesn't serve a whole lot outside of residential neighborhoods.
Final Verdict: 4/10
I appreciate that the MVRTA runs its routes seven days a week, but does the 15 really need weekend service? My Sunday round trip had three riders. Three! This just doesn't seem like a route that warrants weekend service, or maybe even any service – let's face it, 64 people per day is really low. But I'm sure more of that is concentrated on weekdays, and it definitely serves some dense neighborhoods, if not very well…
Latest MBTA News: Service Updates