Okay, the MVRTA's Haverhill weekend routes are insanely annoying to plan around. Sam, Nathan, and I literally had the schedules of each one spread out across a counter at the Washington Square Transit Station trying to figure out what our order had to be to do all of them. Turned out the 14 was the one to start with.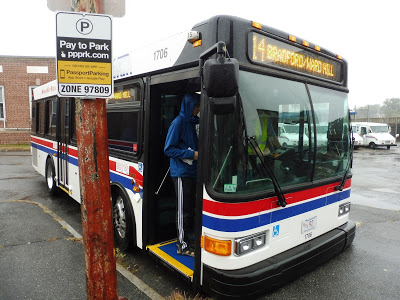 The bus at Washington Square.
We headed down Merrimack Street, still technically in downtown Haverhill, but a more fringey part of it – there were far fewer businesses than there are further west. We turned onto Main Street next, taking us on a lovely bridge over the Merrimack River, and there was another downtown of sorts on the other side. This was downtown Bradford, and it was definitely more suburban than Haverhill, but there were still some historical business blocks here.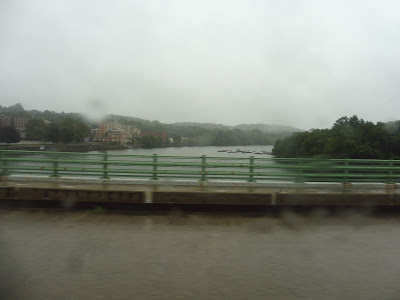 The rainy view of the river.
The businesses ended pretty quickly, and as South Main Street curved its way further south, it got much more residential. There were still a few non-house buildings, including a historical common and a seminary college, but it was mostly homes. Eventually, on one side of the road, the houses got replaced with apartment developments, and then on the other side we got shopping plazas and some industrial buildings.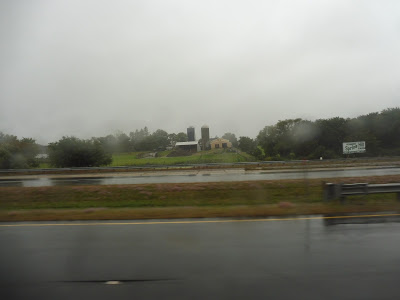 We're not in Kansas anymore!
All of a sudden the road got a gigantic median for a highway interchange-esque intersection with Industrial Ave. We used the interchange to get onto that road, which went over the Commuter Rail, and…well, it wasn't actually industrial. It was just a woodsy highway. Once we used another "interchange" to get onto Ward Hill Ave and Rogers Road, though, we were now going by lots of wonderful industrial buildings. What a great place to serve on a Sunday!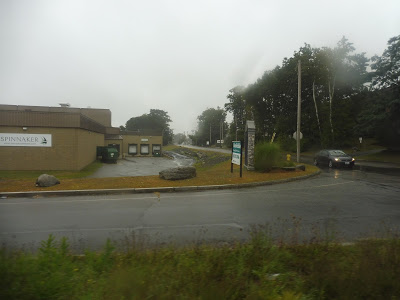 Yup, this is really worth serving.
We looped around back to Industrial Ave and crossed it. Now on a street called Shelley Road, we looped around to our next deviation, a BJ's. Now, as we've seen with the MWRTA, transit deviations to BJ's aren't exactly recipes for high ridership. BJ's is meant for buying stuff in bulk, which means you need the personal space of a car to actually be able to transport it back. I can't imagine someone lugging three bags of toilet paper onto a bus…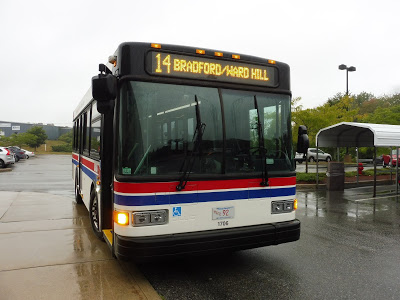 The driver went to the bathroom at BJ's, so I got a quick shot of the bus.
We came back onto Industrial Ave after that and made our way back onto South Main Street. It went through a bunch of random name changes as we passed suburban businesses and houses, but it eventually settled on Osgood Street when we entered North Andover. Our time in that town was short, though: we soon came to Osgood Landing, a big industrial-type building with a bunch of companies within, and that's where we turned around.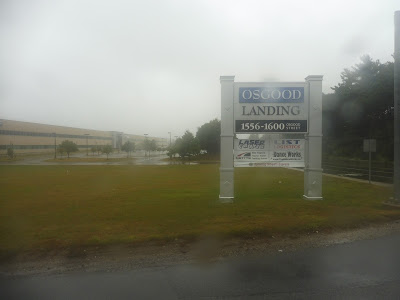 The sign for Osgood Landing.
The 14 takes a slightly different route back, so I'll touch upon it briefly. Instead of going through that interchange with Industrial Ave, the route instead merges onto Oxford Ave. It's a mostly residential area until the street merges into Boston Road, at which point there was a huge construction site and a few other random buildings. Finally, the bus rejoins Main Street and continues back to Haverhill.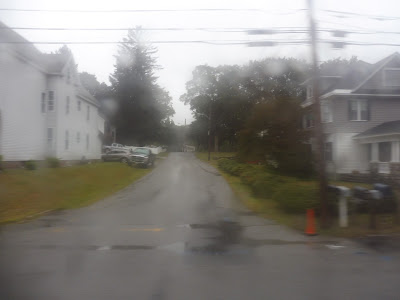 A side street.
MVRTA Route: 14 (Bradford/Ward Hill)
Ridership: The poor 14, like most of the MVRTA Haverhill routes, is plagued with low ridership. The route got 30,843 people in 2015, which averages out to a mere 85 riders per day. My round trip had six people in total, so…yeah, pretty low.
Pros: This route serves some dense residential neighborhoods in Bradford, and I'm sure it gets some degree of reverse-commute ridership on weekdays. Speaking of weekdays, it has a fine schedule on such days, with service every hour.
Cons: I have to ask about that weekday schedule: does the route really get 27 minutes of layover at Washington Square? Because it looks like that might be the case, in which case that is insane! The driver is only driving about half the time! Also, the weekend schedule has really annoying headways that all the Haverhill routes are stuck with: alternating buses 45 minutes apart, then 90 minutes apart. Why?
Nearby and Noteworthy: Osgood Landing seems to be the highlight of this route, since it has a laser tag place in it. Nice!
Final Verdict: 5/10
The 14 probably doesn't have to run as much as it does or for as long a distance. Honestly, on weekends and even middays I could see it terminating in Ward Hill, since there seems to be very little ridership beyond there. Of course, that would give the route even more ridiculous layover time, so maybe it's not the best idea…
Latest MBTA News: Service Updates