Welp, here we are. Our last CATA route. And luckily, this summer-only "Green Line" Rockport Shuttle is a great one.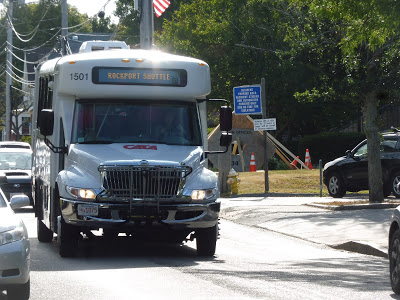 And of course, the last trip is on one of these buses.
I boarded the bus at Rockport Market and we headed up Broadway before turning onto Mount Pleasant Street. This took us to Dock Square, the heart of Rockport, and…wow, why are there 20 people standing around in the middle of the square? Do they want to board this bus? Wow, okay, so we left Dock Square with a full-seated load!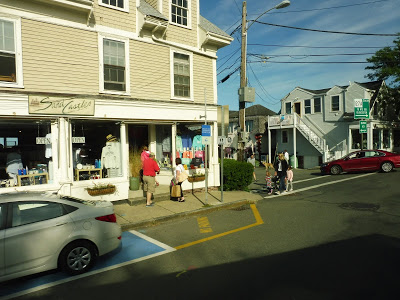 Coming onto Mount Pleasant Street.
We made our way onto Main Street, which continued to be lined with the many businesses of Rockport. Once we curved onto Beach Street, they started to get a little sparser as we went by Front Beach, and after that it was residential. We passed Back Beach next, then after a small hill, we turned onto Granite Street.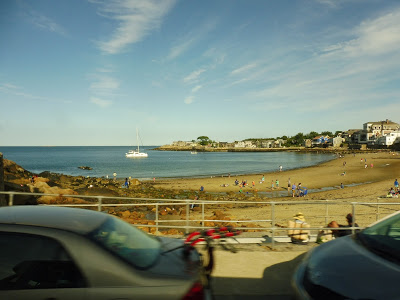 Busy Back Beach.
Granite Street was lined with lots of trees and houses. Eventually it became Railroad Ave, and thus we went by Rockport Station and some businesses around it. At the end of the road, we turned onto Main Street, which was mostly lined with dense houses right up until we pulled onto Blue Gate Lane. This took us to our terminus, the Blue Gate Meadows Parking Lot.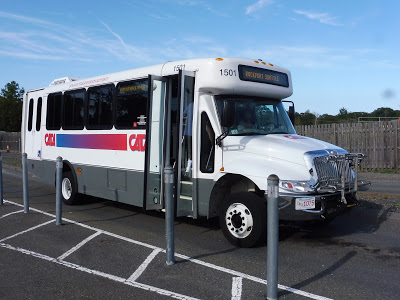 The bus at the parking lot.
This is the big draw of the route: it's a free parking lot where you can get rid of your vehicle and hop on the CATA to get to your destination. It's used as a recycling center during the off-season. During the summer, though, there's a nice big bus shelter to wait at, and the lot even has a bathroom! Of course I had to take a look…it was fine.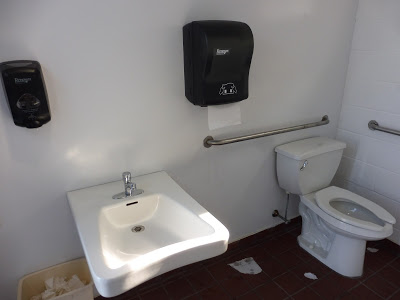 And so, our last-ever CATA picture is of…a bathroom.

CATA Route: Green Line (SEASONAL: Blue Gate Meadows Parking Lot – Rockport Loop)
Ridership: During the months of July and August, this route runs with daily service, but weekday ridership is expectedly lower than on weekends: about 130 people per day. Of course, on weekends, those numbers shoot up, with about 430 people per Saturday and 380 per Sunday. That makes this the busiest route on the CATA, and by far the most efficient.
Pros: How can you beat this deal? You park at the free lot and take the bus to Rockport for a mere dollar (50 cents for seniors and people with disabilities). That means you could spend a whole day in Rockport and pay just $2.00 for "parking" – at metered locations, you can spend up to that much per hour. And sure, with the bus you're paying $2.00 per person, but it's still very economical if you're spending the day here. Also, this route is very frequent, running every 20 minutes from 11 AM to 9 PM!
Cons: I think the only problem is that with advertising, this route could get even more ridership. They could definitely put ads on the T like they do with the Ipswich and Gloucester shuttles. Oh, okay, one other thing: with this route, you're probably either gonna be stuck on a truck minibus or an awful fake trolley. Gross.
Nearby and Noteworthy: Rockport is the main draw, of course, with tons of businesses, as well as a few beaches!
Final Verdict: 9/10
This seems like an absolute no-brainer for people going to Rockport by car. Unless you have a family of six or something, this is so cheap and convenient. Park in the lot and hop on the bus! CATA has some weird summer shuttles, but this is definitely a great one. Use it if you happen to take a trip to Rockport next summer!
Latest MBTA News: Service Updates
You may have noticed something about the blog's URL: we got a domain! Yes, no longer is the URL shackled by the ".blogspot.com," for we have now become simply "milesonthembta.com"! This is so amazing to look at for me…