For such a low-ridership, inefficient, and primitive system, it's kind of amazing to see how intricately-scheduled the Gloucester to Rockport routes are. They interline the Red and Blue Lines perfectly into the Green Line to allow for hourly service on the latter, which is the fastest connection between the two! If you don't know what any of that means, don't worry – I'm just nerding out.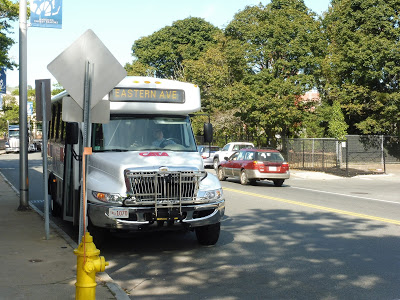 Oh no, not this kind of bus again!
We made our way down Main Street, passing the many businesses of downtown Gloucester, but instead of running all the way to Angle Street like the route is supposed to, we turned onto Hancock Street instead. This allowed us to loop around onto Rogers Street, which went by a lot of backlots for Main Street businesses before becoming more industrial. Indeed, that kind of scenery more or less continued when we merged back with Main Street.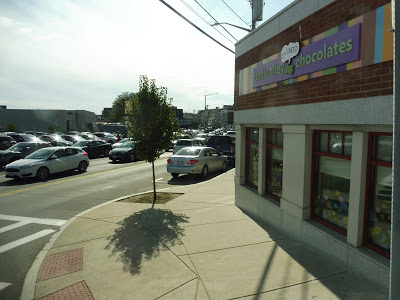 We're not supposed to be coming out this way!
Main Street curved off eventually while we continued on Bass Ave. It was now residential, at least until we deviated into a Stop & Shop in the middle of a marsh. Once that was done, we went onto Thatcher Road, which had some houses with marshland right behind them, but we weren't on it for long: time to deviate into a Shaw's!
The view from Thatcher Road.
Luckily after those deviations, the route is straight as an arrow. We headed onto Eastern Ave, which at first had a few industrial buildings on one side and a cemetery on the other, but we later passed a housing development and a small shopping plaza. After that, there was a sizeable section of pure woods that took us into Rockport, where the road became Main Street.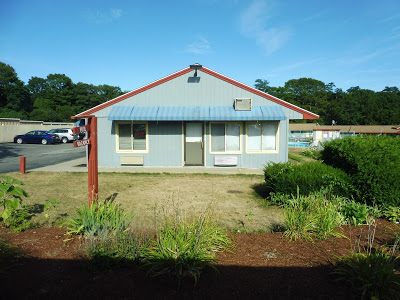 Someone got off at this motel before the woodsy section.
Now that we were in Rockport, it was mostly just residential. There were some other buildings between the houses, though, including a few banks and the Rockport Police Department. As we got closer to downtown Rockport, the houses began to get denser, and the surrounding buildings got more diverse as we curved onto Broadway. I got off at the Rockport Market stop before the route got into the real core of the town, but it would get there in a block or two.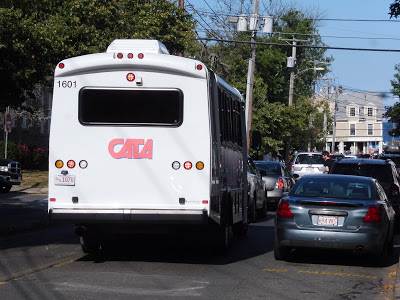 Have fun dealing with that traffic!
CATA Route: Green Line (Gloucester – Rockport via Eastern Avenue)
Ridership: The Green Line gets about equal ridership on weekdays and Saturdays: 50 people or so for each. On weekdays that puts it as the fifth-busiest route (or third least-busiest route), but on Saturdays it jumps up to second-busiest! In fact, passengers per hour is much higher on Saturday, maybe because this route serves two important supermarkets in Gloucester.
Pros: This is one of the most frequent and consistent year-round routes on the CATA, with hourly service six days a week. It's the fastest connector between Gloucester and Rockport with just a 17-minute trip, and while the Commuter Rail is obviously shorter, this route can get you between the two for just $1.25. Its ridership may be fairly low, but the genius of the route is that every trip on the Green Line is going to or coming from a trip on the Red or Blue Lines, so CATA isn't using any more resources to run this thing! That's some seriously good planning.
Cons: Probably because of the nature of the way this route is run, there are some weird inconsistencies in the schedule. For example, after 1:30 on weekdays, there's a four-hour gap in service until 5:20, and that's the last trip! Things get a bit wonky for the last few inbound trips on weekdays as well, although on Saturdays it stays consistent throughout the day.
Nearby and Noteworthy: I consider this route mostly to be a connector between Gloucester and Rockport, as those are by far its two biggest destinations. Other than that, you've really only got Stop & Shop and Shaw's.
Final Verdict: 7/10
The Green Line is an exemplar of creative bus service planning, first and foremost. Running a route entirely from interlines is a great idea, and even though its ridership isn't the highest, it's not costing the CATA any more buses or drivers to run it. It would be great if the weird scheduling on weekdays could be sorted out, but other than that, it's a sweet little connector!
Latest MBTA News: Service Updates