Reviewing a summer-only route in January…great. The Ipswich-Essex Explorer (say it three times fast!) is Ipswich's summer shuttle to Crane Beach, and that's where 99% of the riders take it. Of course, being the stickler I am, I had to get one of the three trips per day that also goes to Essex! So there I was waiting for the bus at Ipswich Station at 12:30 PM.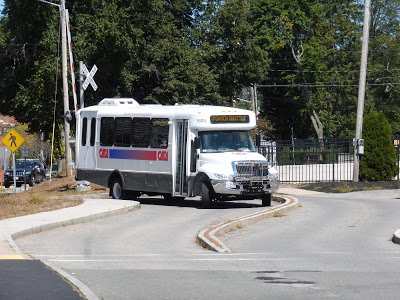 I am so sick of these types of buses…
A bus pulled in at around 12:20 and I asked the driver if he was going to Essex. He said no, I should wait for the other bus. See, the Ipswich-Essex Explorer technically has a schedule, but on "favorable beach days" they add a second bus and the schedule goes out the window. I waited some more until a second bus pulled in.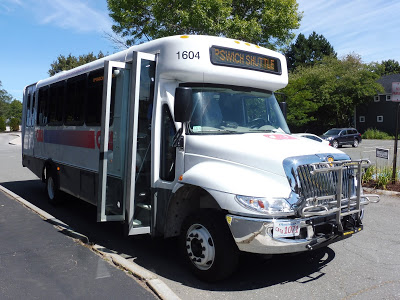 These buses are just so ugly!
[I step onto the bus.]
DRIVER: I can promise you that this is not the bus you want.
ME: It is, I'm going to Essex.
DRIVER: Well, then, let's get your fare paid!
[Long exchange as driver attempts to decipher the overly-complicated fare system. Eventually we figure out how to get a fare to Essex paid on a CharlieCard. Once this is done, I sit down.]
DRIVER: Cambridge!
ME: What?
DRIVER: Do you remember me?
ME: Uhhhh…
DRIVER: I drove you on the Beverly Shuttle last week!
ME: Oh wow, good to see you again!
Yes, my bus was being driven by the awesome driver from the Beverly Shuttle. Great! Also, his opening line definitely says something about how much traffic this route gets going to Essex…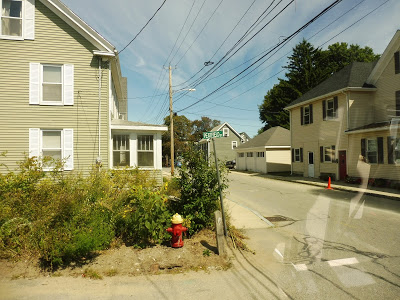 "Let's get out of here," the driver said as we left the station.
We headed down Peatfield Street, then we turned onto Estes Street. This was basically just a loop in a residential neighborhood in order to get out of the station and onto Market Street, the heart of downtown Ipswich. There were charming small businesses everywhere!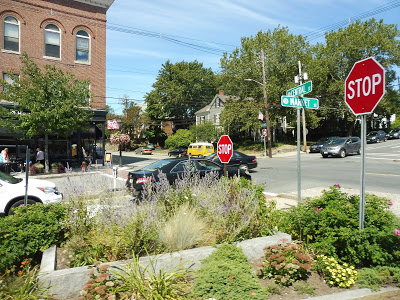 I miss all the greenery of summer…
We turned onto Main Street next, which took us over the Ipswich River and past a few more businesses. As it curved eastward, though, there were a few museums and historical houses before it just got plain ol' residential as it went southward and became County Street. However, we went straight by Argilla Road, which the route is supposed to turn onto to go to Crane Beach.
Hey, we're missing our turn!
ME: Are we not going to Crane Beach?
DRIVER: No, we're going to Essex.
ME: Isn't the route supposed to go to Crane Beach?
DRIVER: The other bus went to Crane Beach!
ME: Oh, okay.
DRIVER: Do you want to go to Crane Beach?
ME: I mean, it would be great for the review.
DRIVER: [name of passenger], do you mind if we go up to Crane Beach?
PASSENGER: Nope, as long as we get to Wolf Hollow in time.
DRIVER: Okay, Miles, you've got yourself a deal, you crazy kid!
And thus, we turned around and backtracked to Argilla Road. Like I said, awesome driver!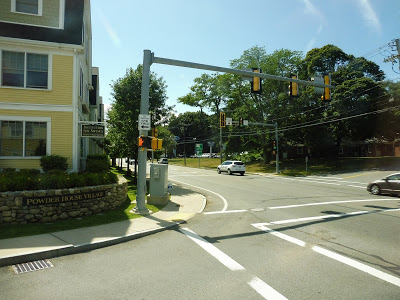 Coming out of the YMCA we used to turn around.
We got to Argilla Road by using Ward and Linden Streets, small residential roads. Now on Argilla, we sped through a lot of woods with many houses hidden behind driveways. It eventually got more marshy, and there was a section of practically nothing except for the Ascot Riding Center, a horse riding school (whose most talented rider I know personally – you know who you are!).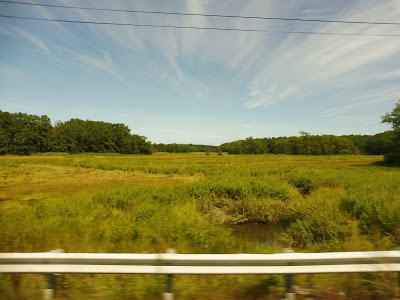 What a beautiful day!
Soon the immediate surroundings around Argilla Road got woodsy again, but there was marshland beyond the layer of hidden houses. We also went by Russell Orchards, a public farm that gets its own Ipswich-Essex Explorer stop. For a while after that, though, it was pure forest until we finally broke into marshland again.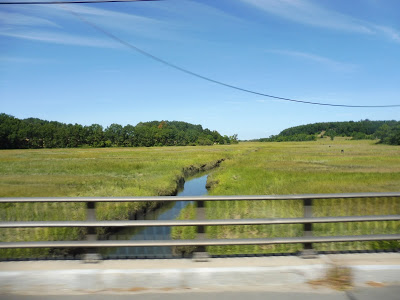 More marshes.
We passed roads leading to a big public mansion called Castle Hill, and things started to get a lot sandier after that. After going past the "guardhouse" of the beach, where drivers pay their entrance fee, we navigated through the parking lot and pulled up right at the pedestrian entrance. The other bus was sitting there and the drivers had a brief conversation about how crazy I am, then we looped around back onto Argilla Road and headed out.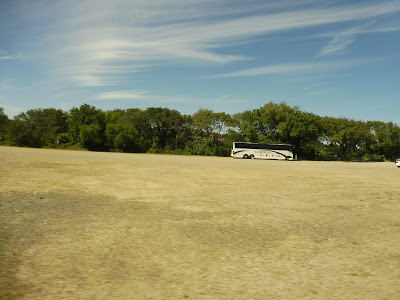 A lone coach bus.
We took Argilla Road all the way back to County Road, onto which we turned again. We came back to that YMCA and the various housing developments around it, and at that point we merged onto Essex Road. This quickly grew residential, but there was also a garden center and a golf course to break up the sparse houses.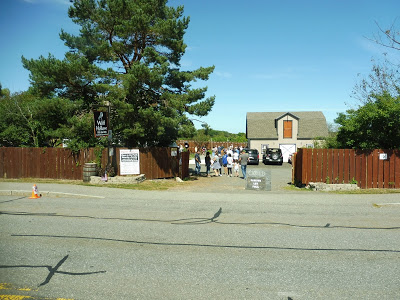 "Parking lot full"? Not if you take the bus, baby!
We arrived at Wolf Hollow, where the one passenger disembarked. From there, we continued down the road, which became John Wise Ave when we entered Essex. It was still mostly just sparse houses interspersed with huge amounts of marshland, aside from a golf course and a few businesses here and there.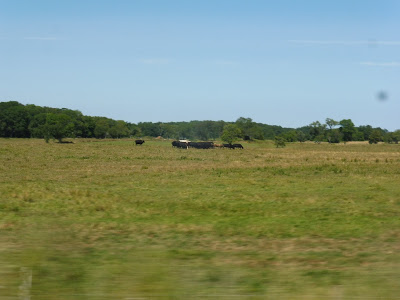 Cows!
Eventually the road became Main Street and the houses got a heck of a lot denser and more historical. We were now in "Essex Center" for what it's worth, although it's mostly just a bunch of antique shops and the Shipbuilding Museum. Once Main Street became an isthmus in the middle of a bunch of marshland, we went by a few restaurants, including the famous Woodman's, which gets special recognition on the route map.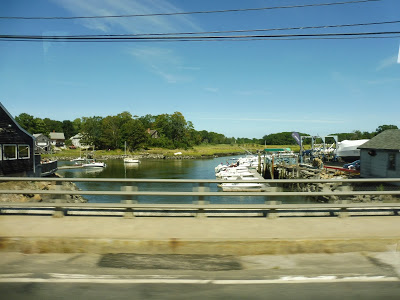 Going over a bridge in Essex.
Once we reached the end of the Essex route a little past Woodman's, I told the driver about how I was planning on catching the (other) Purple Line at Essex Town Line 1.6 miles away. I had 18 minutes to somehow walk/run that distance. "You'll do it in 12!" the driver proclaimed as I stepped off the bus. And after huffing and puffing my way down Eastern Ave, I reached Essex Town Line and checked my watch: it had indeed taken 12 minutes.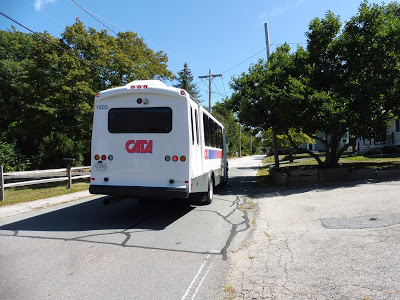 Thank you for your inspiration!
CATA Route: Purple Line (SEASONAL: Ipswich – Essex – Crane Beach)
Ridership: Considering how many trips it gets per day, the Ipswich-Essex Explorer gets pretty good ridership. The weekends-only seasonal shuttle gets about 150 people per Saturday and 210 per Sunday. I think I rode it on a slow day, because even the Crane Beach bus only had four passengers, but I've heard that the route can get a full-seated load or even standees.
Pros: As centrally located as it is, Ipswich Station is unfortunately quite far from the town's biggest draw, Crane Beach. As such, this is the perfect connector to get between the station and the beach. It times very well with trains for the most part, at least in the outbound direction. It also serves a variety of other attractions along the way, even timing with Wolf Hollow presentations. The fare for Crane Beach is $5.00, which seems steep at first, but it's actually not bad: it includes the $2.00 admission fee and it's round-trip, so you're really just paying $1.50 in each direction. Finally, this thing has great advertising – I'm sure you've seen one of its posters on the subway!
Cons: Someone needs to figure out how to program this into the fareboxes better, because it's apparently very hard to set up! Anyway, what else is there? The inbound trips time horribly with Commuter Rail trains: for two out of three of the afternoon inbound trips, passengers have to wait over 40 minutes at Ipswich Station for a train! I'm sure this is better on beach days when there are two buses running, as they probably time it better, but the lack of information about this for the passenger is astounding and a big turn-off for the route, I think.
Nearby and Noteworthy: There's plenty, although I think the biggest draw is Crane Beach by far. Who's going to take the bus to Essex? There's a reason it only runs there three times a day.
Final Verdict: 6/10
This is a fine summer shuttle, but it could be better. I have confidence that the route can make it to the station on time when it's running with two vehicles, but to a passenger looking at the schedule, it appears that there's absolutely no way of timing with trains. That's such a problem for the attractiveness of the route! It's a big drawback for ridership.
Latest MBTA News: Service Updates