The final stop on the Rockport Line, and its namesake! What kind of epic terminal station does it have? Is it full of amazing amenities? No? Well, okay then…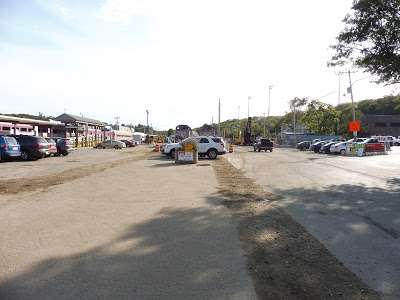 The parking lot.
Rockport has a strange layout. The parking lot has 88 free (!) spaces, and it wraps around the small siding tracks for Commuter Rail trains. Plus, the whole station complex is in such a weird place, situated between a bunch of different shopping plazas.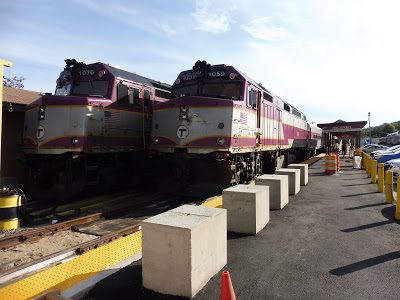 Two trains squeezed into the station.
A narrow pedestrian walkway comes around the side of a Dunkin' Donuts into the station. On the way out there's a nice sign showing the various walking routes to downtown Rockport, but once we get to the platform, it just becomes…ew. It's a narrow and short affair with a flimsy shelter overhead and a single bench and wastebasket stuffed underneath amidst a sea of newspaper boxes. It leads up to a mini-high platform with one more bench, and though there's actually a short low-level section past the mini-high, there's nothing on it except for a bike rack. And yeah…that's about it for Rockport.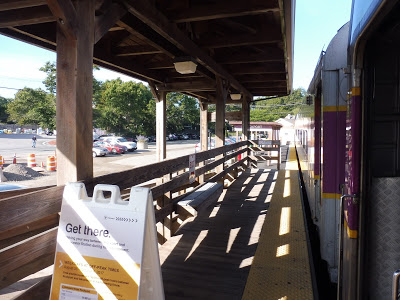 Up on the mini-high.
Station: Rockport
Ridership: Despite being the namesake of the line it's on, Rockport is only the third-busiest station on it. On the average weekday it gets 323 riders, although I'm sure ridership goes up quite a bit during the summer.
Pros: The station is accessible and the mini-high actually has a bench on it, which is a plus. There's a good amount of parking, considering that the surrounding area is so dense with homes. And speaking of the area, this station is in a great location, with downtown Rockport less than a fifteen-minute walk away.
Cons: I don't like how compact the whole thing is. The platform is just squeezed between the track and the parking lot, and the parking lot is squeezed around two more tracks for storage, and the whole complex is squeezed between random shopping plazas! I know Rockport is a dense historical town, but this station feels claustrophobic.
Nearby and Noteworthy: Rockport, obviously! It has a great downtown area with lots of historical buildings and small businesses, as well as a few small beaches. The train is a very convenient way to get up here.
Final Verdict: 6/10
It's fine, I guess. I mean, this is one of the better mini-high platforms on the Newburyport/Rockport Lines, which is sad to say. The whole place is cramped and haphazard, but it's more or less the only option given the surrounding area. All of Rockport's faults are explainable, but it doesn't make the station any better.
Latest MBTA News: Service Updates