What is the best setting for taking photos in underground stations…should you use flash or non flash? Has there been times when MBTA employees or train operators have had a problem with you taking photos of trains and stations?
Thanks for an interesting question, James! I'm not a photography expert by any means so take my advice with a grain of salt, but I prefer not to use flash in underground stations. You can get a nice blur effect with moving trains, and flash tends to make a large portion of the picture dark – plus you might startle passengers or an operator.
As for your second question, I haven't had too much trouble taking photos in subway stations – the one time someone had a problem with it was an employee at Central, but he called his supervisor who said it was fine. I recommend printing out or bookmarking the
MBTA Photo Policy
so you can show it to employees who give you trouble.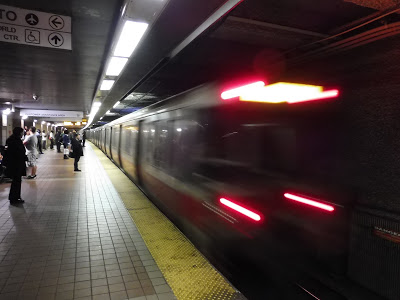 Here's an example of the blurry train effect at South Station. The review is coming…