Alright, now we're getting somewhere! Ipswich is a huge destination in the summer and its station is right in its downtown.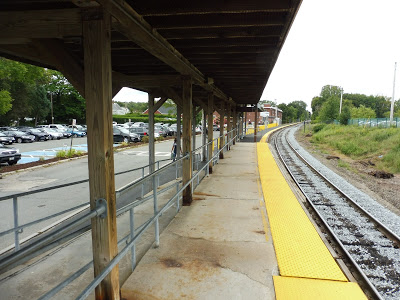 The barebones mini-high.
Although it's accessible, the station is plagued with a truly nothing mini-high platform. I mean, literally nothing – no bench, no wastebasket, just a shelter. And yes, I do know that the mini-highs get even worse elsewhere on the Newburyport/Rockport Lines, but consider that Ipswich is a busy destination and the platform can get crowded in the summer. The situation could be better than this.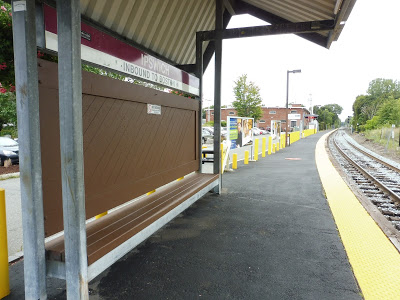 Looking down the platform from the shelter.
I will say that Ipswich has a nice long shelter that's very close to the mini-high – for once, I don't have a problem with low-level seating. It offers two benches, two wastebaskets, a payphone, and a whole bunch of random newspaper boxes. There's even a sign for the CATA Ipswich-Essex Explorer, the summer-only bus route that runs from here to Crane Beach! The rest of the platform is basically bare, though, so all we have left is the parking lot (170 spaces, and it's free!) and a single bike rack with eight spaces.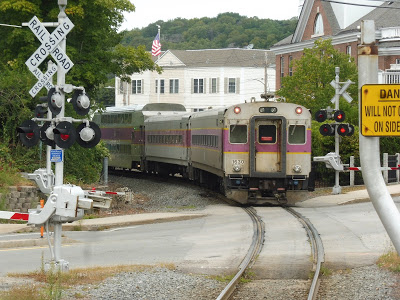 Yeah, yeah, set off the level crossing.
Station: Ipswich
Ridership: Barring its namesake station, this is the busiest stop on the independent section of the Newburyport Line, getting an average of 579 inbound riders per weekday. Keep in mind, though, that that's over the course of a whole year – in the summer, not only do you get commuters, but you also get a good amount of beachgoers.
Pros: The low-level section of the platform offers fine amenities, including a good amount of seating space with lots of reading material in the form of weird random newspapers. Although the parking lot is small, this station is right in the middle of Ipswich's dense downtown core, which includes many houses. Plus, you can't beat free parking!
Cons: It would be really nice to have a bench up on that mini-high. Also, would it hurt to throw in another bike rack here? The area around the station seems perfect for encouraging commuters to bike to the train. Finally, some trains set off the level crossing when they stop, which is always a pain.
Nearby and Noteworthy: Ipswich has a vibrant downtown with lots of small businesses in historical buildings, as well as summer events and a riverwalk!
Final Verdict: 6/10
Considering its tourist-heavy ridership during the summer months, this is definitely a barebones affair. However, it's not that bad when you get down to it: the benches are close to the mini-high, and the platform has plenty of shelter. Also…free parking!!
Latest MBTA News: Service Updates