A modern Commuter Rail station located in a downtown? A modern Commuter Rail station with character? No, no, I simply can't believe it. And yet, here it is: Hamilton/Wenham.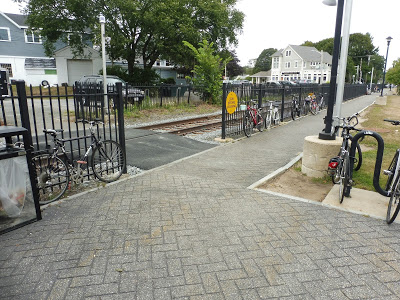 Wow, that's a lot of bikes!
The station is well-connected to the immediate area by foot, with lots of passageways connecting to attractions on all sides. You've got one that runs along the tracks as far as Walnut Road, as well as spurs serving businesses blocks on Bay Road and crossing the parking lot of a small shopping center. I love how expansive the pedestrian connections are, and they're along attractive and well-marked sidewalks for the most part.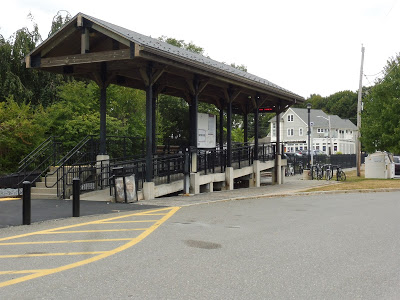 And just look at this glorious mini-high!
The mini-high platform at this station is great. And sure, it's not even that special from an amenity point of view: it only has a bench on it, while a wastebasket sits at the ramp entrance. That's it. But gosh, it just has so much charm! I adore the fact that it's made out of wood, and yet since the station was built in 2002, the platform also has lots of modern features, including both stairs and a ramp, and copious railings. It's simple, but it's awesome.
Meh.
Okay, there isn't much to say about the rest of the platform. I mean, most if it is just bare asphalt with the occasional wastebasket. There is another wooden shelter, though, and it offers another bench and a wholeeeeeee bunch of random newspaper boxes. The station's parking lot is pretty standard for a Commuter Rail station with about 200 spaces, but I think it's awesome that they were able to provide a lot and locate the station in the town center. Why can't more Commuter Rail stations be like that?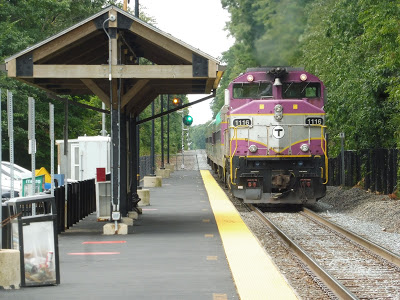 Goodbye!
Station: Hamilton/Wenham
Ridership: A part of me was worried this station would have low ridership, but luckily it doesn't. This is the third-busiest station on the independent section of the Newburyport Line, getting 436 inbound riders per weekday.
Pros: Oh my gosh, it's so good! For a modern Commuter Rail station, Hamilton/Wenham completely bucks the trend of what the T usually does. It has many pedestrian connections, its wooden shelters provide character, and it's located in a downtown area…and there was still room for parking!
Cons: Not much, although it seems like there's quite a lot of bike demand here. I could see one or even two extra racks getting plenty of usage.
Nearby and Noteworthy: It doesn't look like the most interesting town center at first, but there are gems to be found. I perused a lovely little souvenir shop, while there are also plenty of local restaurants around that look great.
Final Verdict: 9/10
This is how you build a new Commuter Rail station. The T could've easily relocated the station to the middle of the woods and thrown a 1,000 space parking lot next to it, but they didn't do that. They actually did relocate the station from its old place, but only to move it a little further from the level crossing at Bay Road so it wouldn't get activated while trains were stopped. Wow, that is amazing! Combine it with all the other perks of this stop and you've got yourself the perfect model for what a modern Commuter Rail station should be.
Latest MBTA News: Service Updates