Alright, our final BAT route! It's another typical one, just running out to the eastern sections of the city and a little bit into Abington. Let's take a look at the 5.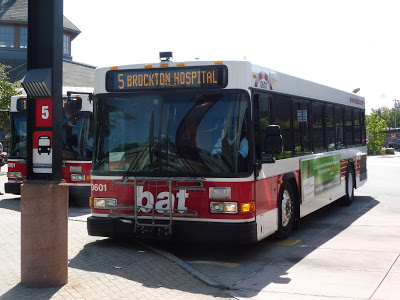 Getting on at the BAT Centre one last time.
We went down Commercial Street, lined with weird buildings and parking lots, then we turned onto Crescent Street. After passing a bunch of different types of scenery, we turned onto Lyman Street, which was residential aside from a cemetery and a church. Next, we turned onto Centre Street, passing houses, businesses and a school.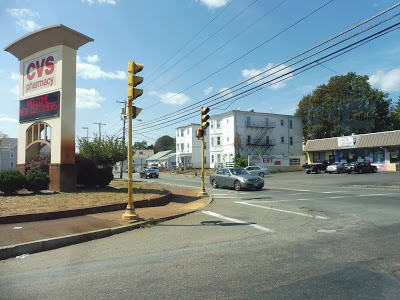 A mixed-use intersection.
Eventually, it was time for a double deviation: first, we went into Signature Healthcare, a big hospital. Right after that, we had a jog via Libby Street and Quincy Street to serve the Brockton Multi Services Center. Back on Centre Street, it was residential aside from a few weird industrial buildings, then the road became Brockton Ave as we entered Abington. Finally, we pulled into the Abington Walmart and the final BAT route was completed.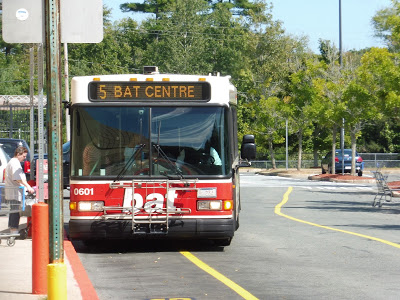 Getting ready to go back.
BAT Route: Brockton Route 5 (Brockton Hospital via Centre Street)
Ridership: The route got about 500 passengers per weekday in 2014 while netting around 235 and 160 people per Saturday and Sunday, respectively. I will say that my ride had about 15 people going one-way, which is much higher than the 2014 numbers would suggest, so perhaps ridership has gone up.
Pros: The route connects up the important destinations of Signature Healthcare and Walmart to the Bat Centre, while running with the typical pulse schedule. Not much else to say!
Cons: Not much, aside from the route map appearing to show a deviation that we didn't do – it looks like it serves some shopping plaza.
Nearby and Noteworthy: Walmart, I guess. There isn't much along this one.
Final Verdict: 7/10
It's just a typical BAT route, and that's about it. Alright, well, that's it for the BAT! Right? It's not like they have a weird minibus flex shuttle that I have to review, right? Nope…
Latest MBTA News: Service Updates
Kudos to the T for sticking it out through the horrible storm today. Check that service updates link for more information on how it's doing, as tomorrow won't be much better.