Welcome to the only numbered BAT route that runs weekdays only! Why is the 9 weekdays only? I honestly have no idea, since it seems to get pretty good ridership…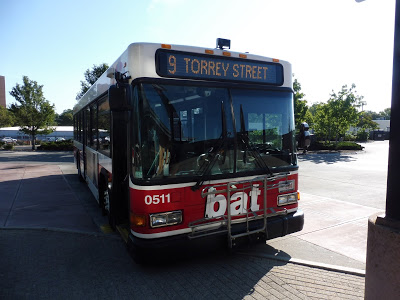 The bus at the BAT Centre.
We headed down Centre Street, going under the Commuter Rail tracks and passing the bland and unoccupied buildings of downtown Brockton. It continued as Legion Parkway and got a median for parking, then we made our way to Elm Street via Warren Ave. There were various buildings including a school, a church, and an apartment building, but it soon devolved into mostly suburban houses.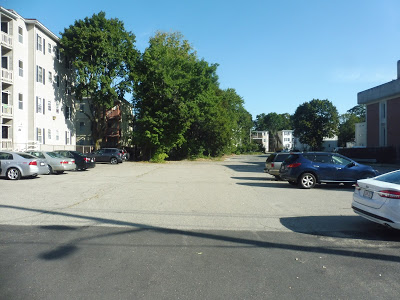 Some apartments closer to downtown.
Elm Street ended with a middle school, and at that intersection, we turned south onto West Street, passing a golf course of all things! I wouldn't have expected to see one of those in Brockton. Next, we turned onto Torrey Street, passing a few strip malls before it became mostly houses again.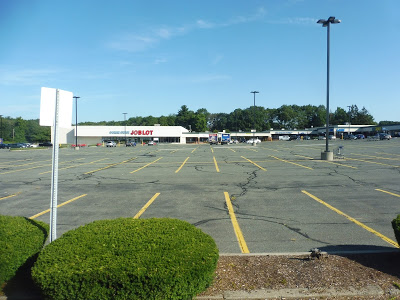 And we don't have to deviate! Yay!
We went under Route 24, and though it was a little industrial immediately after that, we turned onto Pearl Street, which was all residential. However, we eventually turned onto Belmont Street, where there were lots of suburban businesses with parking lots, offering a scenery change. And there was yet another change soon after we entered Easton, when we entered an industrial park of the same name.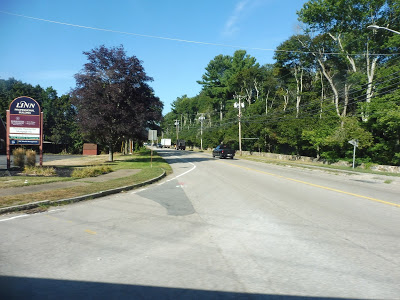 Turning off into it.
We went down Bristol Drive, then Norfolk Ave, looping around in a big circle at the end of that. It was just a bunch of office parks. Coming back onto Belmont Street, we reentered Brockton, but instead of going north on Pearl Street, we went south. This additional deviation was a loop via Pearl Street, Chestnut Street, and Liberty Street, and it served anywhere from housing and industrial buildings to a hotel and a hospital. I got out along this section and let the bus return to Brockton without me.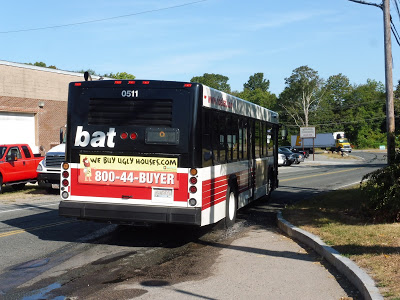 Bye!
BAT Route: Brockton Route 9 (Pearl via West Elm and Torrey)
Ridership: The 9 actually gets higher weekday ridership than the 10, with almost 300 passengers per day. That equates to about 18 people per round trip – my one-way ride had 10, so that seems pretty accurate.
Pros: The route serves a lot in southwestern Brockton, including many houses, shopping centers, and the Easton Industrial Park. It follows the BAT pulse schedule on weekdays (but only on weekdays), although rather than service every 20-25 minutes at rush hour, the route runs every 40-50. That does make sense given the route's generally lower ridership numbers, though.
Cons: Okay, but still, this thing gets more ridership than the 10 and the 11, and those routes run on weekends! Why does the 9 only have weekday service? It wouldn't have to go all the way to Easton Industrial Park, but it could still serve the shopping and medical centers out there!
Nearby and Noteworthy: I've mostly talked about what the route serves already (it's not that interesting), but the 9 technically goes to Stonehill College, too! Yeah, it's about a half mile away from the route, but this is the closest you can get to it.
Final Verdict: 6/10
I think the easiest weekend solution for the 9 would be to combine it with the 3. The two routes are close together, and it wouldn't take much time to extend the 3 a bit down Belmont Street to serve the most important parts of the 9. It would only be about two minutes of driving to bridge the gap! Other than the lack of weekend service, the 9 is a fine BAT route, but I see no reason why it shouldn't have buses on weekends too, especially when combining it with the 3 would be so easy.
Latest MBTA News: Service Updates