Who needs the 4 when you have the 4A, otherwise known as the less insane version of the 4? We'll get into how crazy the 4 is another time, but for now, here's its counterpart, the 4A.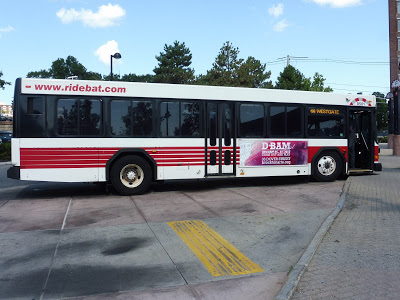 The bus at the BAT Centre.
We went down Court Street, then turned onto North Main Street for a block before twisting onto Spring Street. The road had apartments on one side and a park on the other, but once we turned onto North Warren Ave, it was almost all dense houses and apartments. Things got a little more spread out the further we went, but it wasn't a huge difference.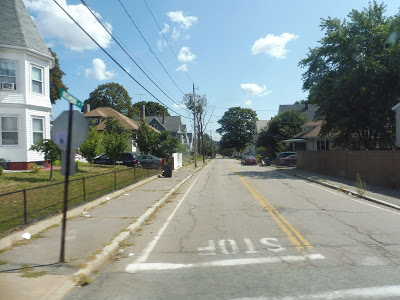 A side street.
We turned onto Battles Street briefly before entering Battles Farm, an apartment development. Meandering through the complex, we came back onto Warren Ave but turned onto Oak Street outside a middle school. The scenery was diverse, including houses, suburban businesses, and a golf course.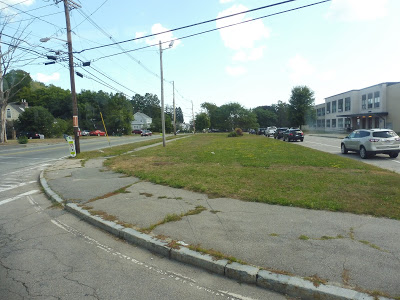 Making our way onto Oak Street.
We entered a park, going by the Fuller Craft Museum before passing some housing developments, suburban businesses, and an industrial building. Soon we turned onto Campanelli Industrial Drive, which was in fact industrial (it was aptly named). We turned onto Westgate Drive next, which took us in a big loop around the Westgate Mall past other suburban businesses and shopping centers. Finally, we headed into the mall parking lot, ending the journey.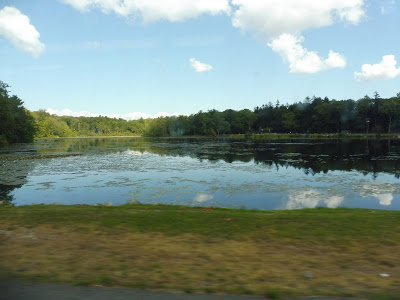 A pond within the park.
BAT Route: Brockton Route 4A (Westgate Mall via North Warren)
Ridership: Even though this route isn't nearly as busy as the normal 4, it still gets pretty good ridership: in 2014, it had about 850 people per weekday, 550 per Saturday, and 380 per Sunday. I even think ridership on the line has increased since then – my one-way trip had 20 passengers, which is way more than the averages in 2014.
Pros: The route serves dense portions of northwestern Brockton and connects them up to the Westgate Mall and the BAT Centre. It runs with the classic pulse schedule, which works fine for this route. However, on Sundays it combines with the 4 to form a loop, which is an efficient use of resources when ridership is lower.
Cons: The route has one quirk that's not publicized too well, and it was confusing at first: whereas with most BAT routes you pay when you get off going outbound, on the 4 and 4A you pay when you get on.
Nearby and Noteworthy: The Fuller Craft Museum looks like a charming local art museum, and this is the closest route to it.
Final Verdict: 7/10
It's another normal BAT route. Not much more to say – typical schedule, typical ridership, typical route.
Latest MBTA News: Service Updates