It's so weird to go to hospitals just to get a bus. I felt really awkward just standing outside of the VA waiting for the 3! Needless to say, I was happy when it came.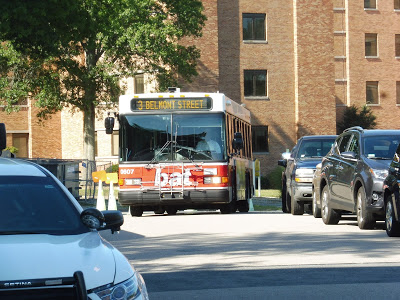 Hooray!
We headed out of the hospital complex onto Belmont Street, which was a mix of houses and businesses…for about 30 seconds. After that, it devolved into lots of strip malls, and we turned onto an access road to serve two of them. It was a smart deviation, though, as it took us out to Torrey Street – it felt a lot less painful than having to go in somewhere and come back out.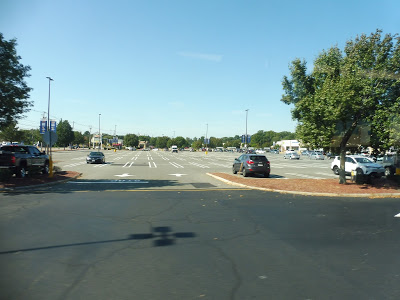 Going by Shaw's Plaza.
Torrey Street merged back into Belmont Street, and after a weird empty field, there was a mixture of apartments and businesses. Soon after passing an elementary school, though, we turned onto Main Street, and we were surrounded by the tall but mostly empty buildings of downtown Brockton. We were only on Main for a block, turning onto Crescent Street, then Commercial Street, taking us into the BAT Centre.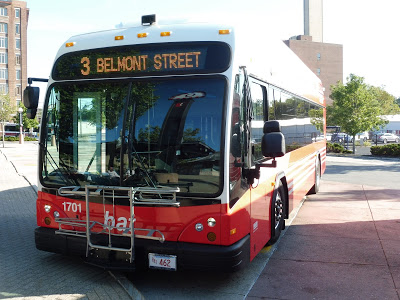 Why can't this have been my bus?????
BAT Route: Brockton Route 3 (VA Hospital via Belmont)
Ridership: The 3 is one of the busiest routes on the BAT, getting just under a thousand riders per weekday, a smidge under 500 per Saturday, and just under 200 per Sunday. My ride was lighter with about 10 people heading into Brockton, but the route generally averages around 30 per round trip on weekdays.
Pros: Belmont Street is a dense, busy corridor, and the 3 connects it up to downtown Brockton, to various shopping centers, and to the VA Hospital. Best of all, it does it in a direct way, doing a clever jog instead of a deviation to serve Shaw's Plaza. As for scheduling, it runs with the typical BAT pulse schedule.
Cons: This is trivial, but on the online schedule for the 3, I think they just copied it over from the 1, because there are a bunch of "A"s at night that don't mean anything for this route. Also, the 3 could arguably be even more effective if it was combined with the 9 on weekends. Just sayin'…
Nearby and Noteworthy: I guess the plazas are the most noteworthy places along the 3, but they're nothing special.
Final Verdict: 7/10
It's another typical BAT route! It's got its typical schedule, it serves a good amount, and it gets good ridership. Nice.
Latest MBTA News: Service Updates