Just as a disclaimer: no, I was not able to ride one of BAT's fancy new buses. And that's a real shame, because it'll make these reviews that much more boring. Lo and behold, the 6!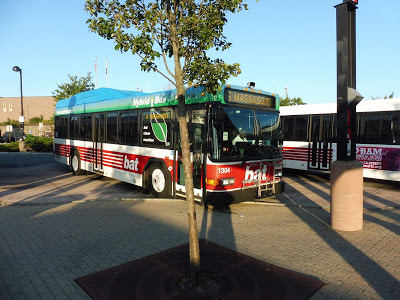 The bus at the BAT Centre.
From the Bat Centre, we headed down Commercial Street, running past weird apartment buildings and parking lots. It got industrial before becoming residential when we turned onto Lawrence Street. The dense houses continued as we made our way onto Grove Street.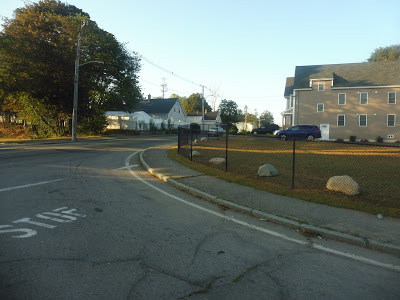 Some houses.
We merged onto Crescent Street, where some businesses became interspersed with the dwellings. Eventually it burst into some huge shopping plazas; we deviated into one of them, a bland affair called Crescent Plaza. Continuing a little further down Crescent, we turned onto Massasoit Boulevard, which ran through the woods before coming out into the campus of Massasoit Community College. Yes, this review was short. Yes, it was boring. So is BAT. I'm sorry.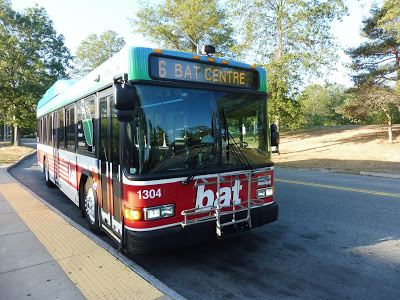 The college features a glass shelter with a yellow line and everything! Nice!
BAT Route: Brockton Route 6 (Massasoit via Crescent Street)
Ridership: My trip had light ridership, but the route performs well overall. It got about 780 passengers per weekday in 2014, while on Saturdays and Sundays it saw about 310 riders and 160 riders respectively.
Pros: The route connects Brockton to Massasoit Community College, which is what most people use it for, as well as some residential areas and shopping centers. It has the typical BAT pulse schedule (every 20-25 minutes rush hour, every 50 minutes midday, every 45 minutes Saturdays, every 40 minutes Sundays) with one exception: an extra bus is provided weekday middays when college is in session that runs express to Massasoit.
Cons: Nothing glaring – it's just a normal BAT route.
Nearby and Noteworthy: This is the best way of getting to Massasoit Community College by public transportation, and that's about it for interesting stuff this route serves.
Final Verdict: 7/10
Most BAT routes are probably going to get this score. The 6 does its job, providing extra service to Massasoit when it needs it while also connecting up residential neighborhoods. Like I said, it's just a normal BAT route.
Latest MBTA News: Service Updates