Did you know that there's a suburban section of Brockton? A part of Brockton that's just houses on quiet roads and that's it? Neither did I, but we'll see what it's like from the 10.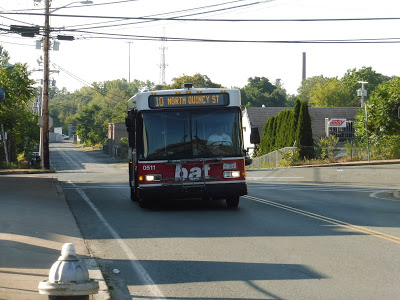 The bus coming towards the Montello stop.
The area immediately around Montello Station is industrial, but once we went onto Howard Street, it was just spaced-out suburban houses…aside from a second industrial burst. We were actually running with the MBTA 230 bus, but we split off onto Lisa Drive, a suburban residential area with lots of people that own pools, according to Google Maps. Eventually we made our way around onto North Quincy Street, which had a few businesses and industrial buildings between the houses.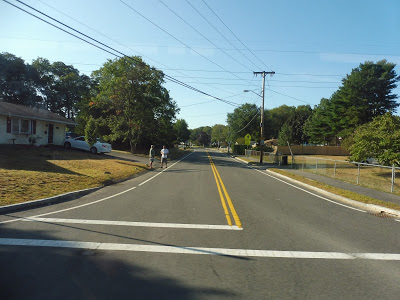 A typical street in the neighborhood.
That didn't last long, though, and it was once again all houses. They continued all the way down the length of North Quincy Street, and furthermore as we turned onto Court Street (with the exception of a school). It was almost entirely houses, aside from a few apartment developments, a cemetery, and an auto shop, all the way until the BAT Centre. Alright, then, that was easy!
They did get denser as we got close to town, admittedly.
BAT Route: Brockton Route 10 (Lisa and Howard via North Quincy and Court)
Ridership: It's light: about 225 passengers per weekday, 180 per Saturday, and…wow, 70 per Sunday? That's only 6 people per round trip. That's insanely low!
Pros: The 10 provides bus service to some suburban neighborhoods, which is nice, I guess. It has the typical BAT pulse schedule, although on weekdays it only runs every 40-50 minutes instead of 20-25 during the rush, and on Sundays it combines with the 11 to form a loop service around the northeastern part of Brockton.
Cons: This is a very low ridership route, and I think some measures can be taken to make it more efficient. For example, it could be combined with the 11 at all times, since both routes are underperforming. Also, Sunday service could be eliminated, because ridership seems to be far too low to justify service at those times.
Nearby and Noteworthy: Gosh, it's really just all houses. There's almost nothing else!
Final Verdict: 6/10
The 10 is an okay route, but it experiences lower ridership than many other BAT routes. I think it could easily be combined with the 11 full-time without any crowding, and Sunday service could probably be eliminated because it doesn't seem like too many people are relying on it.
Latest MBTA News: Service Updates