Most RIPTA Pawtucket routes are weird, and the 75 is no exception. Boasting an inconsistent schedule and random rush hour deviations that themselves don't make any sense, the 75 is a strange one.
I boarded the bus at Stop & Shop on Mendon Road and took the route up and back.
We headed out from the Lincoln Mall onto George Washington Highway, going under Route 146 and passing lots of office parks. Although the sprawling ugly Lincoln High School broke up the scenery, it was right back to offices after that. We crossed over into Cumberland on a high bridge over the Blackstone River.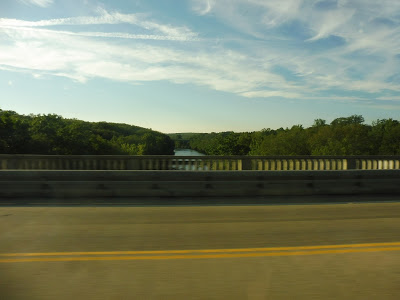 I'm on the wrong side for a clearer look, but nice view!
We turned onto Mendon Road, passing a fire station, a cemetery, and a church before the road got…interesting. It was this narrow strip of development with practically no side streets, and it seemed like people just built whatever they wanted: there were businesses, churches, industrial buildings, houses, you name it. It was all dense, too!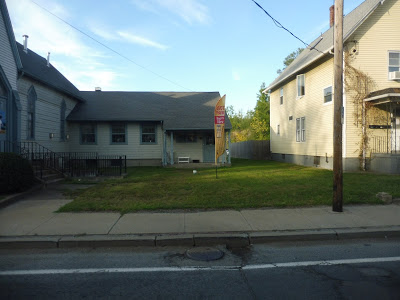 Good pictures were slim pickings along here.
It was all similar scenery for a while. I mean, there were occasional bursts of something else, say, a housing development, but other than that, it really was just the same thing! The only time it broke was for the Stop & Shop I had boarded at before, but once we crossed the Blackstone River back into Lincoln, it was the same thing again. Sure, the street was called Lonsdale Ave now, but for the most part it was still a narrow strip of development with the scenery we had been seeing before.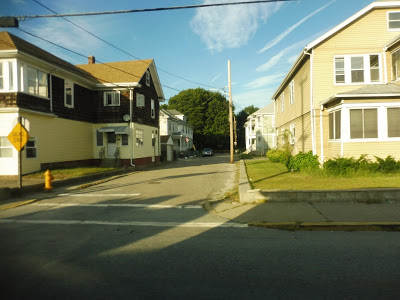 Look, it's just a dead end!
Once we entered Central Falls, the neighborhood got more widespread again as we merged with the 72. We curved onto Dexter Street, taking us down past a mix of houses and businesses and eventually into Pawtucket. After going over the Northeast Corridor, we turned onto Goff Ave, which became Exchange Street, and we entered downtown Pawtucket. Turning onto Roosevelt Ave, we reached our terminus at the Pawtucket Transit Center.
The bus in Pawtucket.
RIPTA Route: 75 (Dexter/Lincoln Mall)
Ridership: My ride out had 7 people, and there could've been more from earlier on in the route, but coming back in there was no one. Nothing. Nada. You would think people would be coming back from the mall in the late afternoon when I took this!
Pros: Like a few other Pawtucket routes, the 75 connects the city to a location that would normally require a trip to Providence to get to – in this case, it's the Lincoln Mall, which is also served by the 54. I will say that the route has a good schedule on Saturdays, with a bus every hour.
Cons: The weekday schedule is inconsistent, with service anywhere from every 63 minutes to every 75 minutes – it's not a huge difference, but it requires that riders check the schedule to see when trips depart. Furthermore, on weekdays, the route has rush hour deviations to no less than three random locations up in Lincoln, including one (Bank of America) that is only served going inbound in the evening rush. No morning rush trips? Alright, then. Finally, the Sunday service is about every 65 minutes, but for some inexplicable reason, each trip has a slightly different headway.
Nearby and Noteworthy: There was not much along this route that captivated me. I guess the view from the high bridge was nice.
Final Verdict: 5/10
The route is fine, I guess. It serves its purpose and definitely isn't elimination-worthy. However, the seemingly low ridership combined with the inconsistent schedule combined with the random rush hour deviations makes the 75 a tough one to swallow and a real pain to ride.