Until recently, the 71 was considered a "key corridor route." How frequent would you expect a key corridor route to run on weekdays? Every 15 minutes? Every 20 minutes? It's an RTA, so we'll be conservative and say every 30 minutes. So, how often does the 71 run? Every 40 minutes? Yeah, good call on RIPTA's part to remove this thing's "key corridor" status.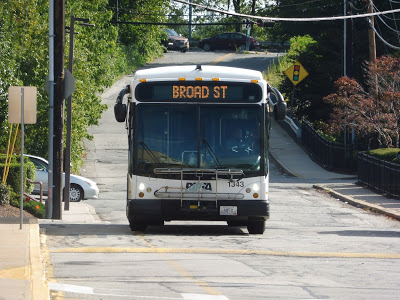 Alright, I guess the bus decided not to have a route number today…
After sneaking into a Chili's to use their bathroom (don't ask, it was the only one I could find!), we left the shopping plaza at which this route begins and curved onto Ann Mary Street. This took us up a hill to North Main Street, but we merged onto Pawtucket Ave almost immediately. With what seems to be pretty typical Pawtucket scenery, the street was a mix between dense houses and random industrial buildings.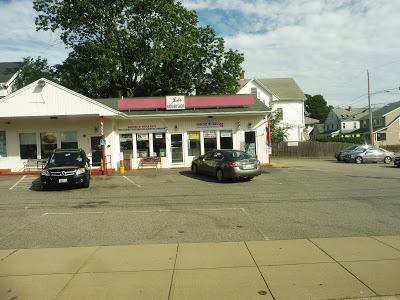 There were a few businesses scattered around, too.
The industrial buildings withered away slowly and got replaced by the occasional business. Eventually we merged onto George Street, passing a cemetery and going over I-95. We curved onto East Street next, which took us past the mostly vacant buildings of downtown Pawtucket. Making a few one-block twists, we arrived at the Pawtucket Transit Center.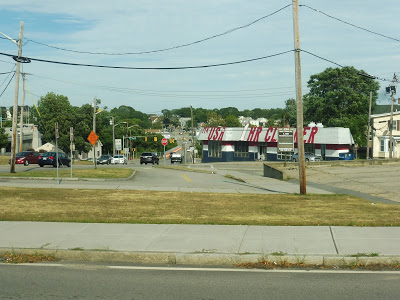 Some varied scenery in Pawtucket.
We made our way down Exchange Street, but strangely, we deviated from the route by continuing a little further than we were supposed to and turning onto Dexter Street! This took us over the Northeast Corridor train tracks, then we turned onto Barton Street to return to Broad Street, which is what we were supposed to be on the whole time. We entered Central Falls, passing diverse businesses intermingling with houses and churches.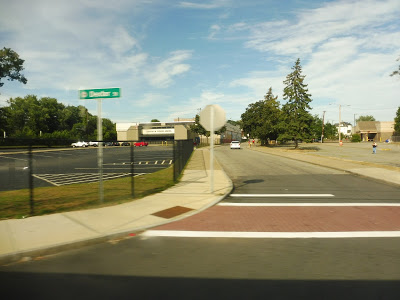 Well, this is just weird!
At one point we entered what seemed to be a "downtown Central Falls" type place, as the buildings got denser and retail lined the road. It ended quickly, though, devolving into huge factories to the east and weird businesses to the west. We then left the tiny town of Central Falls by going over the Blackstone River and entering Cumberland.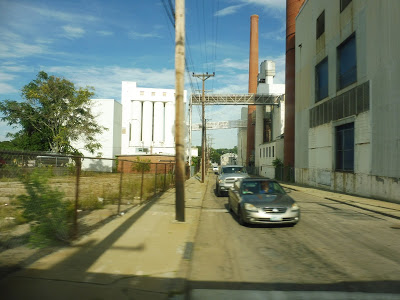 This factory has seen better days…
Broad Street was a mix of everything in Cumberland, from businesses and houses to schools and churches. We went over some train tracks, after which one side of the road became occupied by a layer of trees and a fence. Turning onto Ann and Hope Way, we were in the home stretch of the route: at the end of that street, we entered the parking lot for a Stop & Shop that felt way too big for the amount of retail in the shopping center.
Oh, now it shows the number! NOW it shows the number!
RIPTA Route: 71 (Broad Street/Pawtucket Ave)
Ridership: My ride had about 15 people, and it's for routes like these that I wish RIPTA had kept its ridership numbers public. Given the length of the route and the fact that it runs through Pawtucket to shopping centers on either side, that doesn't seem like very good ridership…
Pros: The 71 serves large chunks of Pawtucket, Central Falls, and Cumberland that are dense and far away from other routes. The southern half of the route is eliminated on weekends, but I think it's okay because it's fairly close to the 1 and the R-Line, both frequent routes. I think the schedule makes sense for the ridership, with a bus coming every 40 minutes on weekdays and every 45 minutes on weekends.
Cons: I was gonna do a tirade about how RIPTA called this a key corridor route, suggesting frequency that doesn't exist, but now that it's not anymore, I can relax. The only con for the 71 would probably be its ridership, which seemed to be light based on my trip – given the fact that it runs through such dense parts of town, I would've expected it to be higher.
Nearby and Noteworthy: There are many small businesses along the length of this route, but none of them seemed too appealing
Final Verdict: 7/10
If the route was still considered key, I would've given it a 6. However, now that its moniker of "local route" is more accurate, I'll throw it another point. Yeah, the 71 may not be frequent and it may not get astronomically high ridership numbers, but it's an important and direct connection for the communities it serves.
Latest MBTA News: Service Updates