The 63 is like a drunk snake. I think that about sums it up…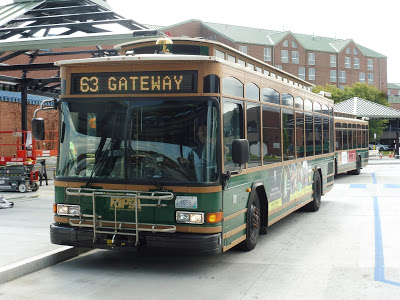 I guess we'll be taking a ride in a trolley, then!
The route starts out pretty normal, though, just heading down Marlborough Street. There was a mix of old houses and newer parking lots, but once we turned onto Broadway outside of Newport City Hall, we passed lots of businesses. The further we went, though, the more residential it got.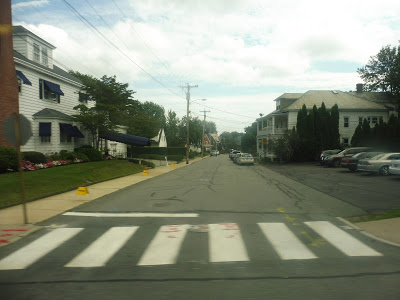 All houses by now.
There were a few suburban businesses when we turned onto Admiral Kalbfus Road, the stop announcement for which being one of the funniest on the RIPTA ("Admiral Kalb-FUTH"). We turned onto Hillside Ave soon, which took us past lots of houses, culminating with an apartment development at the end of the street. We turned onto Maple Ave for a few blocks, then Girard Ave, which had lots of random apartment developments along its length.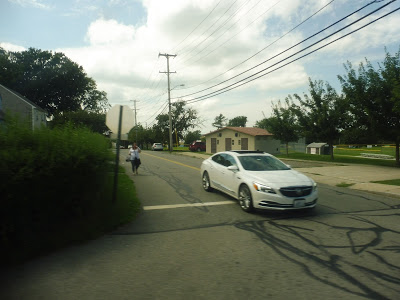 Making a turn.
We eventually turned back onto Admiral Kalbfus Road, a mere block away from when we had originally gone onto Hillside Ave! The street went past a casino and under a stub of a highway (it met opposition so it wasn't completed), then we went around a rotary onto JT Connell Highway. Here, it was time to deviate into a shopping plaza called Newport Towne Center, which was not nearly as regal as its name suggested.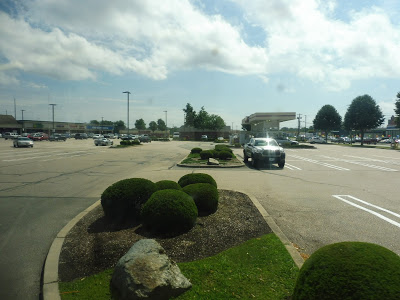 Inside the big parking lot.
Before we continue, I just want to note that there's a stop on the inbound side called "Connell at Newport Adults Video." Really? That's what you're gonna name the stop, huh? It couldn't have been any other business? Alright, then. It was pretty industrial as we continued north, up until the intersection with Maple Ave – a block from where we were on it before. Do you see why my drunk snake analogy makes sense???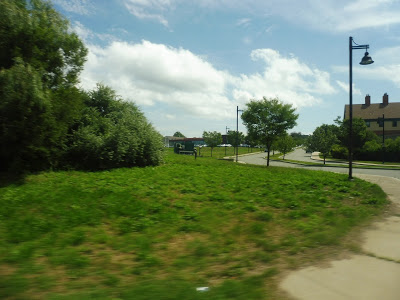 The road to CCRI.
We went by Community College of Rhode Island Newport as our street became Coddington Highway. It curved east and passed the access road to the RIPTA Newport Garage, as well as industrial buildings, a trailer park, and some suburban businesses. We also entered Middletown along this section.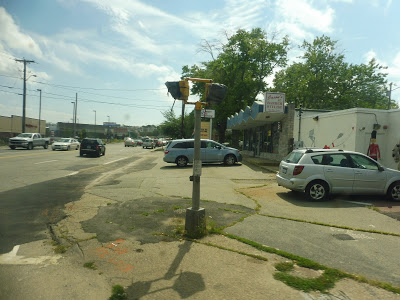 That sidewalk needs an overhaul!
We turned onto West Main Road briefly before heading onto East Main Road. We passed the Aquidneck Shopping Center without deviating, and there were plenty more suburban businesses beyond. Next, we headed onto Valley Road, which led us back onto West Main. Strangely, the route only performs this jog in the outbound direction.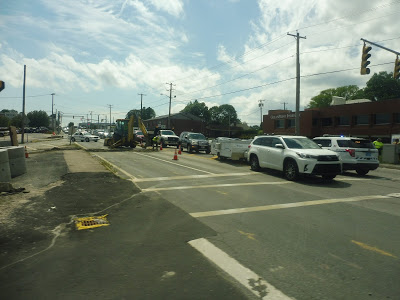 Turning onto East Main.
We turned onto West Main Road at an intersection with suburban businesses and a housing development. It became a real hodgepodge of stuff after that, from housing developments to normal houses to shopping plazas to hotels to churches to farmland? Oh my!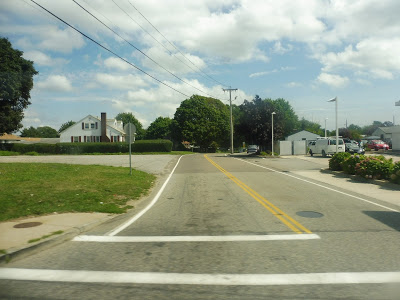 A curvy side street.
I have no idea how these RTAs decide which shopping plazas to deviate to, but I guess the RIPTA decided to choose Browns Lane Plaza. Now, this would normally be the last stop on the route, but I was very lucky to be on one of the four trips per day that continues up to Oxbow Apartments! What would the journey entail? Oh…we just continued up West Main Road for two extra minutes and deviated into an apartment development. Yay…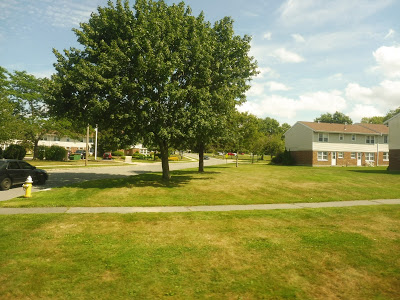 Here's a picture of Oxbow just to prove I actually went there.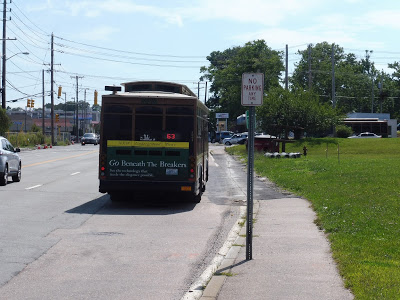 This just doesn't look like the kind of place where you would see a fake trolley!
RIPTA Route: 63 (Broadway/Middletown Shops)
Ridership: My trip had about 10 people on board, using the route for local trips to the supermarket or to get back home. Unlike the 67, which was almost all tourists, the 63 is very much a route for residents.
Pros: The route definitely has its place in Newport, connecting residential neighborhoods to various shopping plazas in Middletown. It also does it frequently, at least on weekdays and Saturdays, with service every half hour (on Saturdays it's every 45 minutes during the off-season).
Cons: Man, that service really drops on Sundays – all of a sudden, you've got a bus every hour and 25 minutes, amounting to a mere 6 full trips per day! The service to Oxbow Apartments feels strange, too – why run buses to it if it's only going to be a few times per day, spaced hours apart? Honestly, every trip could run there, seeing as it doesn't add much time to the schedule at all. Plus, like the 67, the 63 has the problem of being a bit too long – it has a 68 minute round trip time, meaning that it requires three buses to run half hourly service when it could be two. Oh, and did I mention the strange Saturday-only deviation to an apartment called West House that only happens on outbound trips five times per day in little spurts of three and two? This route is weird…and I haven't even ranted about the stupid snake routing in Newport!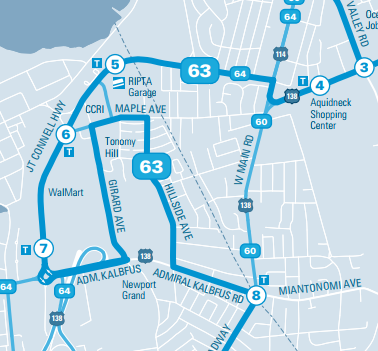 OH MY GOD ARGHHHHHHHHHHHHH!!!!!!!!!!!!!!!
Nearby and Noteworthy: All this route really serves is a bunch of barren shopping centers up in Middletown. It would be a sad occurrence for a tourist to get on this, thinking it's the 67 because it uses a trolley. Hey, why the heck does it use a trolley??
Final Verdict: 4/10
Like I said before, the 63 is a drunk snake. It twists around all over the place with strange service patterns and deviations that only get served a few times a day or only in certain directions. And sure, it does serve some important neighborhoods and it does run frequently most of the time, but geez Louise, this is a hard route to stomach. At the very least, it could serve the Aquidneck Shopping Center, West House, and Oxbow Apartments full-time, since the buses have some mighty long layovers back at the Gateway Center! Or maybe it could remove some deviations, such as straightening out the Newport snake section, so that it could run with two buses instead.
Latest MBTA News: Service Updates