There are a bunch of different privately operated trolley companies in Newport, some of which are more sketchy than others. But why use those vehicles of uncertain quality to get around when you can just ride good ol' Uncle RIPTA? The 67 is the premiere form of tourist transportation within Newport.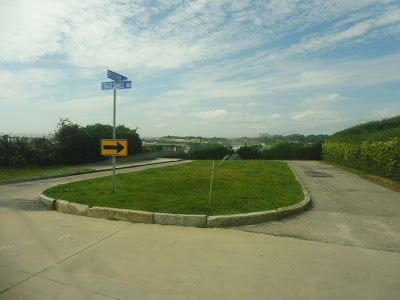 Looping around to start the route – I just stayed on down and back.
The southern end begins with a u-turn. Looping at the end of Bellevue Ave, we headed back down it and the road curved north. Having never been to the Mansions before, this was crazy – the road was lined with big shady trees, old-fashioned street lamps, and mansion after mansion hidden behind big walls and fences. Some of them were museums, such as Belcourt Castle and Marble House, while others were still being lived in, occupied by very very rich people.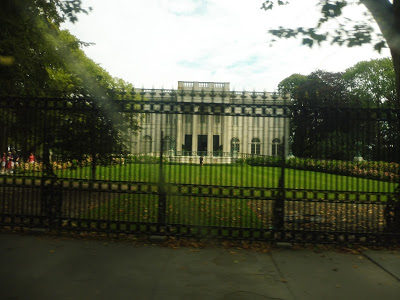 That's huge!
We soon turned onto Ruggles Ave, which was narrower. Among the huge homes were some repurposed ones for Salve Regina University, but when we turned onto Ochre Point Ave, we passed the largest mansion in Newport (and the 21st largest in America): The Breakers. This was a very major stop, but it was less busy afterwards as we went through the on-break Salve Regina University.
Making a turn.
We turned onto Narragansett Ave, then Bellevue Ave, going by more opulent mansions the whole time. Bowery Street was basically the boundary between mansions and the real world: there was one more after that, but then we passed two shopping malls and the International Tennis Hall of Fame. We were back in civilization.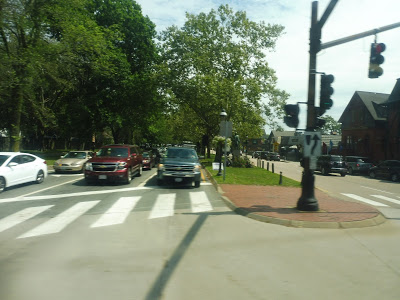 Memorial Boulevard.
Crossing Memorial Boulevard, there was a wide variety of scenery, such as businesses, houses, parks, and the Newport Art Museum. Normally the route would run down Touro Street, but since it was the summer, we did the "summer" route up the residential Kay Street. Dense houses continued as we turned onto Mann Ave, but there was lots of retail as we made our way onto Broadway, passing Newport City Hall.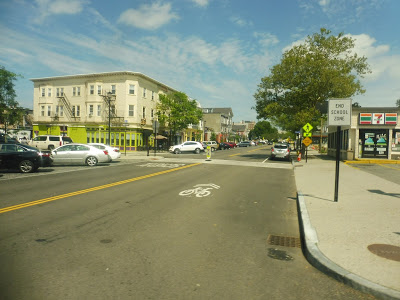 Turning onto Broadway.
We headed down Marlborough Street, then turned onto the very narrow Thames Street. This cobblestone thoroughfare is the main drag of Newport, and there were charming businesses and pedestrians closed in on either side. Finally, we looped around onto America's Cup Ave, which led us back up to the Newport Visitor's Center.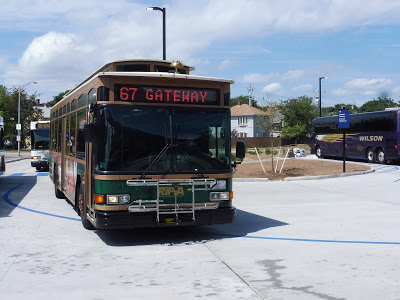 The fake trolley looping around at Gateway Center.
RIPTA Route: 67 (Bellevue/Salve Regina University)
Ridership: Based on my round trip, the 67 is a well-frequented route by tourists. There were 15 riders going south and 10 coming back up. Basically everyone used it to get to the mansions.
Pros: This is a fantastic route for tourists, running every 20 minutes on weekdays and 15 minutes on weekends during the summer, and every half hour for the off-season. It connects up downtown Newport to a variety of attractions for just $2, and conveniently, almost every stop gets an automatic announcement so people know where they're going (gotta love the old lispy lady RIPTA announcer!). Also, while I'm usually against using fake trolleys, the RIPTA ones are rather nice.
Cons: This route has a layover problem. On weekends it's fine, but on weekdays and during the off-season, the route requires one more vehicle than it needs. For example, when it's running every 20 minutes on summer weekdays, the route takes 41 minutes for a round trip – thus, each bus lays over for 19 minutes, and you need three of them to run the service. Counter that with the weekend service, which also uses three buses, but it's every 15 minutes, so it actually makes sense!
Nearby and Noteworthy: You've got lots of mansions to choose from. Take your pick: The Breakers, Rosecliff, Marble House, Belcourt Castle, The Elms, and probably many more that aren't shown on the route map!
Final Verdict: 8/10
The bottom line is that the 67 is a great tourist connector, and tourists couldn't give a hoot how much layover time the route gets. However, from a transit planning perspective, this is one of the least efficiently run routes I've ever seen: each bus spends a third of its time doing nothing! There's not much that can be done about that…unless, perhaps, you extend the route? With a few turns past the terminus, it could go out to Gooseberry Beach, which looks like it gets pretty busy. It would add about 6 minutes to the overall run time, which would be great for weekdays and the off-season, but not so great for the 15 minute service on summer weekends – an extra bus would have to be added. Maybe we're stuck with the current inefficient route, then…
Latest MBTA News: Service Updates