What's the best way of getting to South Station for a 5:30 AM train to Providence? How about walking to Clarendon Hill for the early-morning 89/93 trip that only departs at 4:33 AM? Sounds good to me!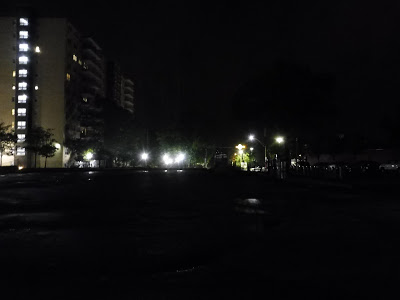 The Clarendon Hill busway is weird at this time…
It was an interesting experience waiting at Clarendon Hill at 4:15. I was worried the bus just flat-out wouldn't show up. After all, there was no one else there – who knows, maybe the route didn't exist. Finally, another person showed up. There was hope! And wouldn't you know it, the bus came right on time at 4:33.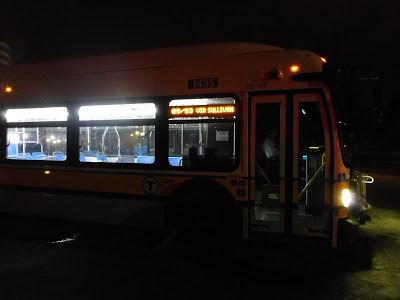 Well well!
We took off down Broadway in the quiet morning, speeding past tons of dense houses. There was a burst of retail at Teele Square, but then it was all triple-decker apartments until Powderhouse Square. Usually a complete mess, the Rotary of Death was quite manageable at 4 AM!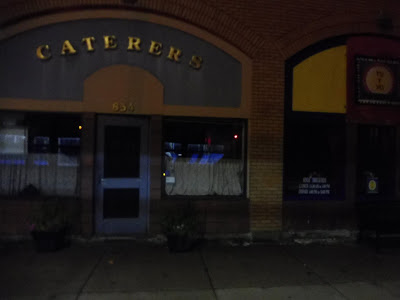 Some businesses in Powderhouse Square.
We continued down Broadway past the rotary, passing a lot of businesses and going over some Commuter Rail tracks. There was a mix of buildings on the other side: a park, houses, and businesses. It leaned completely over to the latter at Magoun Square, though, and we gained quite a few passengers here.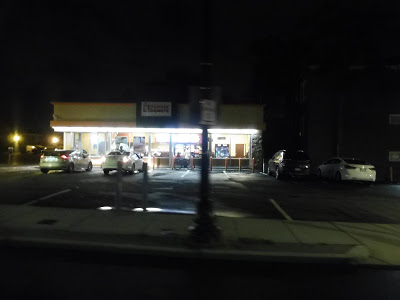 Apparently Dunks is busy at all hours of the day!
We went over a hill past lots of houses and a few apartment buildings. Once we merged with Main Street, Broadway got much wider and gained a median. There were also more businesses now, some with parking lots and some without. There was a large park as we crossed McGrath Highway, and it was almost entirely retail lining the road after that.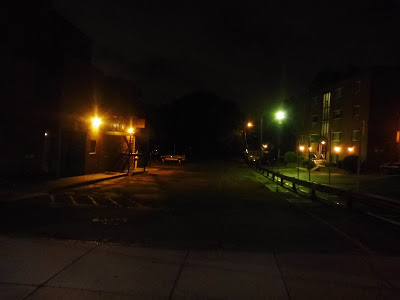 It's amazing that these pictures actually came out alright!
We simultaneously went under I-93 and over the Orange Line tracks, then we pulled into the Sullivan Station busway. I was surprised to see a bunch of people get off here – the first train wouldn't be for a while! Now it was time for the 93 portion of the route, so we made our way around a rotary past the Schrafft Building and onto Main Street.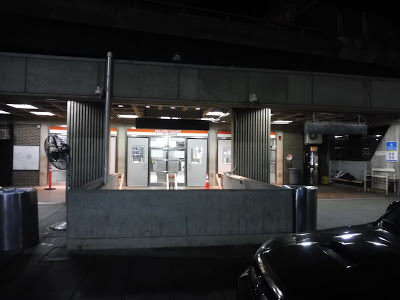 Sullivan, but with no trains.
It became Bunker Hill Street and we were now passing the lovely, charming, diverse apartments of Charlestown – there really wasn't all that much else along here. At one point we went by an apartment development, while on the other side there would have normally been a view of the Bunker Hill Monument. We passed a school, then we turned onto Lowney Way, which ran next to the Tobin Bridge.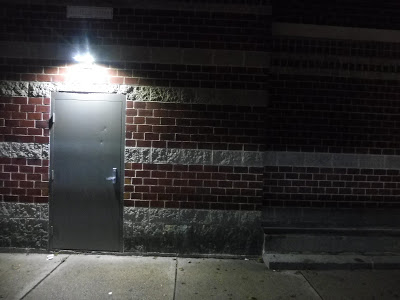 A WALL!!!!!!!!
We curved onto Adams Street, leaving the shadow of the Tobin. This took us into Winthrop Square, a beautiful common surrounded by some of the most beautiful old apartments in the city. We turned onto Park Street here, and eventually made our way onto the wide North Washington Street.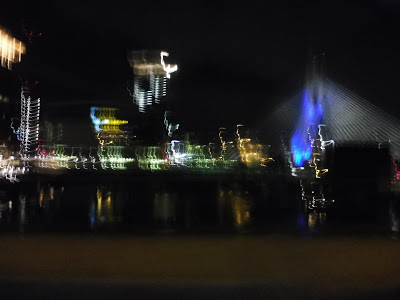 The quality of this picture was totally on purpose, guys…
We went over the North Washington Street Bridge with ease – usually it's packed with traffic. Now on the Boston peninsula proper, we deviated from the normal 93 by turning onto Causeway Street. I guess this was in order to serve North Station, and surprisingly, a good amount of people got off here!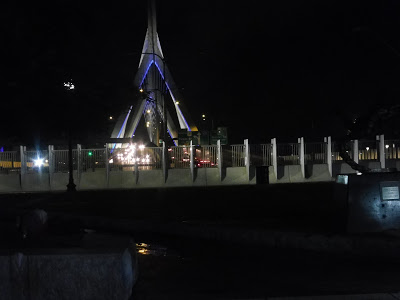 That feels like more traffic than it should be for a little before 5.
We headed to the end of Congress Street and made our way around onto Merrimac Street, going by some ugly office buildings on one side and brick ones on the other. Just before the huge Government Center parking garage, we turned onto New Chardon Street, then pulled into the Haymarket Busway, ending this amazing early-morning experience.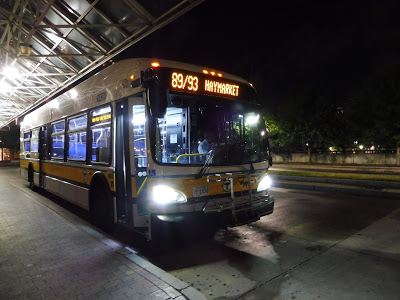 Man, that was awesome.
Route: 89/93 (Clarendon Hill – Haymarket Station via Charlestown
Ridership: This website gives the ridership data for the T's early morning routes. The 89/93, internally known as the 194 (and that's what the automatic announcement calls it) doesn't get particularly good ridership as far as the early morning routes go, with an average of 24 people on its run (my trip got 20). Still, that's decent, and it's clear that a good amount of people rely on this bus.
Pros: The 89/93 is a very important connection for early-morning workers in Somerville and Charlestown. This is pretty obvious, but the route is fast, and it gets from Clarendon Hill to Haymarket in less than half an hour!
Cons: There isn't much wrong with the route itself. I mean, one could make an argument that Boston area citizens would benefit heavily from a 24-hour bus network based on these early morning routes, but that's already been made much better than I could've done it.
Nearby and Noteworthy: Well hey, if you live in Somerville or Charlestown and you want to get to the many noteworthy attractions of downtown Boston, this is the bus for you! Sort of.
Final Verdict: 8/10
As a route, the 89/93 does its job faithfully, running exactly on time every morning and getting workers into the city. There isn't that much else to say about it, other than that I had a great time riding it! Just don't expect any more early morning reviews – Clarendon Hill happens to be within walking distance from my house, so this was easy to take, but the other routes are just too inaccessible to ride. Plus, they're not referred to publicly as their internal route numbers, so they're not considered separate routes.
Latest MBTA News: Service Updates