Whenever my train gets into Lawrence, I always check the 33 schedule to see if there's a bus coming to the station to take me to Lawrence. So far, I haven't been lucky, being forced to do the rather long walk to the Buckley Transportation Center. Still, the 33 has more of an identity than being the only local route to directly serve the Commuter Rail station, so let's see what else it does!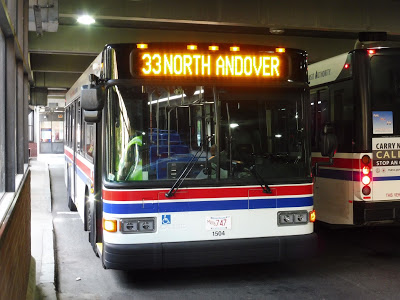 Geez, Buckley, I have barely any room to even stand!
We went alongside a common on Common Street, but once that ended, it was businesses, apartments, and parking lots lining the road. It ended at a gigantic old mill where we turned onto Union Street, taking us over a canal, past some more old factories, and over the Merrimack River. Once on the other side, we deviated into the Commuter Rail station, referred to on the schedule as the "McGovern Transportation Center."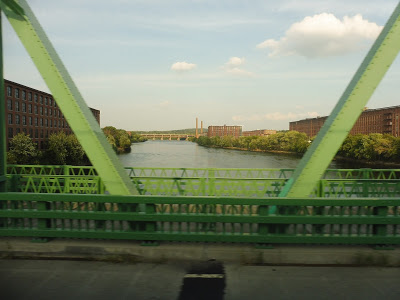 Crossing the river.
Heading down Merrimack Street, there was a lot of modern retail development, both in retrofitted factories and in new shopping plazas. We entered North Andover once we went under I-495 and the street turned into Sutton Street. Once we passed through a weird diagonal level crossing with some train tracks, we turned onto Main Street.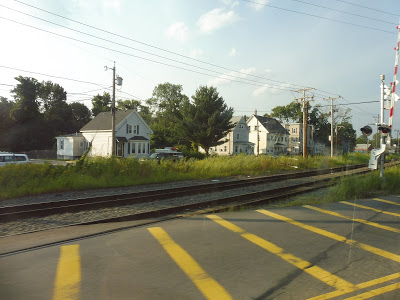 The level crossing.
Main Street was the principal thoroughfare of what I'm going to call North Andover Center. It was much more spread-out than your typical downtown, with lots of dense houses in between the businesses. However, it was still really charming, especially with the awesome historical architecture and the character-filled winding narrow road passing through it all.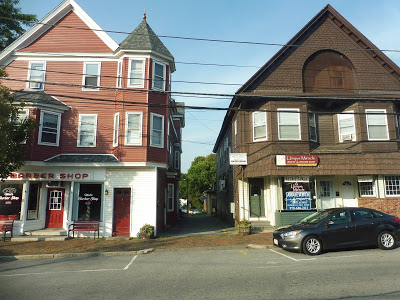 Some lovely businesses.
It stayed like this for a good while, and even the annoying shopping plaza in the middle of it all had tasteful architecture. Once Main Street curved south past a church, though, we officially left the center and the road became lined with houses. It was totally residential (aside from a library and a church) until we turned onto Chickering Road outside of the North Andover Middle School.
Heading onto Chickering.
There were a lot of woodsy stretches interspersed with random buildings such as suburban businesses, housing developments, and a church. There was even a sizeable section that was all fields and farmland, but it ended soon enough with more retail. We merged onto Andover Street, then we turned onto Turnpike Street, taking us past more suburban businesses (mostly). Finally, we arrived at our boring, drab terminus, the North Andover Mall.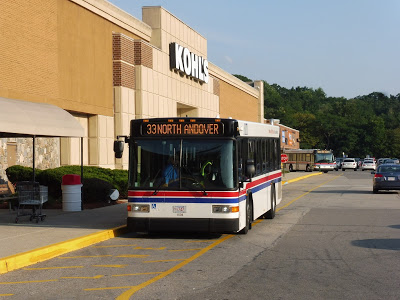 Yup, here we are.
MVRTA Route:
33 (North Andover)
Ridership: Alas, this is one of the least-used Lawrence routes: it got 93,803 riders in 2015, or about 257 people per day. How many people were on my trip? Three. WOOOOOOOOO!!!
Pros: This is North Andover's primary bus route, serving its town center and some important neighborhoods. It also connects them to the Commuter Rail, and even though it's kinda weird that this is the only route that serves it, I guess that's a good thing for North Andover commuters! The 33 has the typical MVRTA pulse schedule, offering service every half hour during weekday peak periods and every hour all other times, seven days a week.
Cons: I feel like the ridership on this route is far too low to justify the half-hourly pulse at rush hour. I mean, my ride was during the "evening rush" and it only got three passengers, so clearly this isn't a very peak-oriented route. Annoyingly, the 33 interlines with the 40, which is one of the busiest routes out of Lawrence! If it was interlined with something with similarly low ridership like the 34, the half-hourly peak period could be eliminated and service could stay every hour.
Nearby and Noteworthy: I loved North Andover Center from my brief pass through it. It's not your typical downtown where everything is in one place, but Main Street has some really interesting and unique businesses along much of its length, and it's still dense and walkable.
Final Verdict: 6/10
It's clear that the 33 is an important route and a good amount of people rely on it. It serves some important neighborhoods and connects them up to a major shopping center on one end and Lawrence on the other. However, let's be clear: it really doesn't need to run every half hour at rush hour. I'm serious, this could easily be interlined with the 34 and then that problem would be solved easily! Both of the routes get low ridership, so their peak periods could be eliminated.
Latest MBTA News: Service Updates