Welcome to the busiest route on the MVRTA! This bad boy takes a direct shot from Lawrence to Haverhill, via Methuen…in which it has to make a bunch of deviations. Okay, the shot is mostly direct.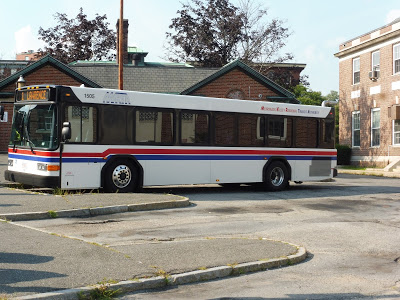 The bus at the Washington Square Transit Station.
We went down Washington Street through downtown Haverhill, but it ended definitively when we passed under the Commuter Rail tracks. We merged onto River Street, which was lined with apartments and occasional businesses and industrial buildings. It was a mix of all those things for a while until we came alongside the Merrimack River – here, it became all residential.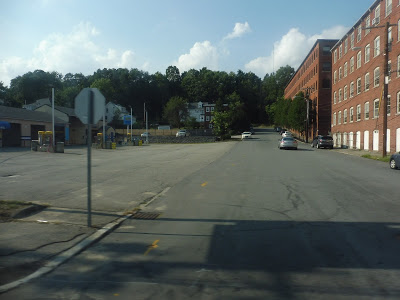 Back when it was a mix.
There were some suburban businesses and a shopping plaza near I-495. The plaza is directly deviated to by other Haverhill routes, but the 1 gets you there a lot faster, even sans deviation. On the other side of 495, there were more houses as we curved with the Merrimack River.
Houses indeed.
There was a short section of trees, and it marked the point where we entered Methuen. The road was Merrimack Street now, but not much else changed until we went under I-495 and it got industrial. Next, we turned onto the residential Pleasant Valley Street, the start of the 1's very long deviation, including no less than three mini-deviations within the deviation!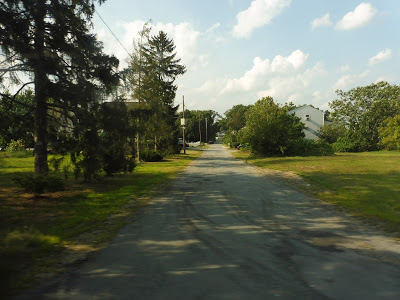 A rugged side street.
We crossed 495 again, passed some industrial buildings and a housing development, and went over the "Loop Connector" highway. Suburban businesses with parking lots started to crop up until they morphed into a big shopping plaza called The Loop. This was our first mini-deviation.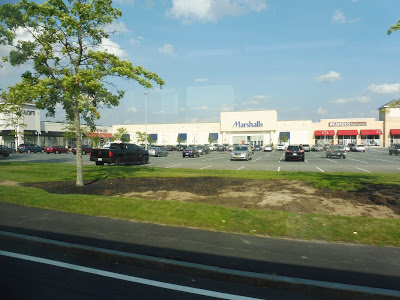 Woo!
Next, we used some shopping mall backroads to go to our second mini-deviation, Walmart. After that, we returned to Pleasant Valley Street, going by a farm of all things, and made our last deviation-within-a-deviation into Target. It was alllllllllllll the way back to Merrimack Street from there.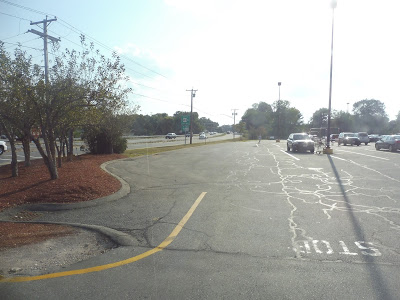 Coming out of the Walmart parking lot.
Back on Merrimack Street, there were a lot of businesses with parking lots, while houses were mostly relegated to side roads. There were other occasional attractions along here too, such as a church and another out-of-place farm. As we got closer to I-495, Merrimack Street got wider and we went by a shopping plaza. Once we got over the highway, it became East Street.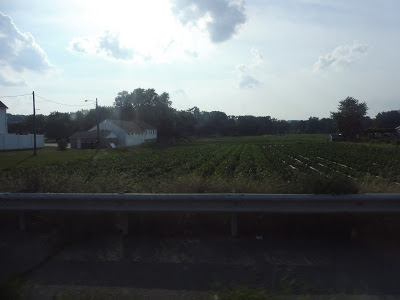 Seriously, this farm came out of nowhere!
It was all houses until we continued onto Swan Street, where there was a tiny spout of retail. And once it did go back to being residential, the houses were becoming denser, and apartments were beginning to be included. There were some more businesses when we turned onto Jackson Street and entered Lawrence, and now all the residential buildings were apartments.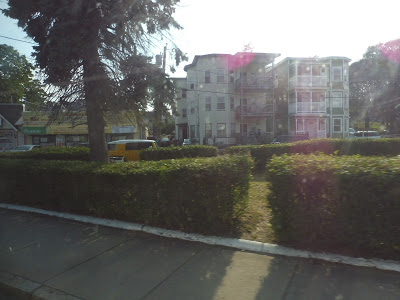 Stupid sun, washing out my photo!
There were always a few retail buildings mixed between the dwellings, but they really amped up after we went over the tiny Spicket River. We passed a big common and then turned onto Essex Street, the main drag of downtown Lawrence. There were lots of businesses as we ambled down here before looping around into the Buckley Transportation Center.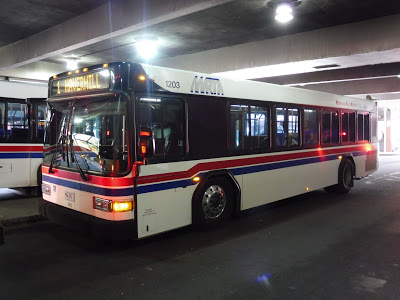 A different bus getting ready to head back to Haverhill.
MVRTA Route: 1 (Lawrence – Methuen – Haverhill)
Ridership: Like I said, this is the busiest route on the MVRTA, and it experienced a huge spike in ridership in 2015. With 409,174 riders in that year, the route had about 1,121 people per day, or more than all of the MVRTA's Haverhill-based routes combined. Wowie, that's good!
Pros: For the most part, this is a straight and direct route that connects the MVRTA's two biggest hubs. Most of the ridership is concentrated at a few major stops, too, so this thing ends up being quick. It even runs every half hour on weekdays, which is great for an RTA – service is less frequent on weekends, though, with a bus only every hour, but that's still not bad. I also like that the 1 interlines with the 41, meaning passengers can get a one-seat ride from Haverhill all the way to Lowell!
Cons: I think my only big problem with the 1 is that the deviation to The Loop takes forever. That being said, it's a huge source of ridership for the route, so it at least has a purpose.
Nearby and Noteworthy: In terms of unique attractions along the 1, it's really just The Loop. Not much else along this thing aside from cities that are already accessible by Commuter Rail.
Final Verdict: 9/10
Not only is this the busiest MVRTA route, but it's one of the best. It gets great ridership and connects two large cities for only a dollar – three large cities if you add in the 41 interline! Plus, you can't beat those weekday half hour headways.
Latest MBTA News: Service Updates