What's your favorite rapid transit line on the MBTA?
I'll do you one better, Liam, and rank them from worst to best!
5. Silver Line
I mean, if you want to even count the Silver Line, of course it's rock bottom. Although the Waterfront routes have their little subway section, their above-ground sections and the entirety of the Washington Street lines are just bus routes, plain and simple.
4. Green Line
Liam, you mentioned that the Green Line was your favorite in your email, but I simply have to disagree. With century-old infrastructure, it's a screechy and delay-ridden mess. In fact, I recently found out that speeds in the Central Subway at rush hour average between 3 and 4 miles per hour. That means that if you're a fast walker, you can actually beat the subway! That's just sad.
3. Orange Line
This is the line with the oldest average age of trains, and it shows. The line doesn't run nearly as frequently as it should during rush hour, and the trains are subject to malfunctions and delays. Still, at least this is proper heavy rail, and the line moves quickly when it's operating under normal circumstances.
2. Red Line
Based on its ridership, it's clear that the Red Line is the most useful and the most used of the five lines. This makes sense, of course: the sprawling route strings together Cambridge, Beacon Hill, Downtown, Southie, Dorchester, Quincy, and Braintree! The Red Line also boasts some rather unique stations along its length, including gems like Charles and Ashmont. However, some of the line's trains are the oldest on the system, and it seems nary a day goes by without the service experiencing some form of delay.
1. Blue Line
The poor, underutilized Blue Line. What is there not to like about it? It has the newest trains, the most modern stations, and the least delays! It's just a shame it's so short – extensions to Charles and Lynn would boost ridership and help this efficient line reach its full potential.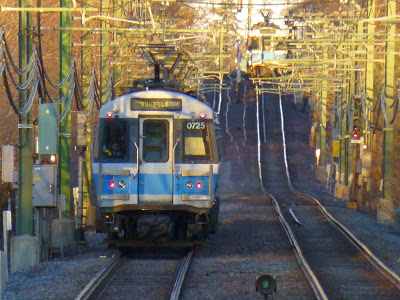 The City of Boston actually used this picture in their Amazon proposal. Check out page 34!