Oh man, these MWRTA are starting to get me down. Alright, here's another completely useless one, the 4S.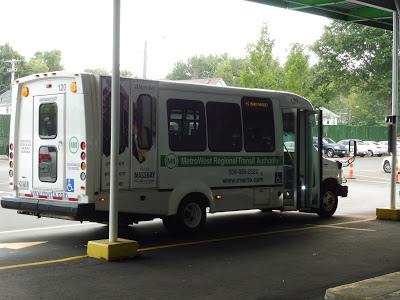 Minibuses galore.
We went down Blandin Ave and merged onto Irving Street, then Loring Drive. It was mostly industrial until we came to one of the largest parking lots I've ever seen attached to one of the largest buildings I've ever seen. This was ADESA, a car auction center, and right across the street from it was a prison. We made a little loop here and…uh…went right back the way we came. What an odd deviation!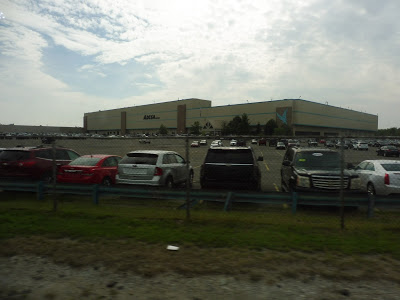 This picture does not capture the hugeness of this building.
We went all the way back up to Irving Street, onto which we turned as if nothing had ever happened. We continued onto Leland Street, which had houses until the Commuter Rail tracks, where there were some industrial buildings. We turned onto Beaver Street next, then Second Street, entering an apartment development.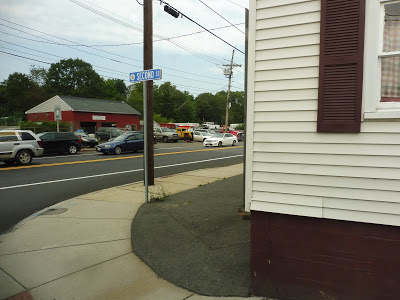 Coming out of Second Street.
The street curved out of the development and we turned onto Waverly Street. This was a mix of various industrial buildings and suburban businesses with parking lots, but we were only on it for a few blocks before turning onto Taralli Terrace, then Beaver Park Road. We were back in the same housing development from before, and we did in fact go right back onto Beaver Street the way we had come.
The MWRTA needs to "STOP" with its stupid routes!
Turns out we were using Beaver Street to go back to the Blandin Hub. Okay, first of all, that's not on the map, even though it's in the schedule. But more importantly, why????? Why does the route need to serve the same housing development twice when it's far slower than just staying on Waverly Street and going back to the hub that way? This is one of the most bizarre routings I've ever seen!!!!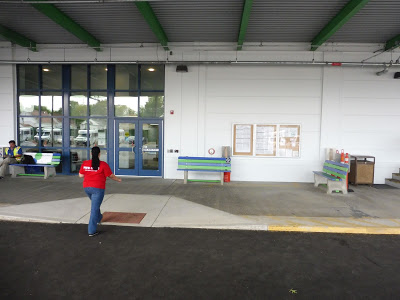 Back here again.
We once again left the Blandin Hub and went down Blandin Ave, but this time we turned the other way down Irving Street. Next, we turned onto Arlington Street, which was residential for the most part. We turned onto Waushakum Street after that, then Hollis Street, running past dense houses and a nice pond at one point.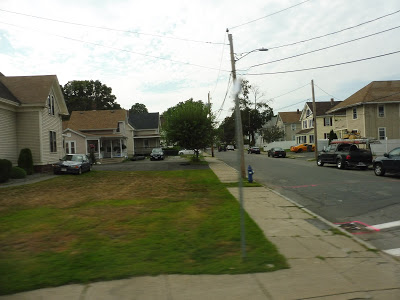 A residential side street.
We entered Ashland, and soon after that happened, we deviated into a shopping plaza, primarily to serve its Market Basket. There was a section of forest after that, and it remained pretty woodsy for a while aside from some random suburban businesses. We soon arrived at Shaw's, the end of the route.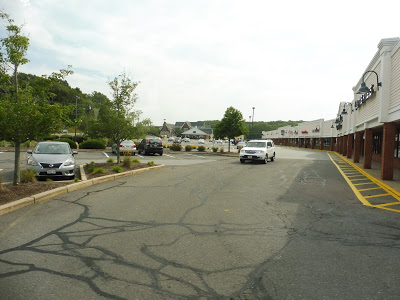 Shaw's Plaza.
MWRTA Route: 4S (South)
Ridership: In 2015, the southern section of the 4 got about 35 riders per weekday and 19 per Saturday. I have no idea if it gets that level of ridership nowadays (my weekday round trip had about 5 riders, which would be way above average), but if it did, that would be incredibly low.
Pros: Geez, this is hard. I dunno, it gets a few people. Maybe.
Cons: It's an MWRTA route, so you know what we're going to start with! For the most part, the 4S runs every 42 minutes. Except for a few trips where it's every 43. Or 44. Come on, can we just standardize this to every 45 so it doesn't look ridiculous?? Also, this is yet another route that's redundant to others. Aside from its deviation to ADESA and the prison (which gets barely any ridership and is by request most of the time), the only place the route really serves is that housing development, and that's a 5 minute walk from the 10/11 – the stuff in Ashland is entirely parallel with the 6. Even if that wasn't the case, where does this route really take you? Sure, there are the supermarkets in Ashland, but the original intent of the 4 was to connect the apartment development to the Natick Mall. Now that it's split up, there's absolutely no coordination with the 4N, so it's far better just to use the 10/11 to get up there directly.
Nearby and Noteworthy: Again, nothing exclusive to the 4S. ADESA, I guess…if you want to auction off your car, this is the route for you!
Final Verdict: 2/10
Maybe the ridership is higher than I realize for the 4S, but somehow I doubt it – I say my ride had 5 people, but two of them just went from Ashland to Framingham, something they could've used the 6 for. This route is basically just a loop to nowhere, and it's essentially useless without that Natick Mall connection. Can it be fixed? I think so!
So here's what I'm proposing: put the routes together again. On the map they're split into two loops, but that's just for visual aid – it's one route. I'm cutting some of the pointless deviations like BJ's and the whole Franklin Street jog on the 4N (except for the MetroWest Medical Center). As for the 4S, I'm cutting the Market Basket/Shaw's section of the route on weekdays because the 6 already serves them – the transfers don't always time great, but that's more a problem with the 6's horrible schedule that needs to be worked out. On Saturdays, when the 6 doesn't run, the 4 will run down and serve those supermarkets. And here's the schedule (it might be easier to view in its full document):
Now, I know what you're saying: half hour service on the MWRTA? Is that possible? Or necessary? Well, it is definitely possible. Since the routes use two buses at the moment, we can put both of them on this new streamlined combined route to make one of the most frequent routes on the MWRTA (although because of the extra deviations on Saturdays, it has to run every 40 minutes instead). As for whether it's necessary or not, it's hard to say. On the one hand, half hourly service from Framingham to the Natick Mall seems pretty desirable. On the other hand, it's the freaking MWRTA, so who knows if anyone will use it? The resources could be put to better use on the busier 2/3. Still, it's certainly an interesting idea, and it looks amazing compared to the MWRTA's other awful schedules! My one concern is that I skipped a Walmart on the northern loop that actually does get pretty good ridership, but deviating there could take up too much time. It might still be possible, but it would cut it close. There might be a way to have the 2 or the 3 go there instead.
Latest MBTA News: Service Updates