You thought the 3 was crazy? Ha! You ain't seen nothing yet. The 10 and the 11 are…well, let's just review them.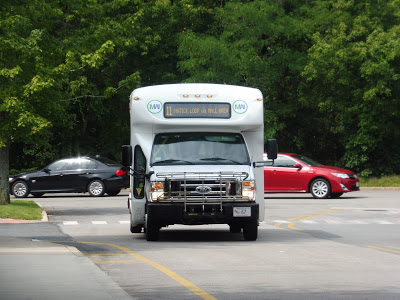 The 11 coming into the Natick Mall.
First of all, the MWRTA does not have an online map for this route, so I am totally going by my pictures right now. Great, that makes everything easier, doesn't it? Sigh…okay, so we left the mall and made our way onto Route 9, but we exited off of it in about 2 seconds in order to serve Sherwood Plaza. Oh boy, we're off to a great start!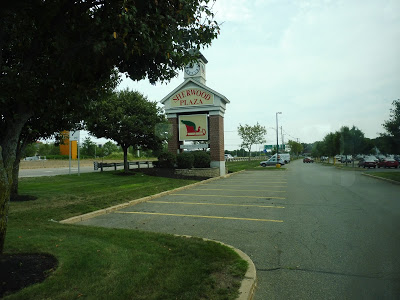 Very holiday-themed, yet I rode this route in the summer!
We returned to Route 9 for another 2 seconds before exiting off onto Speen Street, which took us past some office buildings, a hotel, and another shopping plaza. There were more suburban businesses for a while, but as the road curved west, they shifted into office parks. We turned onto Old Connecticut Path next, taking us over I-90 and into a residential area.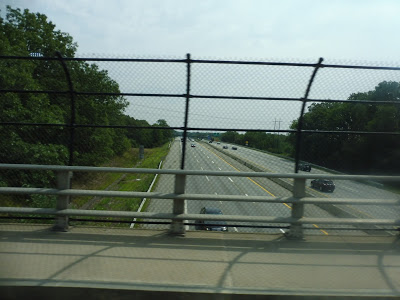 Going over the highway.
There were suburban houses for a while, aside from a brief break for Lake Cochituate (no view, alas). After the lake, we turned onto Plain Street, passing more houses with a brief deviation break for an apartment development. Next, we turned onto Main Street and headed through Cochituate Village, which was basically just one building with a few sketchy-looking businesses.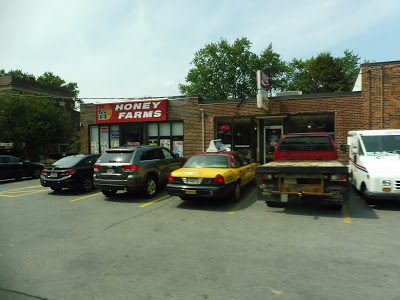 Basically the entirety of Cochituate Village.
There was a brief residential break, but at the intersection with Route 30, there was some more retail, this time in some more modern developments. We crossed I-90 again, going under it this time, after which it was a mix of houses and occasional suburban business developments. Once we got to Route 9, we had to deviate into 9/27 Plaza, a rather boring shopping center (albeit with plans to become more interesting). Strangely for the MWRTA, we were actually early, and we had to wait a few minutes before leaving.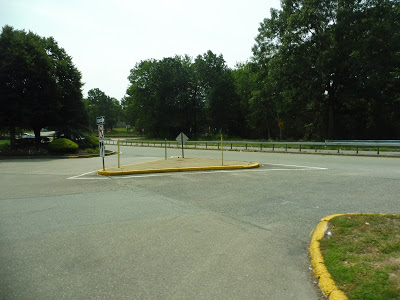 Man, Route 9 is a real blast, huh?
We returned to North Main Street after the deviation had been completed, running once again through a residential area. As the street started to curve and get a bit denser, the houses turned into a lot of apartment developments. Finally, after a bridge over the Commuter Rail, we entered Natick Center, and there were businesses everywhere!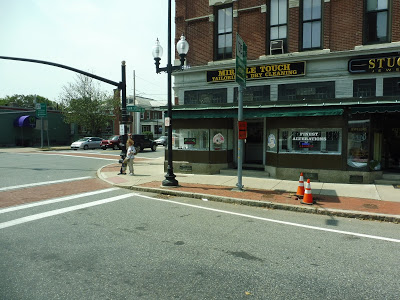 Clearly I did not photograph the most vibrant part of the center.
We turned onto Central Street at the Natick Common and left downtown, though there were still some straggling businesses. We turned onto Union Street next, which quickly became residential up until we deviated to serve the Leonard Morse Hospital. Once that was done, we came back up Union Street, deviated into a housing development, and used that deviation to enter another deviation to the Natick Community Center. Alright, I'll give that one a pass – that's some clever deviating.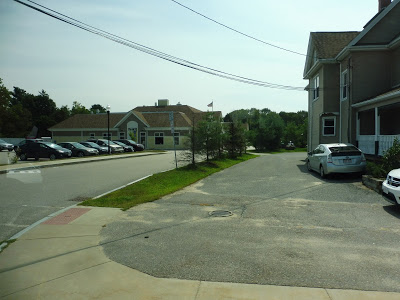 Coming into the Community Center.
Once all those deviations were done, it was revealed that the whole thing was one super-deviation – we now had to return to the center. We turned onto Main Street once we arrived, then we merged onto Cottage Street and made a very useful deviation for Coolidge Gardens. You see, the entrance to the building is a whole 25 feet from the road, so it's absolutely necessary that the bus goes into its front drive so people don't have to walk that staggeringly long distance. Thank goodness for those savvy MWRTA planners!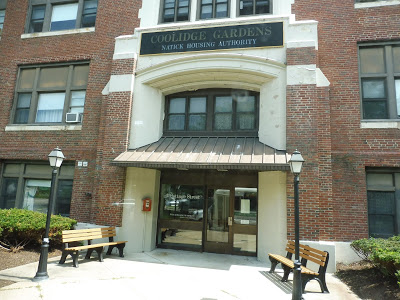 Right up to the front door!
We went down Cottage Street for a little longer before turning onto Circular Ave, which was in fact not circular. It became Curve Street, although it didn't really curve all that much, then we turned onto Cedar Ave. There was a slight hill, and it led us into Cedar Terrace, a housing development, which was separate from the housing development right next to it, Cedar Gardens. The route serves both, though, and for some reason it gets 4 minutes to get between them – needless to say, we had to wait for a few minutes because we were early.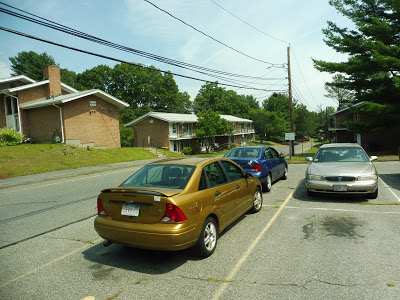 Cedar Gardens. Or Terrace. Who cares?
We headed back to Oakland Street and took it to Pond Street. This road went by two ponds, actually, but also three cemeteries. There was a spurt of houses and then a few businesses at the intersection with Speen Street, onto which we turned. Next, we deviated into a Roche Brothers.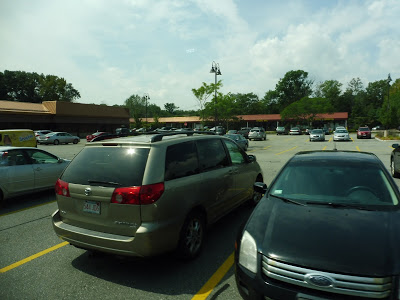 I'm getting sick of this!
We returned onto Speen the way we came, but this time we continued down it past lots of houses. Next, we merged onto Kendall Ave, which actually went by a farm! Don't worry, though, it went back to typical suburban houses soon enough. We arrived at another apartment development, Sherborn Meadows, but surprisingly, we didn't have to deviate! Oh man, that's worth a celebration.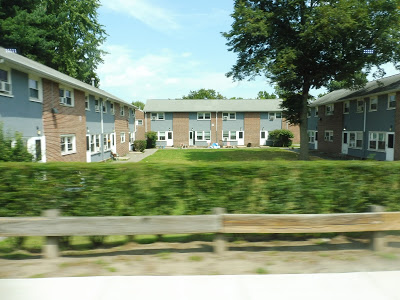 Going past it!
We headed up Beaver Street, which was mostly dense housing for a bit before shifting over to industrial buildings. We curved around onto Blandin Ave next, and arrived at the Blandin Hub. This horrible trip was finally over! Oh wait, it's a loop and I got on at the Natick Mall. Darn it, there's still more to do!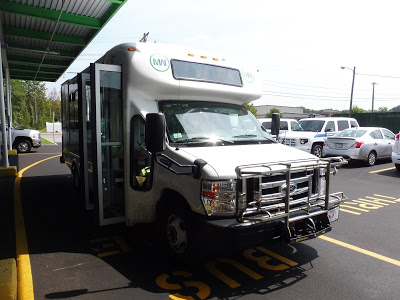 I snuck a picture of the bus while the driver took a layover.
After leaving the hub, we went down Waverly Street, which had the Commuter Rail on one side and various industrial buildings on the other. We went by West Natick Station, but while the counterclockwise 10 does a deviation into a plaza next to it, we just sailed right by. Soon we turned onto Mill Street, and I only just realized this now looking at the map: we were literally a block away from that Roche Brothers we had served ages ago. This route is maddening.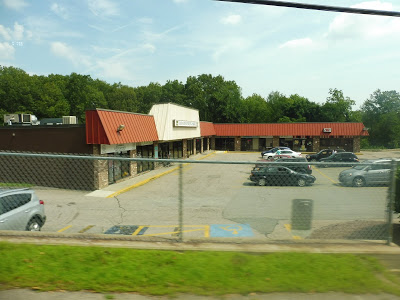 Oh, a convenience store! Not gonna deviate, are you? Weirdos!!!!!!
We went over the Commuter Rail tracks and passed more houses, then we deviated into Sherwood Village, which consisted of two apartment buildings. Darting under some pylons, we turned onto Hartford Street, which led us past more houses to Speen Street. We took this over Route 9, then we had to deviate into Mathworks Lakeside, and office park. Finally, we returned to Natick Mall Road and made our way to the main bus stop AND THE ROUTE WAS OVER YAYAYAYAYAYAY!!!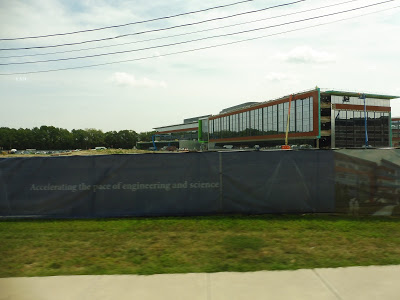 The under-construction Mathworks building.
MWRTA Routes: 10/11 (Natick Circuit Counterclockwise/Clockwise)
Ridership: The two routes combined get pretty good ridership for MWRTA standards, although it's awful ridership for any other standards: 136 riders per weekday, and about 55 people on Saturdays.
Pros: These are basically the premiere routes for Natick, and they even serve a bit of Wayland. Pros over!
Cons: As with any MWRTA route, it comes down to the schedule, first and foremost. Surprisingly, both of these routes offer consistent headways! The problem is that they're awful – every hour and 35 minutes. And you know why it takes that long? Because these are incredibly long loops with FAR too many deviations. Riding the 11 was one of the few times that I really really really wanted to get off a bus, because it was just never-ending. I cannot stress enough how insane these routes are. And sure, they are bidirectional, so theoretically there's always a shorter way around the loop, but since the frequencies are so low, it might take just as long to take the other route the long way around as to wait for your bus!
Nearby and Noteworthy: I dunno, probably some malls or something. Who cares? Geez!
Final Verdict: 3/10
I really can't bring myself to increase this score. Yes, the 10 and the 11 are certainly useful, and together they get somewhat decent ridership for the MWRTA. But their layout and the schedule are just so prohibitive for the routes being at all usable! I think the only real solution for this is to split the routes up to make them shorter. That could mean creating two smaller loops, or maybe have certain deviations done by only one of the routes (they already do this with a few of them). Truth be told, the MWRTA's lack of a map for these routes has made writing this post incredibly long and tedious and I want it to be over, so I'm not proposing any new schedule this time, but some sort of service change is absolutely worth studying.
Latest MBTA News: Service Updates