From one of the busiest stations on the MBTA to a horrible bus route on a horrible bus system that only uses minibuses. Cool!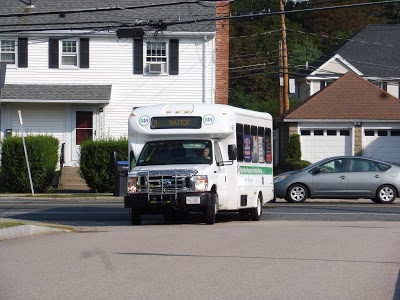 Ugh…
After struggling to locate the stop at the Natick Community Center (it has no sign, and I had to ask an employee inside where it was), the bus pulled in. With that classic minibus "Bip!" sound, the doors opened and I stepped on. Little did I know how long and stupid this trip would turn out to be.
A house under construction.
There were a few businesses at first, but it devolved into all houses as we headed down Central Street. Indeed, those houses soon devolved themselves into woods, which stuck around as we entered Wellesley. Soon after that, though, buildings for the college named after the town started to appear.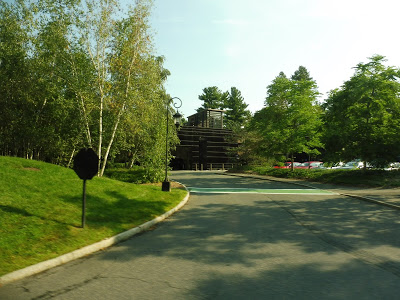 Oh, of course we have to deviate! Of course!
Oh, darn it, we had to deviate into Wellesley College. This didn't make any sense, either! First of all, the campus is huge, so what difference does it make to pull off the road a tiny bit just to serve the Campus Center? Also, who is going to use this bus from here? Wellesley College already has numerous shuttles to Cambridge that are more frequent, faster, and cheaper than using this bus and taking it to the T.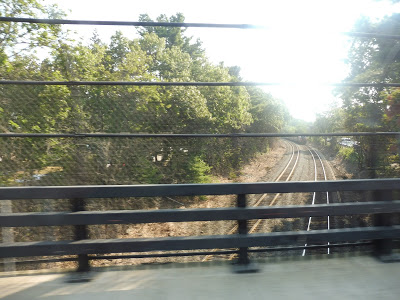 Aw yeah, just got the train in there!
We came back to Central Street after the college and went through more woods. All of a sudden, there was a burst of retail along the road…but before we could run through it, we turned onto Weston Roa and crossed over the Commuter Rail tracks. It was time to start one of the stupidest and most long-winded deviations I've ever experienced.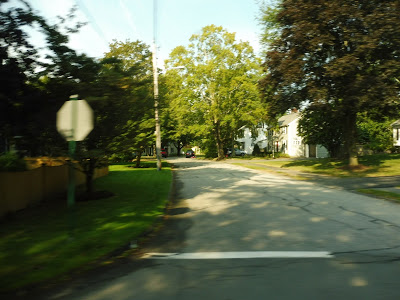 Some houses.
Weston Road was, aside from a few unremarkable Route 9 businesses, literally just houses. Just. Houses. Not a housing development, where people with lower incomes who might ride the bus are more likely to live. No, just houses. All with driveways. Some with garages! And we just went up this street for full minutes before just looping around on side roads and coming back. Wow. What's more, the route only does this deviation going towards Woodland Station! That's right, even if someone who lived here was inclined to use the bus, they would have no way of getting back. Oh, that's truly wonderful. GEEZ!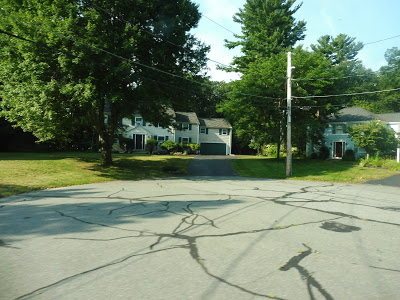 A true neighborhood of bus riders, yessir!
Were we safe from deviations yet? Nope. Before we could serve that block of retail I was talking about before, we had to go an extra block down Weston Road and turn onto Cross Street. Why? I don't even know – it doesn't show up on the map, and all we were serving was a parking lot. It does appear in the schedule, though, so it's definitely supposed to happen! For some reason…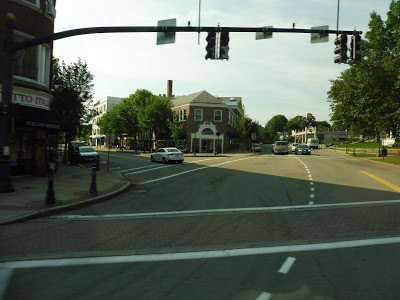 The businesses of Wellesley Square.
We returned to Central Street and finally served the many interesting and diverse retail options of Wellesley Square. However, rather than continue on our merry way, we made a weird loop via Cameron Street, Spring Street, and Grove Street, and then headed back the way we came on Central Street…? Okay, are you telling me that this Wellesley Square stuff was also a deviation? And this only happens going towards Woodland too!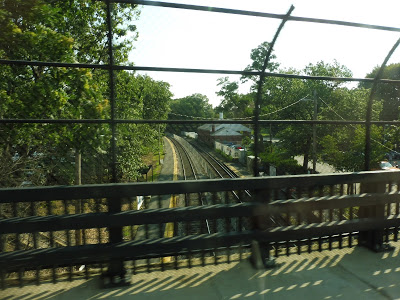 Going over the Commuter Rail again.
We turned onto Crest Road, once again crossing the Commuter Rail, then we turned onto Linden Street. There was a variety of malls and shopping plazas along here, and based on the way this route was going, I was shocked that we didn't have to deviate to serve any of them! Next up, we were on Kingsbury Street in order to go over the Commuter Rail yet again before turning onto Washington Street and actually picking someone up at Whole Foods.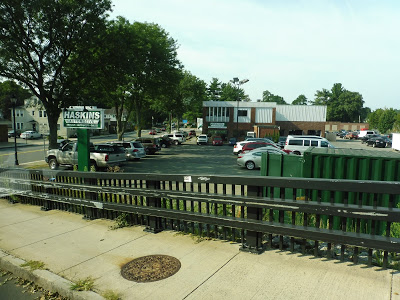 An auto shop.
With the Commuter Rail on one side and a big park on the other, we just sped down Washington Street for a while. Once we got to the Wellesley Hills area, there was retail all around, and it continued for a good while past the Commuter Rail station. We went over Route 9, and that's where the street finally got residential.
Some businesses at Wellesley Hills.
Home stretch, right? Nope, how about another deviation?! We turned onto Oakland Street, making our way through a lengthy level crossing with Route 9, all in order to serve MassBay Community College. So…why? After all, whereas this route costs $1.50 to ride and runs every hour and a half to Woodland, MassBay has a shuttle that's absolutely free and runs every 15 minutes to Riverside! HMMMMM, SEEMS LIKE IT'S KIND OF A WASTE OF TIME TO RUN THE 8 HERE, METHINKS!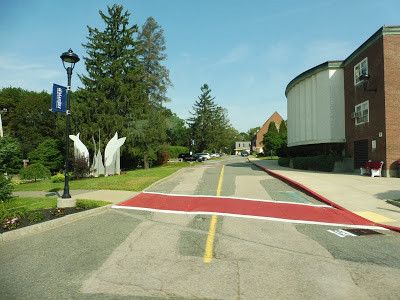 Sigh.
After making our way across Route 9 again, we returned to Washington Street, which was almost entirely houses. We did serve a minor "downtown," though, in the form of "Lower Falls," just on the border of Wellesley and Newton. We finally made it into Newton when we crossed the Charles River, where there were more suburban-type businesses and offices as we went over I-95. Finally, after passing the Newton-Wellesley Hospital, we made it to Woodland Station! Geez, that was horrible!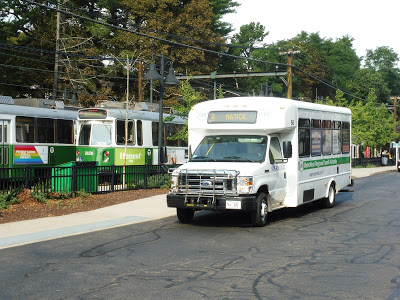 A minibus with a Green Line train…that just doesn't look right.
MWRTA Route: 8 (Wellesley)
Ridership: Oh geez. The 8 got a "whopping" 8,093 riders in the whole year of 2015, and that was when the bus also went to the Natick Mall, which greatly boosted ridership. 8,093 riders per year, incidentally, equates to 32 people per day. My trip had a total of 1 other person the entire time. OH ME OH MY!
Pros: Who knows? Uhh…it serves Wellesley. There you go.
Cons: Let's break this down piece by piece. First, I'll just get the crazy schedule out of the way. So during rush hours, it has a "commuter schedule" that reads vertically and makes absolutely no sense. Cool. Meanwhile, middays it runs anywhere from every hour and a half to over two hours, depending on the trip – they all have completely random departure times in typical MWRTA fashion.
But the deviations…oh my God, the deviations. Let's go through them one at a time, using the MWRTA's handy stop-by-stop ridership data to decide if each one is worth it. First, there's the Natick Community Center, which is a strange place to end the route in the first place. This stop never gets more than 6 riders in a month, so yeah, that's a waste – the 8 should be extended to Natick Center instead. Next up, there's Wellesley College, which has its own shuttle, and the stop never gets more than 1-2 riders per day. Cut it. The Weston Road deviation (the one that just served a residential neighborhood and a few Route 9 stores) gets barely anyone, and it's a huge inconvenience anyway, so we'll cut that. The deviation to the businesses of Wellesley Square gets barely anyone, with the shopping plazas on Linden Street netting much more ridership, so we'll just have the route go straight on that. And finally, although MassBay Community College doesn't appear to be on the list in 2015, it has that really frequent free shuttle to Riverside, so I think we can assume the 8 ridership is virtually nil. CUT!
Nearby and Noteworthy: I'll be honest, the 8 passes through a bunch of really charming downtowns. Lower Falls, Wellesley Hills, Wellesley Square, and Natick Center (if you want to count that) all seem to have some pretty unique and charming storefronts!
Final Verdict: 2/10
Okay, the 8 is salvageable. It's not a 1, because I think it could be somewhat okay if the route was streamlined better. I'll leave the commuter schedule untouched because A) it's really confusing, and B) it's when the route gets the highest ridership, so we're going to focus on the midday schedule:
Just look at what cutting those deviations did! We can now get consistent every-hour service with a much faster and more streamlined route that now goes all the way to Natick Center. There might have to be a little more room created around the bus shelter there for layover space, but it shouldn't be that big of a deal. With the more direct downtown-to-downtown service, this schedule would hopefully allow for greater ridership than what the route currently gets. At the very least, it's way more service and it looks a lot nicer.
Latest MBTA News: Service Updates