Another boring Worcester Line infill station? Well, at least Ashland is the last one…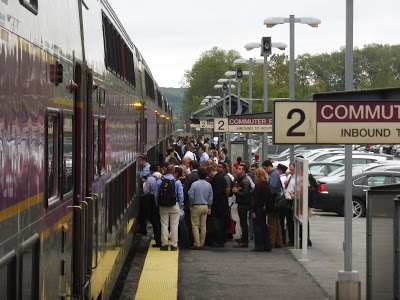 Holy moly, that's a lotta commuters!
The majority of the Ashland platform is low-level, with everything you would expect at a modern Commuter Rail station: a typical shelter, some ads, some benches, and some wastebaskets. There are mini-high platforms at the western end of the station, with the inbound one also featuring some newspaper boxes and a payphone.
The outbound mini-high with the footbridge overhead.
In order to cross the tracks, you have to use the crazy-looking triple-decker footbridge. There are ramps leading all the way up, as well as stairs to make the journey shorter for those who are able to. The thing is littered with rust and bird droppings, but it's functional enough. Ashland also has a ton of parking, featuring 678 spaces spread out on both sides of the station.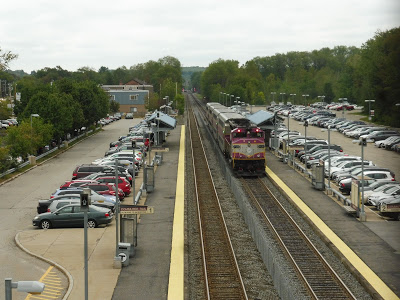 A train leaving…from above.
Station: Ashland
Ridership: The station gets 691 inbound riders per weekday, making it the least-busy of the four infill stations between Framingham and Worcester (and yet the one with the largest parking lot).
Pros: The station has everything a Commuter Rail station needs, as well as enough parking and a footbridge to cross the tracks safely.
Cons: The footbridge is experiencing a lot of rusting and defecation by birds, which will only get worse over time. Also, the train tracks pass right through downtown Ashland, but the MBTA decided to build the station a mile west. Typical modern Commuter Rail thinking…
Nearby and Noteworthy: Practically nothing around the station itself. Like I said, downtown Ashland is about a mile east, if you're willing to walk for about 20 minutes.
Final Verdict: 7/10
This is a pretty standard Commuter Rail station, and it does its job fine. There's plenty of parking, a decent footbridge, and wheelchair-accessible platforms. That's really all you need.
Latest MBTA News: Service Updates