The Worcester Line is interesting because past Boston Landing, it's basically half accessible and half non-accessible stations. What's more, the line is split halfway between them, with all of the non-accessible stations in a clump; ditto for accessible ones. West Natick is supposed to be the first stop of the latter bunch, but unfortunately, that wasn't the case when I visited it.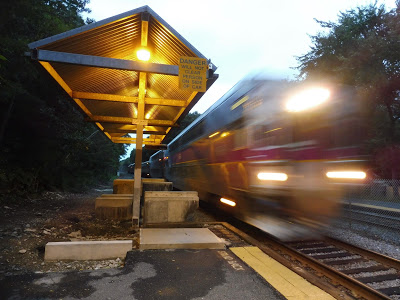 That's not accessible! Also, hi, artsy train!
When Sam and I were here, the mini-high platforms were still being worked on. They had had some sort of structural issue that made them really dangerous, so they had to be repaired. Luckily, since then, they have been reopened, so everything at West Natick is accessible again!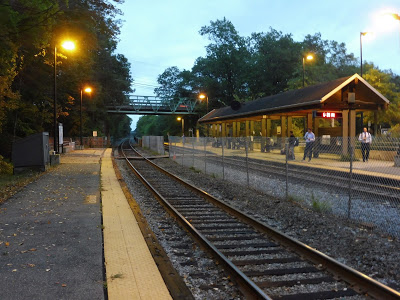 The rest of the platform.
Other than that, West Natick's platform is standard stuff. The outbound side is nothing more than some signs, benches, and wastebaskets, while the inbound side gets a nice wooden shelter. One interesting aspect of the shelter is the marsh-type grass behind it, which gives it more of a unique flavor. To cross between the tracks, you have to use these annoyingly unstable wooden boards.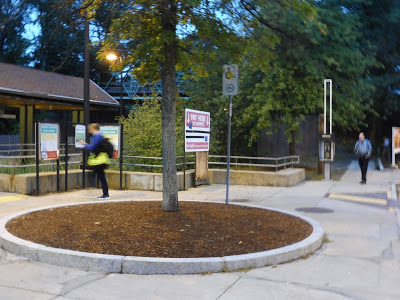 What is this, the artsy photos post? I don't even know how this came out this way, but it looks cool!
There's a small plaza behind the shelter with a few old honor boxes, a single tree, and an old payphone. The station parking lot is tiny, with only 178 spaces – Dave's Framingham/Worcester Line blog says it reaches capacity by 6:30 AM. West Natick has a good amount of bike parking, though, in the form of three completely different bike racks all lined up next to each other.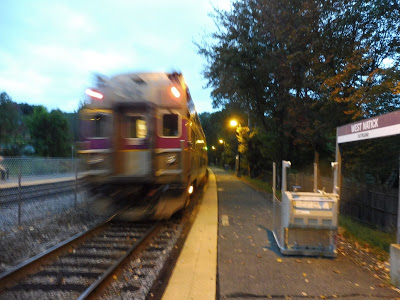 Yet another artsy train picture.
Station: West Natick
Ridership: Believe it or not, this is the third-busiest station on the Worcester Line, getting 1,121 inbound riders per weekday. You wouldn't think that from looking at it, would you?
Pros: I'm really impressed that this station gets so much ridership, considering that its parking lot is so small. Where the heck do those extra 900-or-so people come from? I mean, I doubt they're coming from the MWRTA 10, which serves the station! Also, it's good that it's accessible again, thanks to the rebuilt mini-high platforms.
Cons: The whole station feels kinda ramshackle, what with its barebones platforms, the random bike racks, and those wooden boards used to cross tracks. Also, I know there's no room for any more spaces, but man, that's a small parking lot!
Nearby and Noteworthy: There's a small shopping plaza next to the station with a few businesses, but that's really about it.
Final Verdict: 5/10
For such a busy stop, I expect a little more than this. I mean, West Natick is passable, but it has a lot of issues. At least they fixed up that mini-high platform, though – otherwise, I would have to make the score even lower.
Latest MBTA News: Service Updates